Earlier today, we got a look at something that sure looks like a press render of an upcoming OnePlus 5T smartphone. Now, thanks to GizChina, we know what's inside that mysterious shell.
A leaked AnTuTu scorecard tells us everything we could really want to know about the internals of the OnePlus 5T, and also gets us one step closer to confirming that this phone actually exists.
The screenshot comes via GizChina, and details most of the internal specs of the supposed OnePlus 5T. Most of these aren't particularly surprising, or different from the OnePlus 5. We've got the Qualcomm Snapdragon 835 processor that's standard-issue for any good Android phone these days, 8GB of RAM, 128GB of internal storage, and a pair of 20MP camera sensors.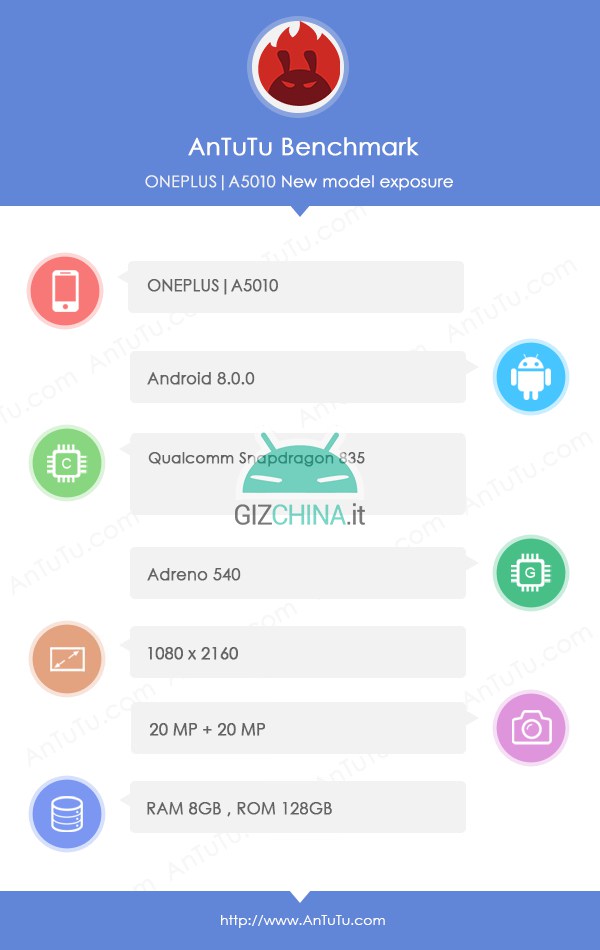 All of those specs suggest one thing: if OnePlus is bothering to release a new phone this year, the differentiator is going to have to be something to do with design, not guts. That lines up perfectly with the rumors we've been seeing about the OnePlus 5T featuring an all-screen design with minimal bezel, similar to the iPhone X or Essential Phone or virtually any other contending flagship launched in 2017.
GizChina says that specifically, we'll be seeing a 6-inch AMOLED display with an 18:9 ratio and 2160 x 1080 resolutioin, with that last number confirmed by the AnTuTu benchmark card.
As ever, you have to take the rumors with a healthy fistful of salt. But they do line up with everything we've heard already, and it's a logical step for OnePlus to try and keep its lineup competitive while we wait for the OnePlus 6 sometime next year.