UPDATE: Nothing has pulled its new chat app in light of the serious security issues that it presents. Here's the company's statement on Twitter:
ORIGINAL STORY: The blue bubble vs. green bubble battle continues to heat up. As if Google committing to a multi-year marketing campaign for Apple to "get the message" wasn't enough, smartphone maker Nothing is launching a new app that looks to bring iMessage to Android.
In a blog post, the company announced Nothing Chats, a new app that enables users to send an iMessage from an Android phone. The company says that it was able to make this happen through a partnership with Sunbird, which also offers its own app to use iMessage on Android. According to the company, the Nothing Chats app will be available on Friday and only be available for Phone(2) users.
If you're in the US, Canada, UK or EU and have a Phone (2), you can download the Nothing Chats app on the Play Store from Friday. The app is currently in Beta, and we're working hard to bring Nothing Chats to more places. If it's not available in your country just yet, sign up for our newsletter and we'll let you know as soon as it is. More features are coming down the line, so head to our website for all of the details.
While users will be able to send an iMessage, not all iMessage features will be available on the Nothing Chats app at launch. While text-based messages and uncompressed images and videos will be supported, users won't be able to edit messages or use the Tapback reaction feature. The iMessage experience also breaks if one user in the group chat does not use iMessage — but that's the same deal for iPhone users already.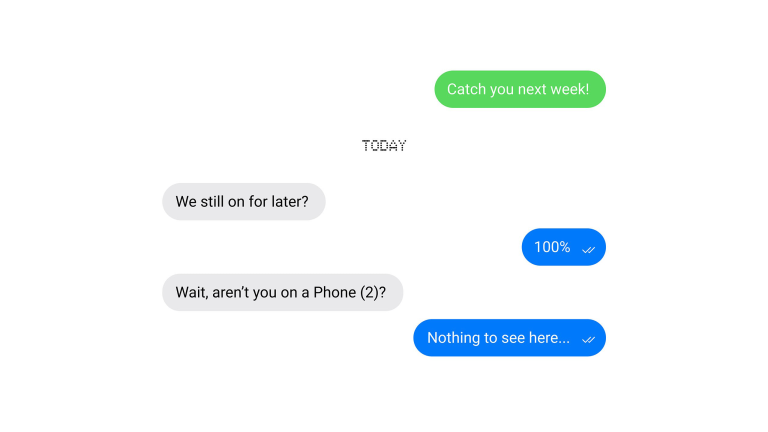 The company also released a video on YouTube showing off the new app. Nothing CEO Carl Pei said that the app won't "change the world," but that they built it in order to "start a conversation." It's also interesting that the company is waiting until Friday to release the app — I wonder if they want to see if Apple reacts negatively. Pei even insinuates as much at the start of the video when he says "I'm working under the assumption that Tim Cook is going to watch this video."
It's also quite obvious since the thumbnail of the video says "Sorry Tim." You can watch the video on YouTube below:
The partnership is an interesting one, especially since users will need to trust both Nothing and Sunbird to keep their messaging data private. While Apple considers privacy "a fundamental human right" and builds it into its services as a core feature now, Nothing and Sunbird's stances on privacy aren't as well known (or perhaps well marketed).
Regardless, if Nothing's goal was to start a conversation, they're likely going to achieve just that. How long and how impactful the conversation will be remains to be seen. Google has been trying to raise this conversation for a while now, so we'll see if Nothing has more success.