The brand new Cable Orbi from Netgear might seem like it has a price tag that starts at $299.99, but it's actually free. You can also purchase the Cable Orbi bundled with a satellite mesh point for what seems like $399.99, but that bundle is also free.
Confused? Don't be. Netgear's new Cable Orbi is a first-of-its-kind solution that builds a cable modem into a mesh Wi-Fi system. Once you set it up, you can return the cable modem you're currently using to your ISP, instantly saving between $8 and $10 per month on your cable bill. You might not have even known you were paying a bogus modem rental fee, but it adds up to as much as $120 per year plus tax, and it never goes away as long as you keep using your cable company's modem. Eliminating that expense is the true beauty of Netgear's new Cable Orbi solution, which was just announced by the company on Tuesday.
The current Netgear Orbi mesh Wi-Fi system is one of the most popular systems on Amazon and elsewhere, and for good reason. Netgear obviously has a long history in the networking space, and it used all of that experience and expertise to great a wonderfully simple and elegant home mesh system. Orbi is easy to set up, easy to maintain, fully expandable, and reliable. A simple two- or three-component system can blanket up to 5,000 sq ft with lightning-fast Wi-Fi, and it couldn't be easier to expand an Orbi system inside or outside if 5,000 sq ft doesn't get the job done. Now, in addition to the various Orbi components that are already available, the company is about to launch the new Cable Orbi.
In simple terms, the Cable Orbi is basically a combination of the normal Orbi router and a Netgear DOCSIS 3.0 cable modem. Since Netgear already has a long history in the cable modem space, the Orbi Netgear is certified by Comcast, Cox, and Spectrum for use with their networks. It's also compatible with plenty of other cable networks like Optimum, of course, and it will deliver the same or better performance than any modem your ISP might provide.
While the Cable Orbi is "certified" by the aforementioned ISPs, it's important to note that customer service reps won't troubleshoot equipment that they don't rent or sell to you. If you run into connectivity issues, they'll run tests to see if their own lines are working. Even if they are, however, you won't be left to fend for yourself because Netgear will have its own customer service team ready to assist.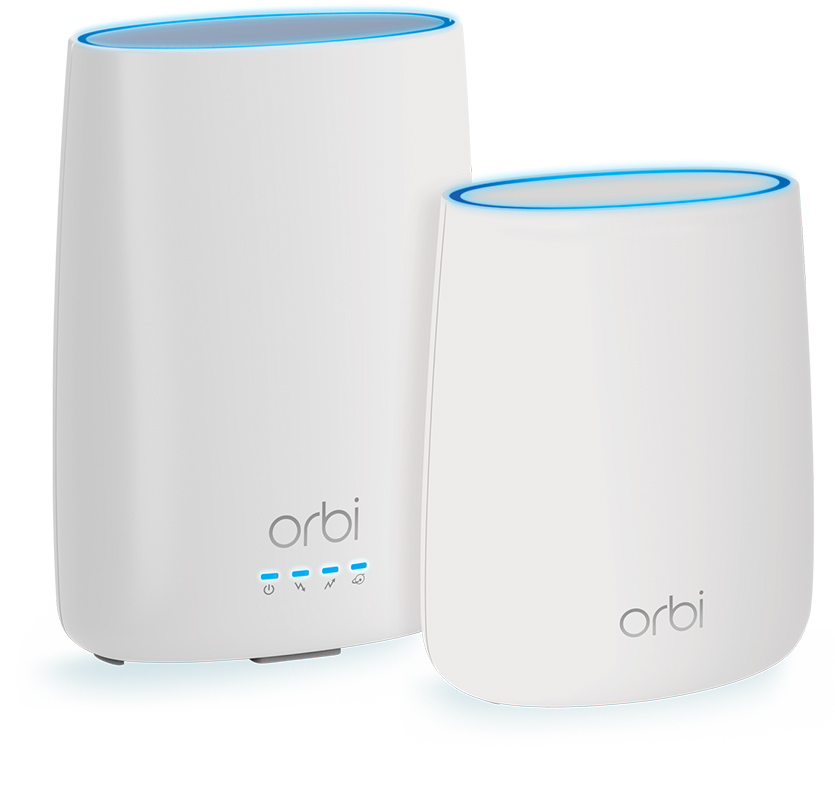 "We're excited to be the first retail offering to combine the benefits of Orbi whole-home WiFi mesh networking with an embedded cable modem in a single, space-saving device," said Netgear's SVP of connected home products, David Henry. "With the Orbi Tri-Band WiFi Cable Modem System, you'll benefit from incredibly fast cable downloads and blazing-fast WiFi for an uninterrupted data flow to more connected devices, everywhere in your home, plus tons of great Orbi features like voice commands and smart parental controls, which will be added to the offering soon."
We spent some time testing the new Cable Orbi, and we were impressed. Performance isn't even worth discussing, to be frank — every Orbi product offers performance that is at or near the best in its class across the board, and the Cable Orbi is no different. It supports data speeds up to a blistering 2.2Gbps, Netgear's FastLane3 Tri-Band technology, and everything else you've come to expect from Orbi. It features a remarkably simple setup process courtesy of Netgear's mobile app for iOS and Android. All you do is scan a code on the box, choose your ISP, and then follow the simple instructions in the app. The Cable Orbi also has all the other nifty features Orbi users enjoy, such as full network management via the mobile app and compatibility with both Alexa and Google Assistant.
The new Cable Orbi solution will be available as a standalone router (CBR40) for $299.99 or bundled with a mesh point (CBK40) for $399.99. Both options will be available for purchase online beginning soon, and they'll launch at Best Buy stores within about a month.