Contrary to what some people might think, Mobile World Congress isn't a show dedicated solely to smartphones. We've got all sorts of other products coming out of each edition, including laptops and tablets. And it's precisely laptops and tablets that I talked to Lenovo about at MWC 2017 — you know, soon after I spoke about smartphones with Lenovo's Motorola.
Just like last year, Lenovo brought over a slew of new computers at MWC, including Android tablets that won't break the bank, and Windows 10 laptops that will make the most of Microsoft's latest operating system.
New Android tricks
If you're looking for affordable tablets that you can pass around the house, remember these names, Lenovo Tab 4 8 and Lenovo Tab 4 10. They're 8-inch and 10-inch tablets ready to offer you 1280 x 800 resolution displays, 2GB of RAM and 16GB/32GB storage, 5-megapixel autofocus rear camera, dual speakers, Dolby Atmos sound, and Android 7.0 Nougat under the hood.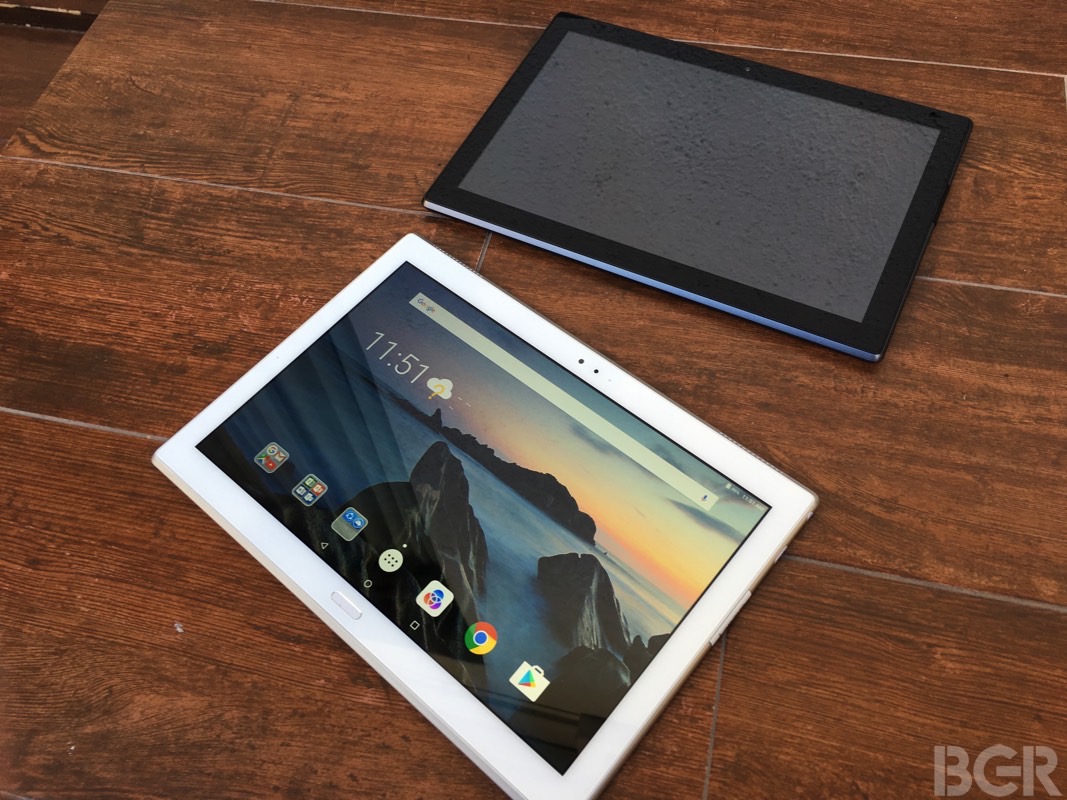 If you're looking for more raw power, but also a more premium feel, you'll want to check out their corresponding Plus versions. They're packing Full HD displays, faster Snapdragon 625 chips, 3GB/4GB of RAM, 16GB/64GB of storage, 8-megapixel main cameras, and fingerprint sensors. Be careful, though, as both Plus models come with front and rear glass panels and the tablets are just 7mm thick (the white tablets in these images are Plus versions).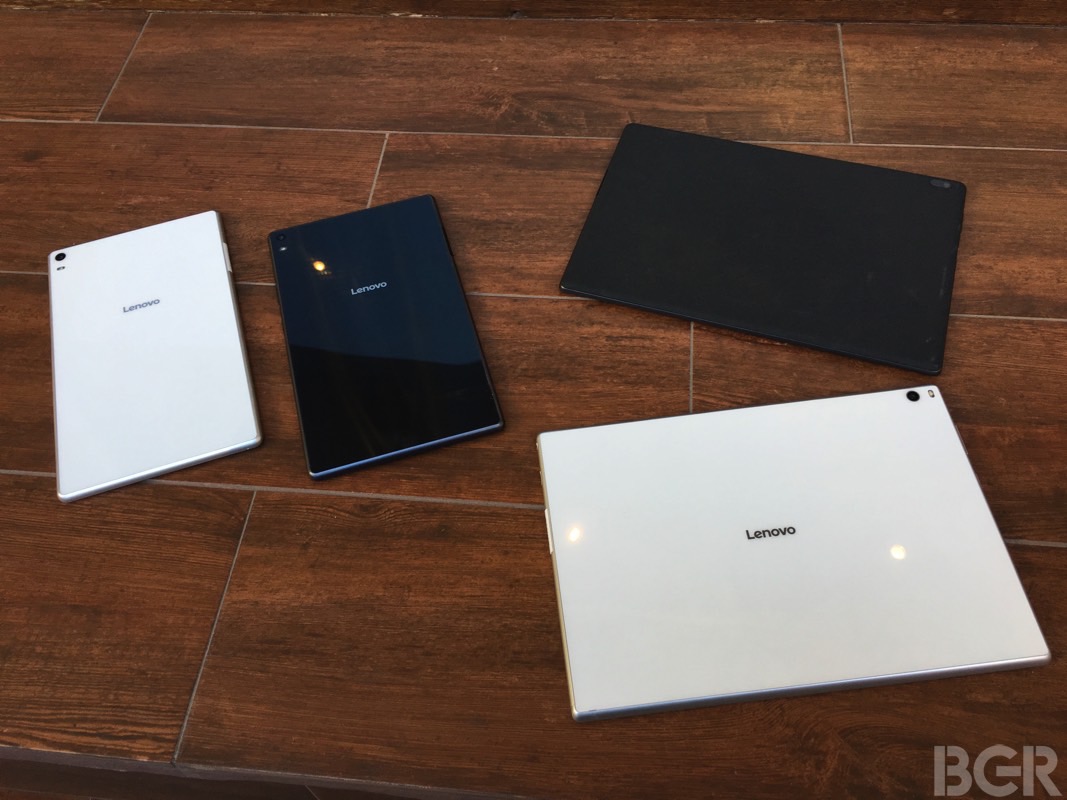 Lenovo has unique features for its new tablets, including a Kids Tab mode that will feature a curated environment that's safe for children to use, and a Productivity Tab mode that turns Android into a Windows-like productivity mode. It's not the kind of Android desktop mode you may be anxiously waiting for Google to develop, just an UI that makes it easier to navigate through your apps.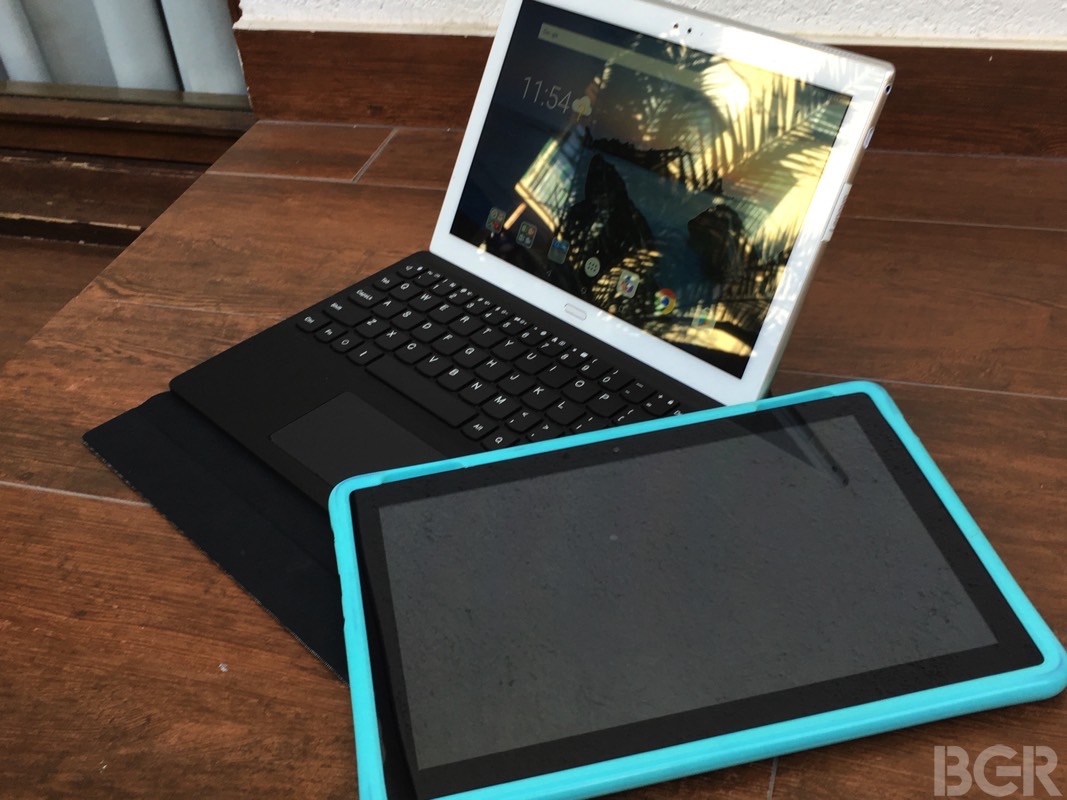 As you an see from the pictures, there are special accessories that come with the new tablets, including a unique type of bumper/case ($14.99 or $24.99) that any parent will appreciate, and a keyboard case accessory ($49) that fits well with that Productivity Tab mode.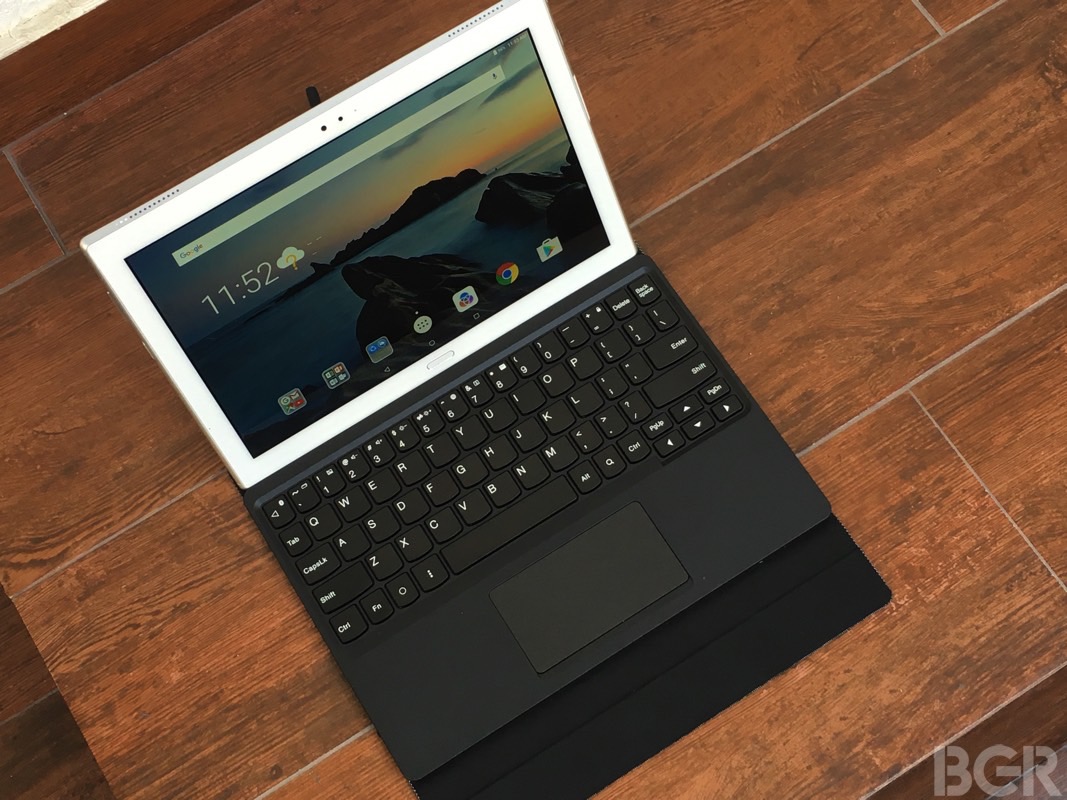 From my brief experience with them, I'm fairly certain I'd pony up the extra cash for the Plus version if I were looking for a new tablet. Arriving in May, the Tab 4 is priced at $109 and $149, while the Plus versions cost $199 and $249, respectively.
More details about Lenovo's new Android tablets are available here.
Even more Windows 10
Tablets are getting more and more powerful, but they're not replacing the laptop anytime soon, and Lenovo knows it all too well. The company has four new notebooks in the works, including a brand new Miix model that's going to be cheaper than ever. At $199.99, you'd think the detachable Miix 320 might not be for you. But the device has specs that impress, including a 10.1-inch Full HD touchscreen display, Intel Atom X5 chip, 4GB of RAM, up to 128GB of storage, 10 hours of battery life, Dolby Advanced Audio, and Windows Continuum.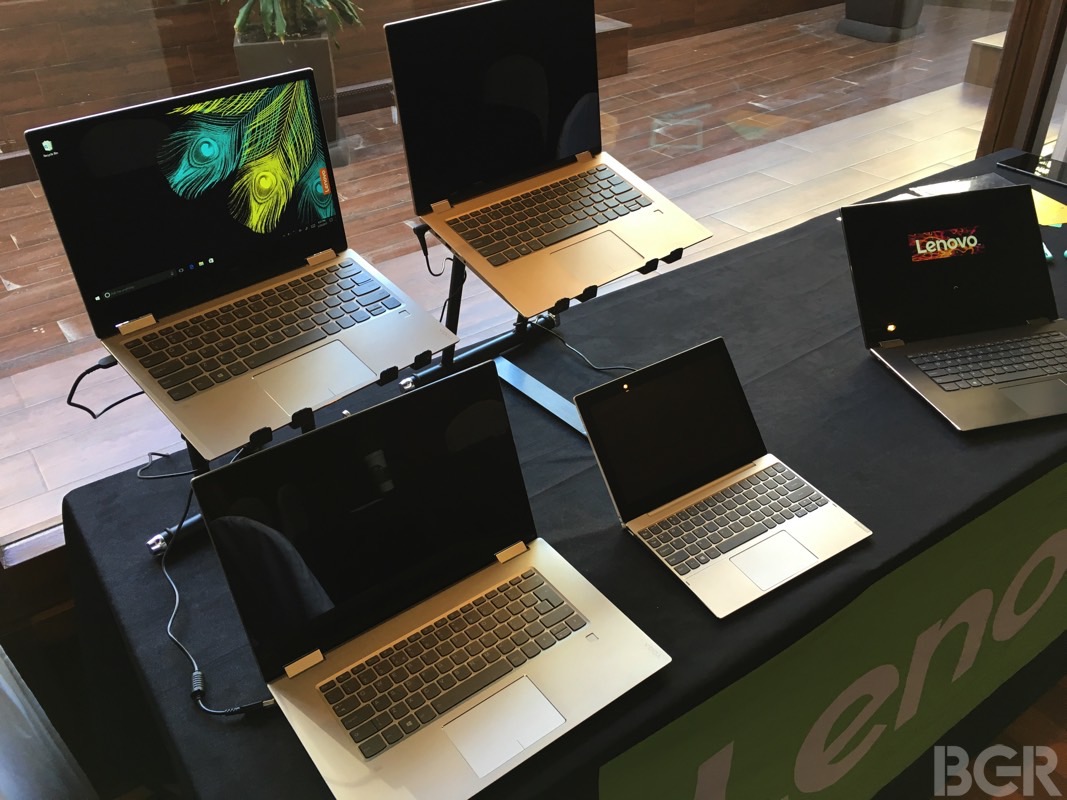 If you're looking for beefier specs, bigger screens, fingerprint sensor support, and a touch of extra personalization, then you'll have to check out Lenovo's new Yoga line, including the 13-inch and 15-inch Yoga 720, and the 14-inch Yoga 520.
Those of you looking for more power should know all three laptops pack chip options up to Intel's 7th generation, up to 16GB of RAM, and up to 1TB PCIe SSDs for the Yoga 720 and up to 1TB HDD for the Yoga 520.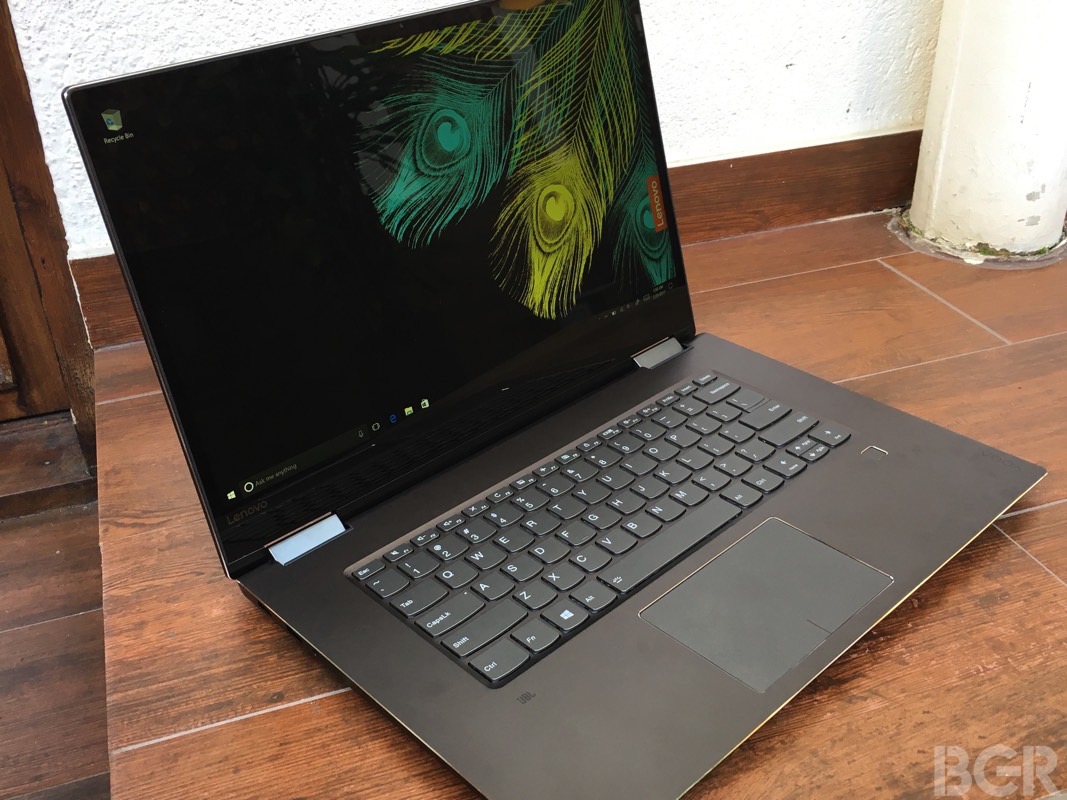 The Yoga 720 models have UHD displays, and the 15-inch version comes with support for NVIDIA's GTX1050M discrete graphics. Both laptops have fingerprint sensors and feature Thunderbolt 3 and Type-C USB ports. The Yoga 520's display goes up to Full HD, and fingerprint sensing support is optional.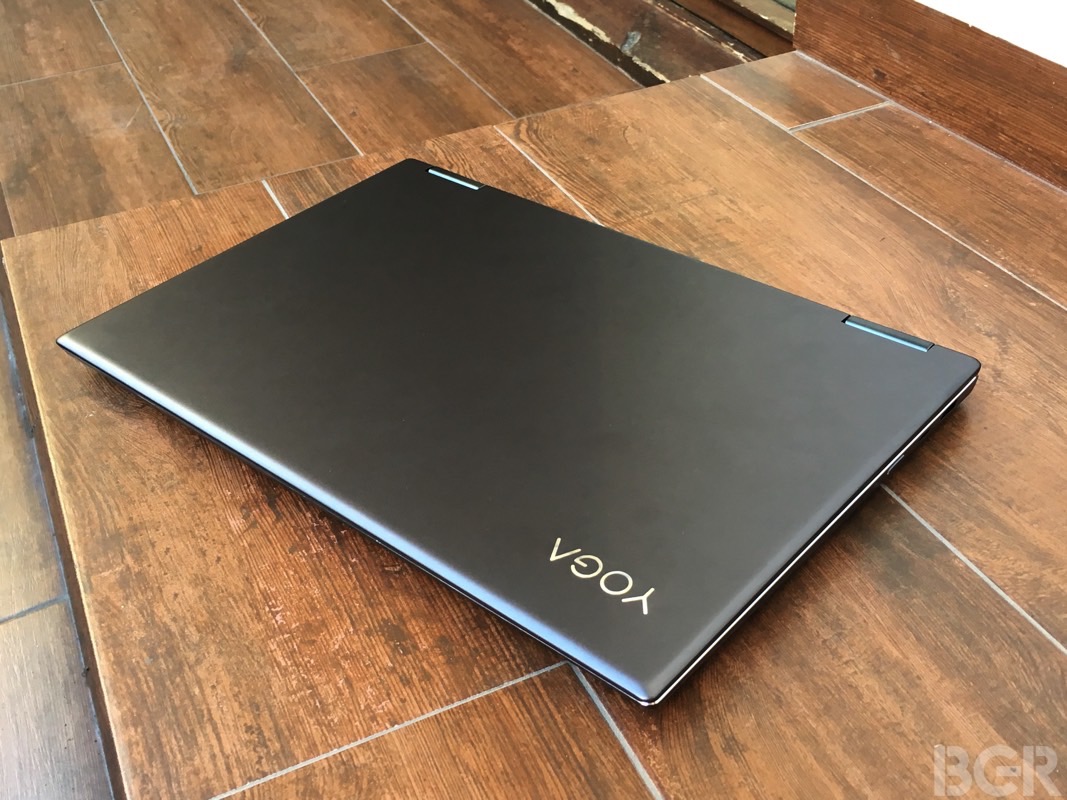 Battery life is up to 10 hours for the 14-inch laptop, and between 7 hours and 9 hours for the Yoga 720 notebooks, depending on size and display type – naturally, 4K screens will eat up a lot more juice. That's impressive battery life considering that the new Yoga laptops are lighter and thinner than their predecessors.
And because these are Windows 10 devices, Lenovo is making sure its laptops will support some of the best new features Microsoft is developing for its OS. Aside from fingerprint sensors and Windows Hello, the Yogas come with Precision Touchpad support, the kind of touchpad that supports a variety of multitouch actions, and optional stylus support.
The Yoga 720 will hit stores in April with prices starting at $859.99 and $1,099.99, while the Yoga 520 will arrive in May with prices starting at around $799.99.
More details about the new Windows 10 devices are available here and here.