Tesla's pricing and product matrix can sometimes be challenging to keep track of. Not only does one have to take into account a $7,500 federal income tax credit, but many states offer additional incentives and tax rebates that vary considerably. Tesla buyers in Colorado, for example, can take advantage of a generous $5,000 rebate on top of the aforementioned federal income tax credit. Additionally, Tesla's own pricing scheme is constantly in-flux given that the company has an insatiable taste for tweaking the selection of features and performance capabilities across its Model S lineup.
To this point, Elon Musk took to Twitter this past January and said Tesla models will undergo substantial revisions every 12 to 18 months. In short, the Tesla you buy today may very well be outdated in just a few months time.
Tesla will never stop innovating. People are buying the wrong car if they expect this. There will be major revs every 12 to 18 months.

— Elon Musk (@elonmusk) January 22, 2017
As a prime illustration of Tesla's ever-changing Model S lineup, the company this past summer re-introduced the Model S 60 (with a starting price of $66,000) and the Model S 60D as a means to offer prospective buyers a more affordable pricepoint. Not even a year later, Tesla announced plans to discontinue both the Model S 60 and Model S 60D in an effort to "simplify the ordering process for our customers…"
With the Model S 60 no longer an option for buyers, Tesla today lowered the price on the Model S 75 by a substantial amount. Whereas the entry-level Model S 75 previously cost $74,500, you can now pick up Tesla's entry-level Model S for $69,500. In short, the entry-level Model S now costs about twice as much as the Model 3 will cost when it gets released later this year. All in all, this is a welcome change as it makes Tesla's car lineup a bit easier to make sense of. It also firmly positions the Model 3 as Tesla's budget-car and the Model S as the company's flagship car, a distinction the company has been desperately trying to make more apparent over the past few weeks.
Now if you happen to be a Tesla owner who recently purchased the Model S 60, Teslarati relays that those users can now unlock more range with an over the air software update that costs $2,000.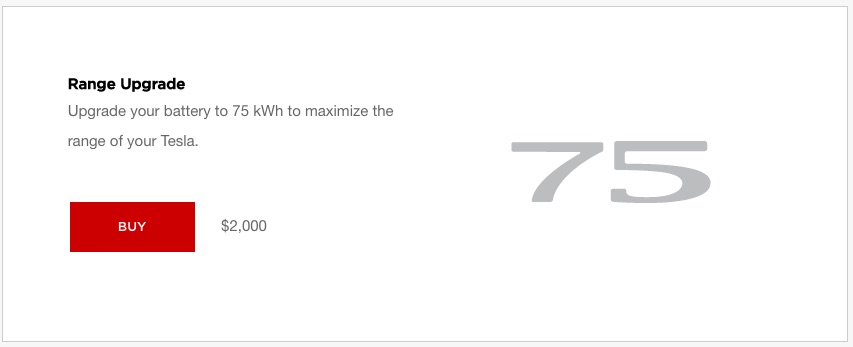 Tesla's official comment on the matter reads:
Periodically we have adjusted pricing and available options to best reflect the value of our products and our customers' preferences. Today's updates include slight price decreases to our 75, 75D and 90D models to account for the discontinuation of our 60 kWh models, and next week will be implementing slight price increases to our higher end 100D and P100D models. We expect our total average selling price to remain almost exactly the same.

Price increases for our 100D and P100D models will take effect on

April 24, 2017

to best accommodate customers already in the order process, while price decreases for 75, 75D and 90D models will take effect today.