Microsoft is not a real contender in the smartphone business when it comes to hardware, but the company keeps launching exciting new apps for other platforms – or buying cool mobile apps – in its quest to dominate iPhone and Android. One such app from the software giant is Pix, a "smarter" camera app that's supposed to take better pictures than the default iPhone camera app. Or, at least, that's what Microsoft says.
MUST WATCH: Two new videos get up close and personal with the iPhone 7 like never before
Available as a free download from the App Store, Pix uses artificial intelligence to enhance pictures automatically and deliver the best possible result for each shot, according to Microsoft. The best part of it is that the user doesn't have to deal with any manual controls – there are already plenty camera apps like that.
Instead, Microsoft does it all automatically for you, managing focus, exposure, color and other settings. Each time you press the shutter, the app captures 10 frames, from which it selects up to three best versions for you to review. The app automatically deletes the discarded versions so they don't consume any storage space.
Pix also pays attention to what is happening in the photo, focusing on human subjects to adjust focus and make people look good. Here's a comparison shot between Pix and the default iPhone camera app, as featured by Microsoft: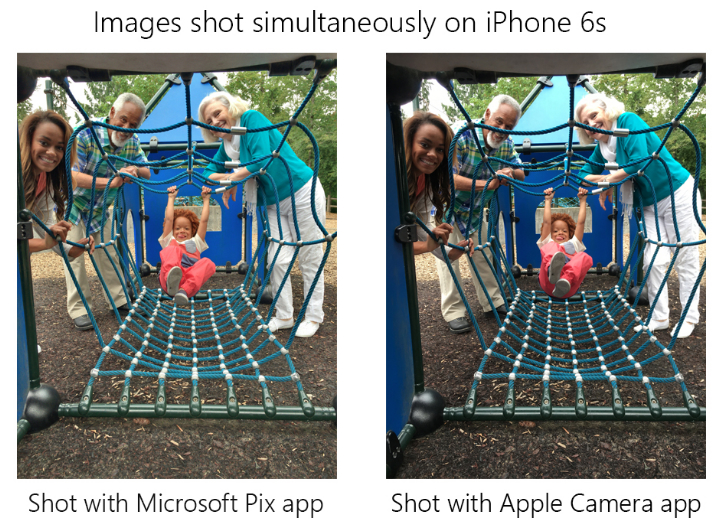 Furthermore, if the app thinks there's motion in a shot that's worth saving, it'll also save a Live Image for you, which is Microsoft's own version of Live Photos, made of all the frames it captured for a shot.
You can try Pix yourself by following this link.