I wanted so badly to love Apple's AirPods. For a long time, I even convinced myself that I did. The concept of truly wireless earbuds is terrific, and Apple's AirPods delivered the best sound I had ever heard from cord-free buds when they were first released back in 2016. Whether or not AirPods users are willing to admit it though, Apple's design is badly flawed and I quickly grew tired of dealing with it.
Like other Apple earbuds, AirPods are made of smooth plastic from top to bottom. It looks great, but there's a reason most earbuds have rubber tips. Rubbery material provides grip that keeps the tips of the earbuds snug in your ear canal. This isn't merely to provide a secure fit, it's also to ensure that the earbuds maintain sound isolation. An imperfect seal in your ear means that sound leaks as you listen to music, mostly at the low end of the spectrum. The result is severe degradation of audio quality and that's exactly what happens when you use Apple's AirPods. Regardless of how many times you angrily stuff them back into your ears they always end up slowly sliding out until they break the seal.
After a while I simply couldn't take it anymore. The only time my AirPods get any use these days is when I'm talking on the phone while at my desk. I shouldn't say "AirPods" actually, since I only use one AirPod now. That's right, my $159 AirPods now do the same job as a Jabra headset from 2008. I had tried several other pairs of cord-free earbuds but nothing delivered decent sound quality, so I gave up on the dream of true wireless earbuds and went back to my old corded wireless earbuds… until I received an email last month from Master & Dynamic.
New York-based audio company Master & Dynamic doesn't have a long history, but it has quickly become one of the premier names in premium audio. Its headphones and speakers have been lauded far and wide by top reviewers and end users alike. The company is now known for its unique designs that manage to separate themselves from the pack, its use of premium materials like metals and leathers, and for the fantastic sound quality achieved by each of the products it has launched to date.
That brings us to today's announcement, with Master & Dynamic having just released its first true wireless earbuds. I have spent the past few weeks testing the new Master & Dynamic MW07 True Wireless Earphones, and I have been impressed every step of the way.
Starting with the MW07 design, Master & Dynamic stayed true to its brand and built these earbuds entirely out of premium materials. The housing is handmade acetate like premium sunglasses and eyeglasses, while the buttons and acoustic enclosure are made of stainless steel. The tips are silicone, as they should be on all earbuds that are intended to isolate sound, and the MW07 earphones ship with five different sized tips to guarantee a snug and comfortable fit in the ear canal.
In addition to the tips, a second silicone component helps ensure the best possible fit. Master & Dynamic calls it a "silicone fit wing," and there are two different sizes to help the earbuds fit snug in the back of the wearer's ear. The MW07 earphones are lightweight and comfortable to wear for hours on end, and they have never slipped out of my ears during my testing.
The MW07s look beautiful and the craftsmanship is top-notch, but sound is where they really shine. Simply put, I have never tested cord-free earbuds that come anywhere close to producing the kind of full, rich sound achieved by Master & Dynamic's MW07 earphones.
M&D's combination of large 10mm beryllium drivers and stainless steel acoustic enclosures helps these cord-free earbuds punch well above their weight class. It's frankly shocking that sound this big is produced by earphones that are so compact. Bass response is full and deep, and it doesn't get muddy at reasonably high volumes. Mids and highs are crisp, with impressive definition and clarity. I have tested more than 50 different pairs of earbuds over the past few years with prices that range from $25 to $500 and beyond. Master & Dynamic's MW07 earphones can easily go toe to toe with the best of the bunch, wireless or even corded.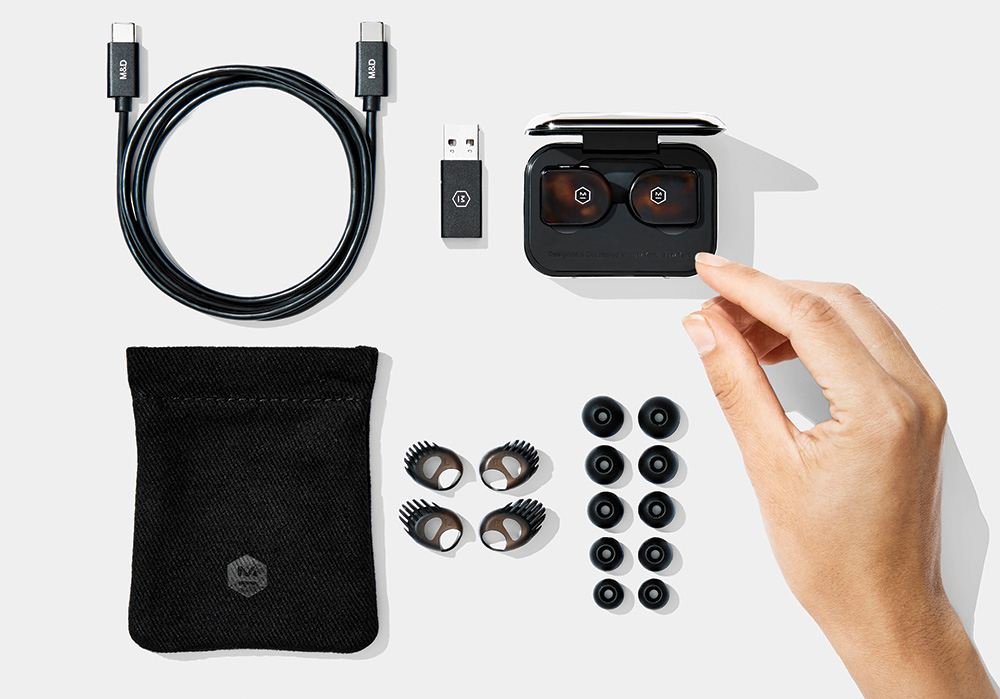 Also impressive is the charging case that accompanies the MW07 earphones. The outside is made entirely of polished stainless steel, giving the complete package a premium look and feel that is unmatched among cord-free earbuds. A USB-C connector charges the case, which provides enough juice for 10.5 hours of listening. The earphones themselves have enough battery capacity for another 3.5 hours, and it takes about 1.5 hours inside the case to fully recharge them.
As for features, the MW07 earphones cover all the bases you would expect from a pair of premium cord-free earbuds. Sensors on the inside of each earphone automatically pause music when you remove one from your ear and resume playback when the earphone is placed back into the ear. A button on the right earbud can also manually control music playback and phone calls. Volume buttons are found on the left earbud, and they connect quite quickly to one's smartphone. In fact, I find that the MW07 earphones regularly connect to my iPhone X far faster than my AirPods.
I tested a pre-release version of the MW07 earphones that varied from the final version in a few different ways. Thankfully, both of the problems I had with them are addressed in the final production version.
The first wasn't so much a problem as it was a minor annoyance: the earbuds tended to stick to the roof of the case, so they popped out a little when the case was first opened. The second issue was more serious, and it involved intermittent momentary drop-outs in audio playback under certain circumstances. In a nutshell, audio would drop out of one earphone for a fraction of a second when there was certain physical interference. The release version of the MW07 earphones use a different material for the roof of the case, and I have been told by Master & Dynamic that a modified radio design on the production version eliminates the drop-outs.
The new MW07 True Wireless Earphones are available for $299 beginning today on the Master & Dynamic website.