Apple on Monday took the stage in California to tell us all about its newest software innovations, and hardware wasn't on the menu, just as we expected. Some analysts did say that Apple may choose to update several products at or around WWDC 2018, including the iPhone SE, the HomePod, and its MacBook laptops, but Apple didn't indulge us with any new hardware during the keynote.
One of the new products Apple might unveil in the near future is the top-tier MacBook Pro you've always wanted, a model that can support up to 32GB of RAM. Despite the hardware-free keynote, an update still might be just around the corner.
All current MacBook Pro models are capped at 16GB of RAM, but that might change real soon. The memory isn't upgradeable, and some criticized Apple for not offering a 32GB version last year.
A Geekbench listing reveals that a 32GB MacBook Pro exist (model MacBookPro14,3). Said laptop was tested on Friday, scoring 4902 in single-core test and 22316 in multi-core test.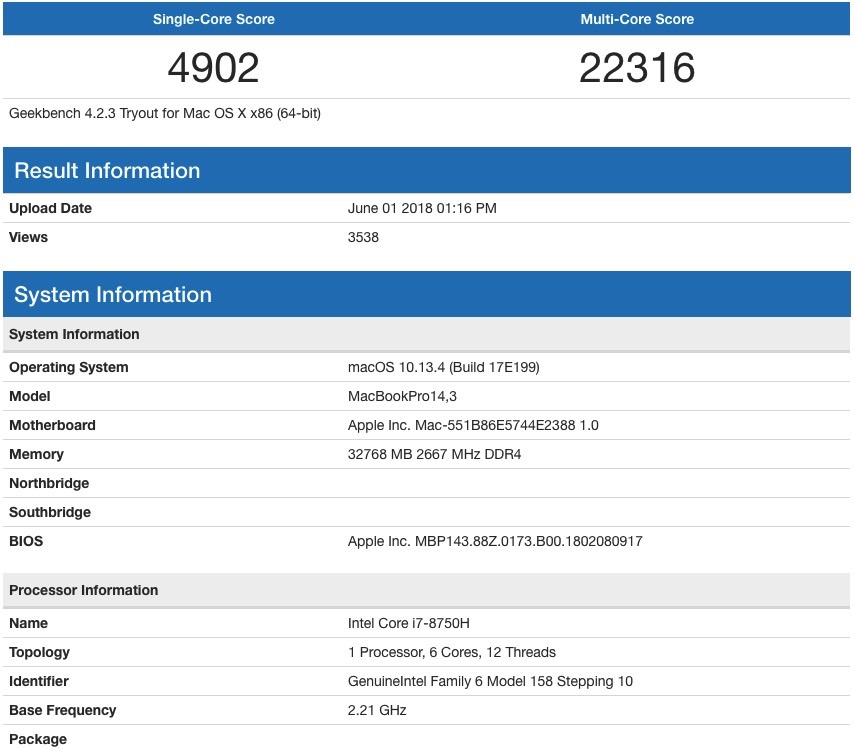 The listing reveals the device runs macOS 10.13.4 and packs 32GB of RAM alongside an Intel Core i7-8750H six-core processor.
The best MacBook Pro you can buy right now has a quad-core Intel Core i7 chip and 16GB of RAM. The mid-2017 MacBook Pro scores around 5000 in single-core tests and up to 17000 in multi-core tests.
There was nothing to suggest that Apple will indeed refresh the Macs at WWDC, although a 2018 update is undoubtedly expected for all of Apple's computers. Apple's online store wasn't down either, which would have been a clear sign that new products are en route.
Regardless of what happened during the keynote, however, it's safe to say that the 32GB MacBook Pro exists, and you'll probably be able to buy one at some point this year.