We hoped Apple would unveil its 2018 MacBooks at WWDC last month, but that event turned out to be all about software. There was no hint whatsoever that new MacBooks are coming. But we all know Apple will update its laptops this year — it's just what Apple does. In fact, we've heard rumors that the MacBook Air will get an update of its own, rather than reaching its end.
This week, however, we got the first proof that a MacBook Pro refresh is in order, thanks to a brand new Geekbench benchmark that reveals some of the laptop's most important features.
First spotted by 9to5Mac, the Geekbench listing mentions a brand new MacBookPro15,2 model, which seems to be an update for the 13-inch version of Apple's Pro family.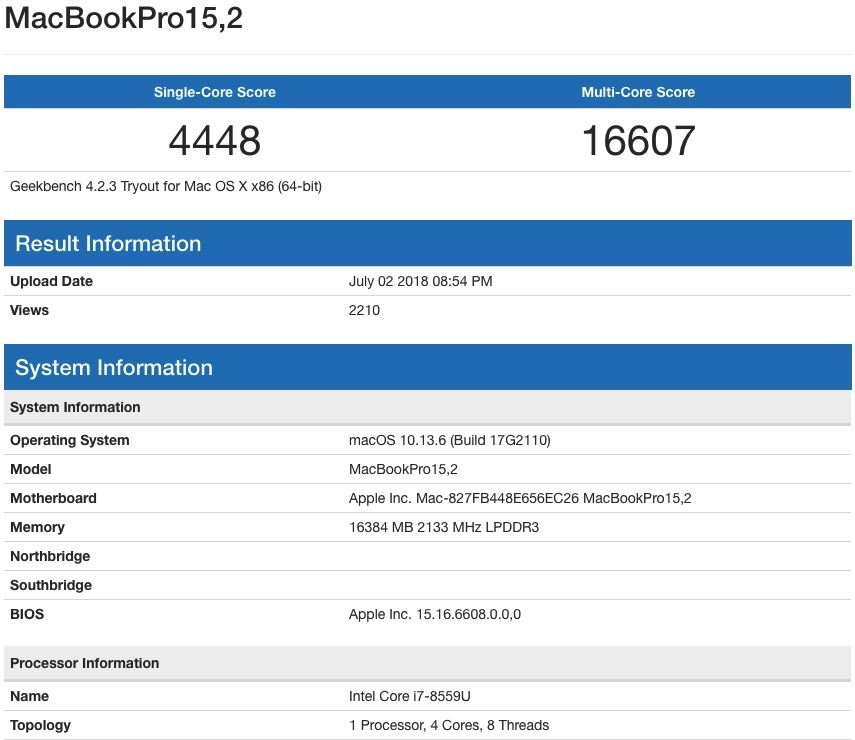 The benchmark tells us that the notebook packs an Intel Core i7-8559U Coffee Lake CPU that's not available in other products. We're looking at a 2.7GHz quad-core chip with 8MB L3 cache that can turbo boost to 4.5GHz.
The chip scored 4448 in single-core and 16607 in multi-core tests, assuming this listing hasn't been doctored. The single-core score is, strangely, on par with the 2017 13-inch MacBook Pro which hits 4600 in the same test. But last year's dual-core laptop only does 9500 in the multi-core department.
With these scores, the 13-inch 2018 rival might match the performance of last year's 15-inch Pro.
The bad news comes from the RAM department. The laptop in this listing packs 16GB of LPDDR3 memory. It looks like Apple won't make the jump to LPDDR4 RAM for the 13-inch 2018 MacBook Pro — again, assuming this information is accurate — which means you won't find a 32GB RAM option in stores.
Finally, the benchmark reveals the system was running High Sierra rather than Apple's macOS Mojave, which is already available in beta.
In early June, however, we did see a similar Geekbench listing for a new MacBook Pro version that had 32GB of RAM.
There's no telling when Apple will upgrade its MacBooks, but we sure hope to see the new models in stores before Mojave lands this fall.