Apple's MacBook Pro event is now in full swing, and the main event has finally arrived. After much anticipation, Apple finally unveiled a brand new MacBook Pro on Thursday, and as expected, there are some significant changes in store.
DON'T MISS: The iPhone 7's biggest secret
The new 2016 MacBook Pro features a completely new design over the previous model, with an aluminum body, metal on all sides and, perhaps best of all, it doesn't lose the headphone jack. There will be a 13-inch and 15-inch model, and both will be available in silver and space gray when they launch.
The first thing you'll notice about the new MacBook Pro models (from the outside, anyway), is that they're significantly thinner than the old MacBook Pros. Apple says that the 13-inch model is just 14.9mm thin and weighs three pounds, while the 15-inch model is 15.5mm thin and weighs only four pounds.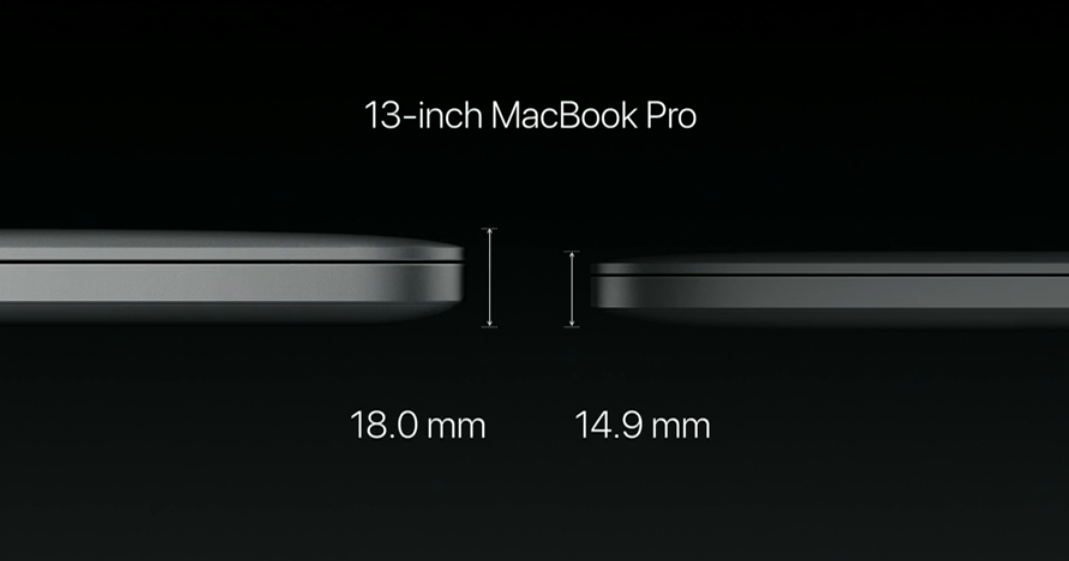 Another major improvement: the trackpad is twice as large as it used to be. They keyboard has also been replaced with a refined version of the MacBook keyboard.
But you're probably more curious about the OLED strip above the keyboard than anything else on the laptop, and Apple has plenty to say about it.
This multitouch Retina display is called the Touch Bar, and it responds to both gestures and taps. Apple says that the Touch Bar will adapt to whatever software you're using, so in Safari, you'll see you bookmarks and a back button. In iPhoto, you'll see buttons to help to flip and edit your photos.
A Touch ID sensor is also included in the Touch Bar, taking the place of the power button on the far right side. This will be used both to unlock your computer and to complete purchases using Apple Pay, if you're so inclined.
Along with all the software-specific buttons, the Touch Bar can also serve as a handy autocorrect tool while you're working on a document in Word or typing an email. But even more importantly, it's now even easier to add emojis to messages.
If you don't like the default arrangement of buttons and sliders on the Touch Bar, you can customize them on your display. Just choose from a selection of items, drag them down to the Touch Bar and drop them in. They will then appear on the Touch Bar by default. Obvious, but incredibly useful.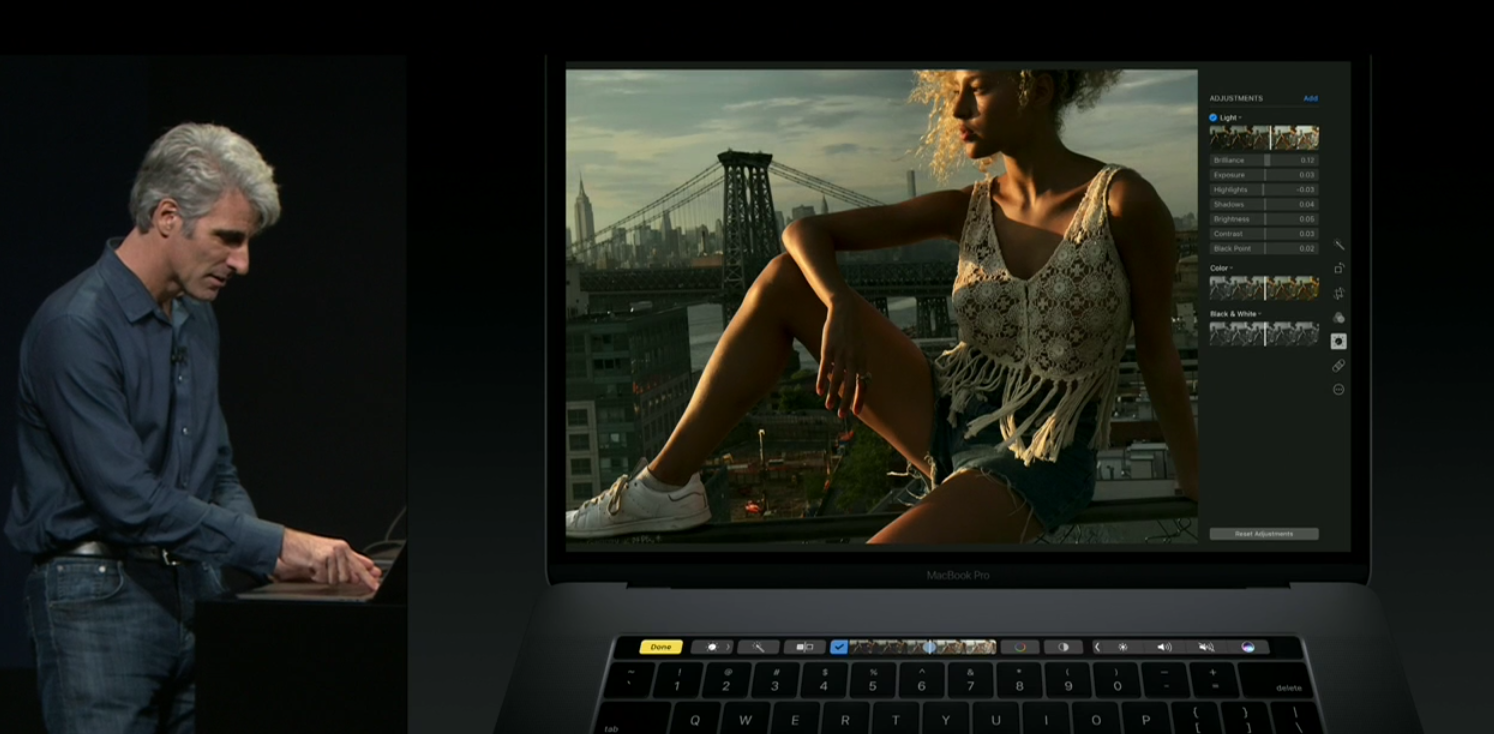 As for the rest of the hardware, Apple says that the new MacBook Pro's display is 67% brighter, has 67% higher contrast ratio and 25% more colors than the MacBook. Inside the 15-inch MacBook Pro is a quad-core Intel Core i7 processor with 2133MHz of memory, Radeon Pro GPU and a faster SSD up to 2TB.
Based on Apple's charts, the new high-end MBP will blow away the old one in terms of gaming and graphical power, with a 130% jump over the old laptop in 3D graphics. The 13-inch model, on the other hand, will feature either a dual-core i5 or i7 CPU and Intel Iris graphics.
The new MacBook Pro also feature four Thunderbolt 3 ports (2 on each side), all of which support USB-C. In other words, Apple's got all your ports covered, but there is a notable lack of SD card slots, which might bug some users.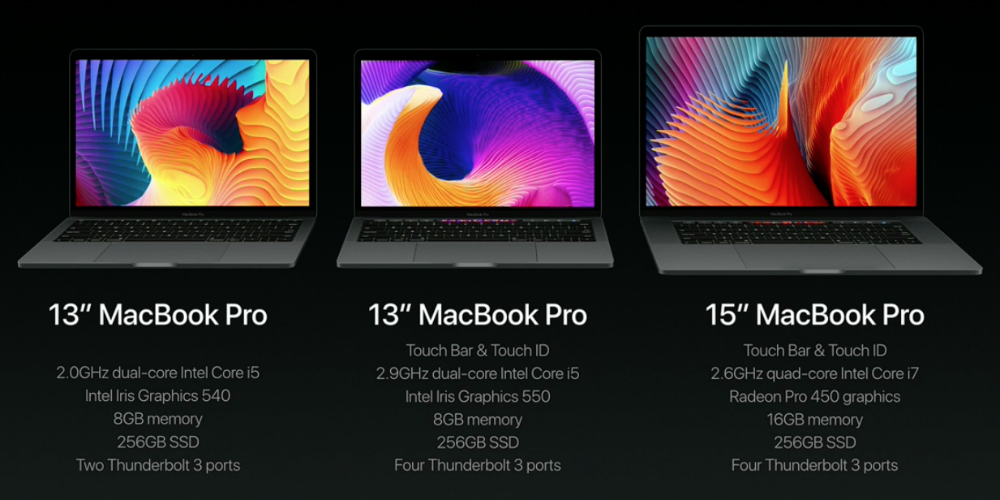 Apple's new MacBook Pro runs the latest version of macOS Sierra and has a battery life of up to 10 hours. And as always, both models are environmentally friendly.
Plus, in addition to the two new MacBook Pros with Touch Bar, there's also a new 13-inch MacBook Pro with standard function keys. That's three new MacBook Pro models announced at the event, for those keeping track.
The 15-inch MacBook Pro will cost $2,399, the 13-inch MacBook Pro will cost $1,799 and the 13-inch model with function keys will cost $1,499. All three models are available to order this week and the two Touch Bar models will begin shipping to customers in the next 2-3 weeks.