Even though Apple's brand new iPad Pros garnered the lion's share of press attention at the company's recent media event, you definitely don't want to sleep on Apple's brand new MacBook Air. A long time in the making, Apple's next-gen MacBook Air brings a whole lot to the table and should make for a compelling upgrade for folks looking to purchase a new notebook.
Spec wise, Apple's new MacBook Air features a brand new Retina display, a next-gen version of the company's butterfly keyboard (which we've heard is a decent improvement), built-in Touch ID functionality, a larger Force Touch trackpad, higher quality speakers, and much more. And of course, with this being a MacBook Air, Apple managed to make the notebook thinner and a tad lighter than its predecessor.
MacBook Air deliveries began just yesterday and the enterprising folks at iFixit wasted absolutely no time picking one up and doing what they do best — tearing it down.
Of course, the keyboard membrane Apple added to its notebook line to address complaints regarding its butterfly keyboard design is apparent the moment you pry off one of the keys. If you recall, Apple currently faces a few lawsuits over the original keyboard design amidst complaints that the keyboard became inoperable when even a tiny spec of dust happened to lodge itself underneath a key.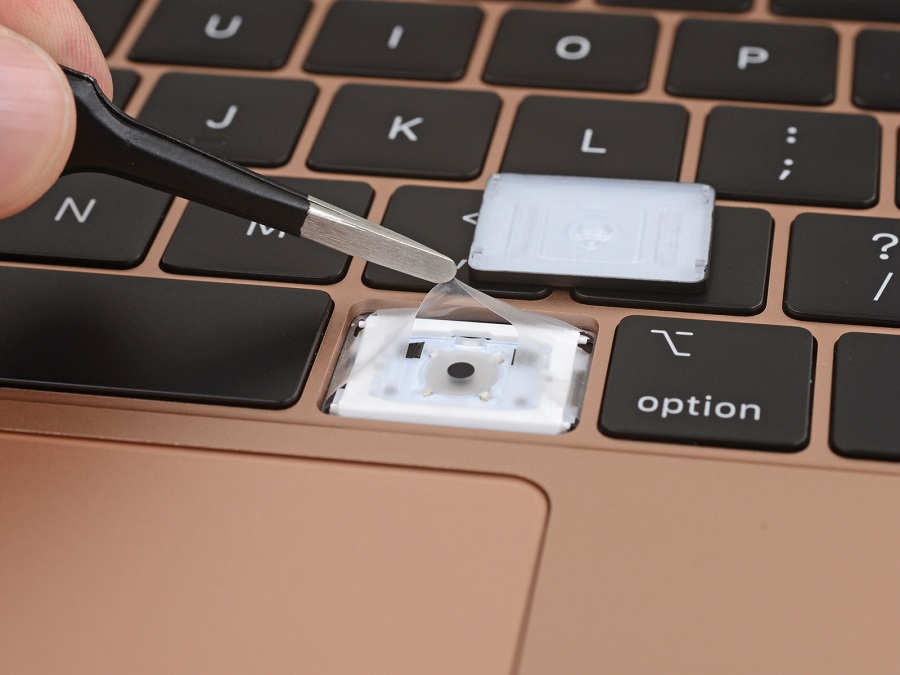 Per usual, getting into the MacBook Air requires a set of specialized tools, which is to say you shouldn't try and do this yourself (not that there's a reason to) with whatever generic tools you happen to have lying around the house.
The Air still uses external pentalobes to keep you out, requires lots of component removal for common fixes, and both RAM and storage are soldered to the logic board. All together, that means Apple has an easy time with their knowledge and tools, but the average DIYer is left out to dry when it comes to upgrades. We're not ones to complain (okay, yes we are), but we hope this is just the beginning of an upswing in repairable design.
That said, the iFixit folks found that repairability on the MacBook Air is noticeably better than on previous models. A blog post highlighting all of their findings can be found over here.