Apple unveiled the M3 Macs on Monday, which feature one of the expected new chips: M3, M3 Pro, and M3 Max. Apple made a big deal about the performance gains each of the three System-on-Chip (SoC) will deliver over predecessors. We've had to take Apple's word on it, at least until the first benchmarks started showing up online. There's no reason for Apple to lie, of course. But we'd still need confirmations from benchmark tests.
We already saw the first test results for the M3 MacBook Pro, which show the entry-level SoC is around 20% faster than the M2. Since then, the first M3 Max benchmarks have also surfaced. They show the late 2023 MacBook Pros are as powerful as the Mac Pro and Mac Studio running on the M2 Ultra SoC.
Found by MacRumors, the M3 Max benchmarks appear to be for the 16-inch MacBook Pro (identified as "Mac15,9" in Geekbench results). The M3 Max almost 3,000 points in single-core tests, on par with the base M3 model. That's also slightly higher than the M2 Ultra that powers the Mac Studio and Mac Ultra.
In multi-core tests, the 2023 MacBook Pro topped 21,000, which puts it on par with the M2 Ultra inside Apple's desktops. The M2 Ultra scores topped the Geekbench 6 Mac benchmarks, until the arrival of the M3 SoC.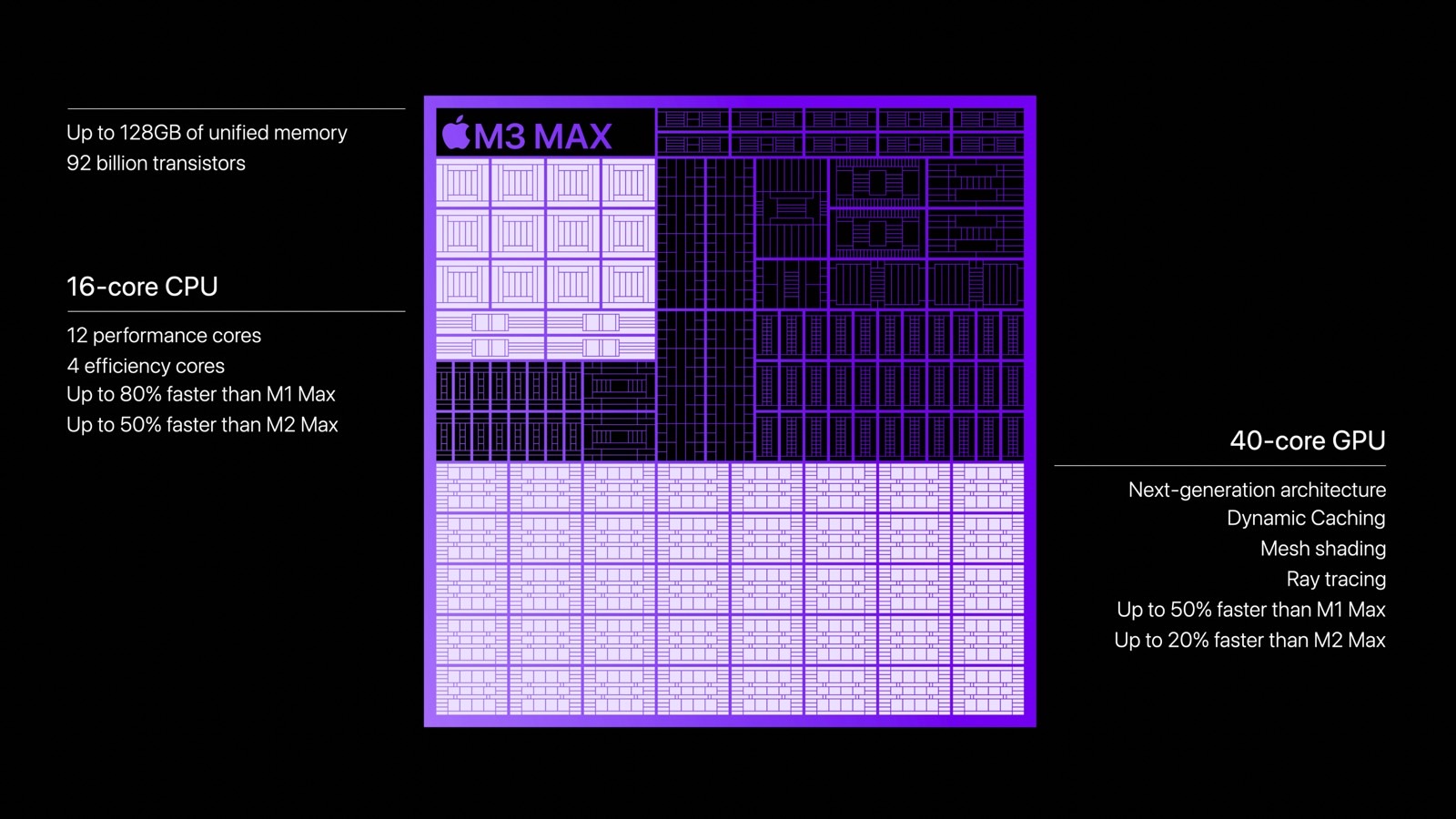 Benchmark tests are one thing, and real-life performance is another, of course. But these early results prove that Apple's performance claims are accurate. The benchmark says the M3 Max is around 45% faster than the M2 Max in the previous MacBook Pro. Apple said on stage that the M3 Max is up to 50% faster than its predecessor.
These results indicate that the new laptops are as powerful as Apple's best desktops. Apple also insists on an important detail while announcing its Macs. The MacBooks deliver the same performance whether they run on battery or they're connected to power.
As MacRumors observes, the M3 Max will get you M2 Ultra performance for a lower price. The M3 Max MacBook Pro 16-inch starts at $3,499. The M2 Ultra Mac Studio starts at $3,999. You also have to buy a display and peripherals if you go the desktop route.
The M3 Max MacBook Pro models will be available in stores later in November, with the M3 and M3 Pro versions hitting stores on November 7th.