Hours before Apple's big Mac event on Monday, I wondered whether the M3 MacBook Pro models will deliver significant battery life gains over their predecessors. It's not that the M2 MacBook Pro battery life estimates were bad. But the M3 chips are faster and more efficient than the previous generation. That's what made me cautiously hope for better battery life from the Pros.
At the same time, I knew better than to set expectations. I predicted that Apple would keep the 18-hour and 22-hour battery life quotes it gives for the M2 Pro/Max MacBook Pros, respectively. And Apple delivered that.
What I didn't see coming was the M3 MacBook Pro 14-inch surprise. Apple discontinued the base M-series MacBook Pro model and replaced it with a cheaper 14-inch version. The new M3 MacBook Pro is the big battery life winner, getting a 22-hour estimate, just like the larger 16-inch model.
Apple's battery life estimates for M3 MacBook Pro models
Before we get started, you should know that battery size has not changed significantly compared to the early 2023 MacBook Pros that run on the M2 Pro/Max chips. We're looking at 70-watt-hour and 100-watt-hour batteries for the M3 MacBook Pro 14-inch and M3 Pro/Max MacBook Pro 16-inch.
The only difference concerns the M2 Pro/Max MacBook Pro 14-inch, which gets a slightly larger 72.4-watt-hour battery.
A quick look at Apple's comparison tool for the MacBook Pros will get you two battery life estimates. One of them gets prime treatment, as seen below:

Scroll down, and you'll see that Apple registers the maximum battery life for the MacBook Pros when playing movies via the Apple TV app. The M3 MacBook Pros can, therefore, play video content continuously for up to 18 hours (14-inch M3 Pro and M3 Max models) and up to 22 hours (14-inch M3 and 16-inch M3 Pro and M3 Max models).
The second battery life estimate concerns web browsing while connected to Wi-Fi. You get up to 15 hours for the 14-inch M3 and 16-inch M3 Pro and M3 Max models. And up to 12 hours for the 14-inch M3 Pro and M3 Max models.
Real-life laptop use is different. It involves a combination of video streaming, web browsing, and other app usage. Since these are laptops targeting professionals, we have to assume that pros would use lots of apps, including the kind that require lots of processing and, therefore, lots of energy juice.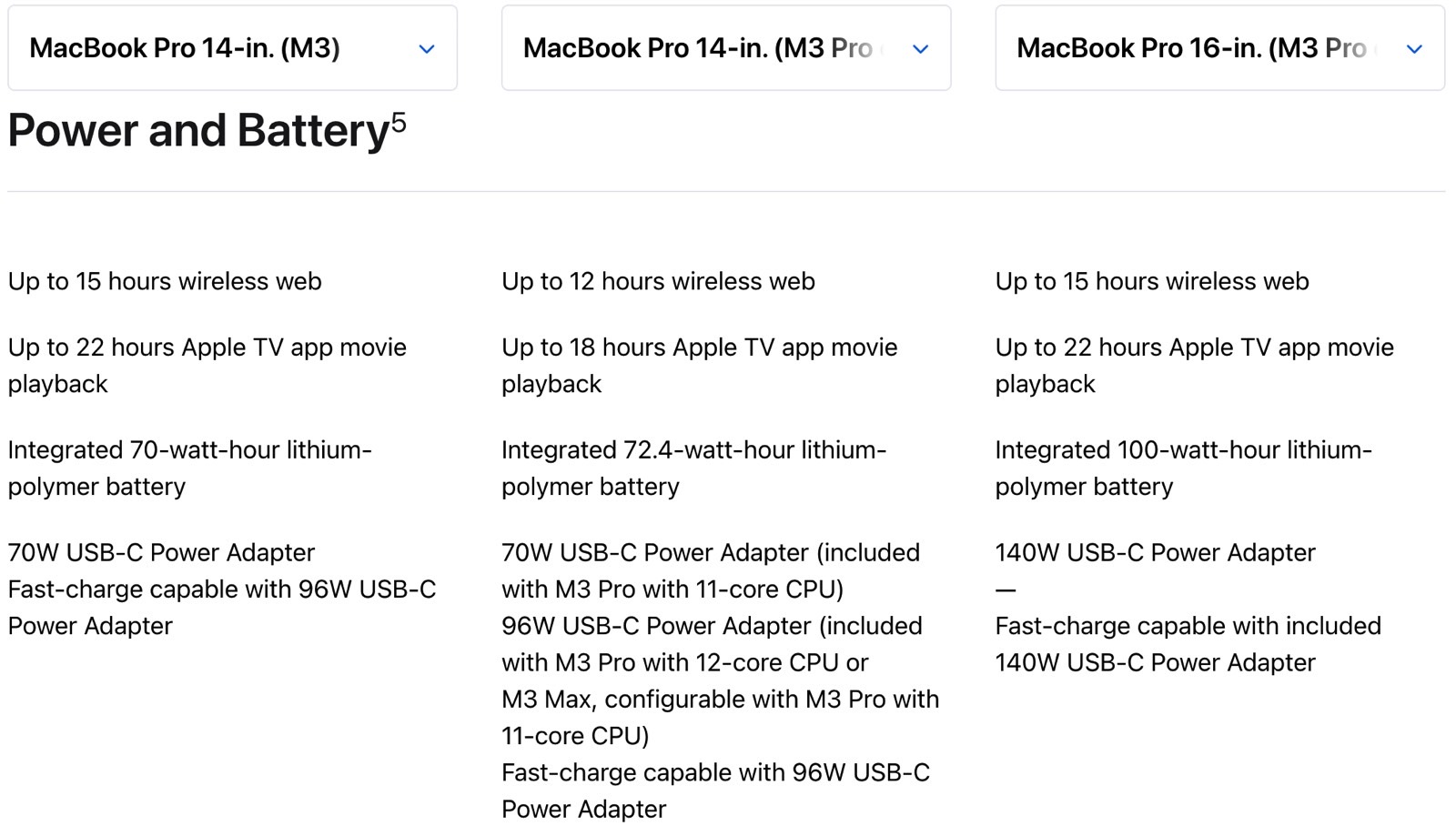 With that in mind, real-life battery tests for the M3 MacBook Pros will offer different results, depending on the method. It's very likely, however, that Apple's all-day battery life claim will be met. That is, I'd expect more than 12 hours of life across the board. And the M3 MacBook Pro 14-inch will probably be the big winner.
How Apple conducts MacBook Pro battery life tests
You might wonder how Apple tests battery life in its labs. All you have to do to learn the answer is head to the M3 MacBook Pro product page and look for the fine print.
Here's one for the M3 Pro MacBook Pro 16-inch:
Testing conducted by Apple in September and October 2023 using preproduction 16-inch MacBook Pro systems with Apple M3 Pro, 12-core CPU, 18-core GPU, 36GB of RAM, and 512GB SSD.

The wireless web test measures battery life by wirelessly browsing 25 popular websites with display brightness set to 8 clicks from bottom.

The Apple TV app movie playback test measures battery life by playing back HD 1080p content with display brightness set to 8 clicks from bottom. Battery life varies by use and configuration.
The same tests apply to the M3 MacBook 14-inch and the M3 Pro MacBook 14-inch. The brightness is set to "8 clicks from the bottom" whether Apple tests wireless browsing or Apple TV app movie playback.
Again, this isn't a standard battery life test. There's no such thing. Each laptop vendor would put out their own battery life tests, which are guided by marketing reasons.
But I think Apple must be pretty confident with its claims. It could easily put competing devices through the same test to show the differences. Not to mention that battery life has been a MacBook highlight since the M1 series arrived.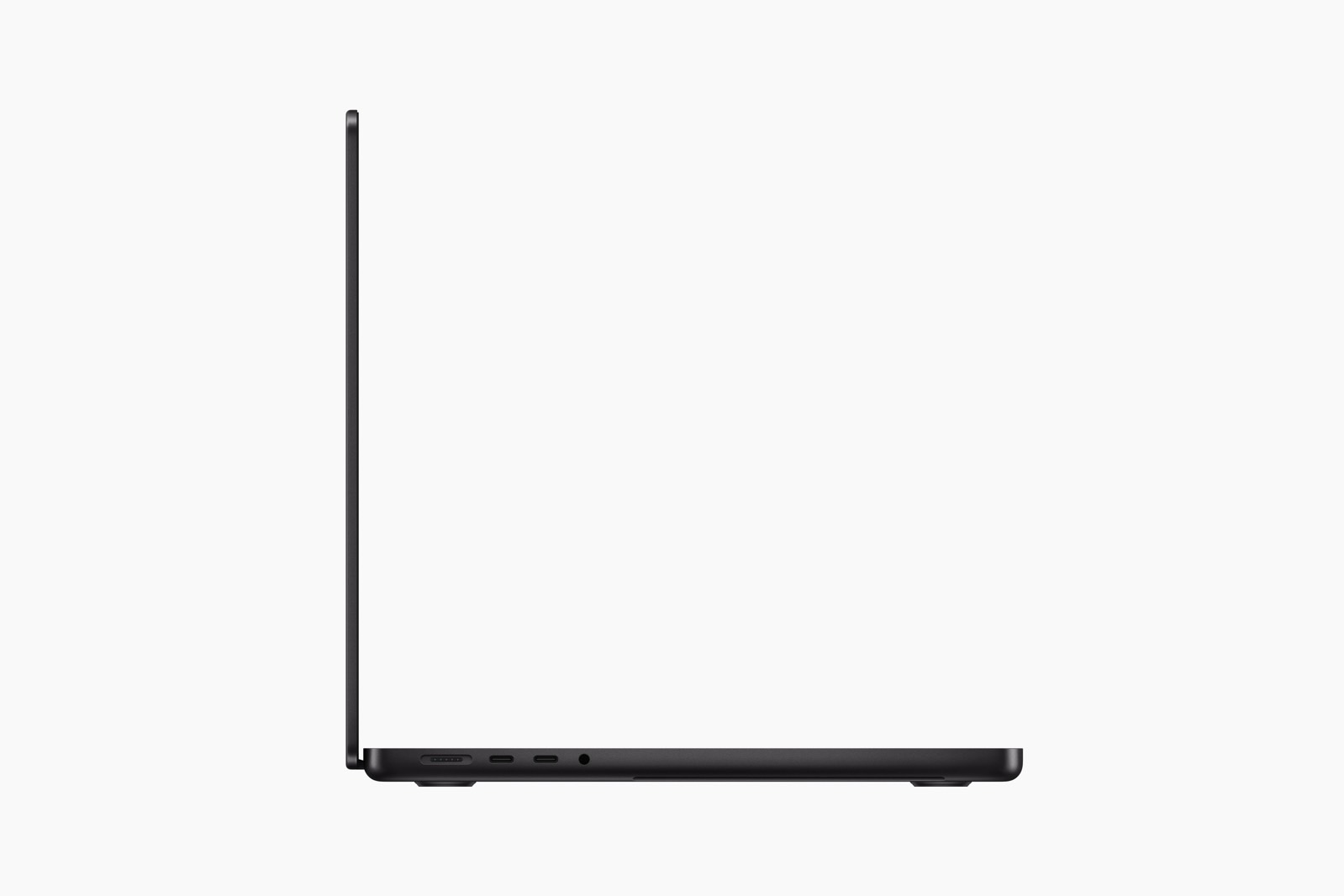 Then again, as Apple says, battery life will vary depending on use and configuration. What's safe to say is that you shouldn't run into battery life issues with the M3 MacBook Pros, especially if you get the entry-level model.
How fast do the batteries charge?
All M3 MacBook Pro models can charge via MagSafe or USB-C. You'll need a charger that supports a power of at least 70W for the 14-inch models. The previous 14-inch models needed a minimum of 67W of power. The smaller MacBook Pros also support fast charging with 96W chargers. The 16-inch version needs a 140W charger for regular and fast charging.
To take advantage of fast-charging abilities, you'll need to use the MagSafe charger rather than a USB-C-to-USB-C cable.