When is the last time you looked at a laptop computer and thought to yourself, "this is a truly innovative device"? For me it was more than eight years ago, but I can remember the exact date: January 15th, 2008. Late Apple co-founder Steve Jobs was on stage delivering a keynote at the 2008 Macworld conference, and he pulled a shockingly thin all-aluminum laptop out of a manila envelope to give the world its first ever look at the MacBook Air. It was nothing short of remarkable, and Apple's rivals have been chasing it ever since.
I'm not yet convinced that the new Yoga Book will have the same dramatic impact on the laptop computer market. Still, the day I first set eyes on Lenovo's new hybrid device marked the first time since January 2008 that I felt I was looking at a truly innovative laptop.
Lenovo first unveiled the Yoga Book in late August ahead of the annual IFA trade show in Berlin, Germany, but I had spent some time with the device a month earlier when I previewed all of Lenovo's IFA announcements. There was plenty to take in at that meeting, but Lenovo saved the Yoga Book for last because it was clearly the most intriguing new product in the company's holiday lineup.
I have now been using a review unit for the past week, and I'll share my experience in this post.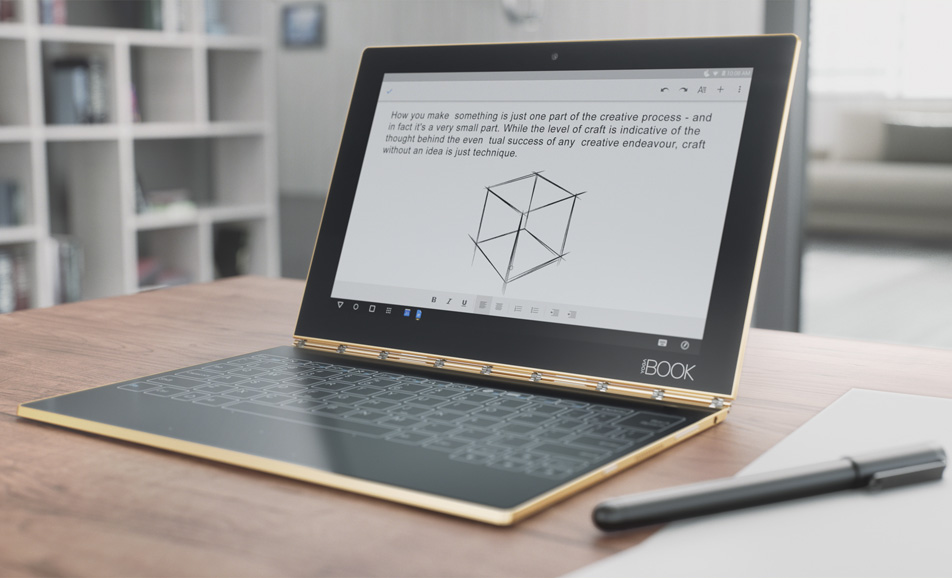 First of all, what's so special about the Yoga Book? In a market flush with "hybrid" devices that combine the portability of a tablet with the versatility of a laptop, the Yoga Book is an entirely new breed of device. It still fits into the hybrid category, but just barely. While a conventional hybrid combines the form factor and functionality of two devices — a laptop and a tablet — the Yoga Book combines three different devices.
Maybe we should call it a "tribrid." On second thought, maybe we shouldn't.
In addition to offering the clamshell form factor of a laptop and the touchscreen experience of a tablet, the Yoga Book also sports a pen tablet, commonly referred to as a digitizer tablet or a graphics tablet. The pen tablet occupies the same physical space as the keyboard, so the device is actually two tablets joined by a unique "watchband hinge" that sandwiches them together when closed, or places them back-to-back when rotated all the way open.
Using the digitizing pad and included "Real Pen" stylus, the Yoga Book is a full featured pen tablet. You can write or draw anywhere on the surface and your strokes will be recorded and displayed on the display above. The device uses Wacom Feel technology, which supports 2,048 levels of pressure as well as 100 degrees of angle detection.
As an added bonus, the Real Pen can also use an actual pen nib and you can place a pad of paper on top of the digitizer. Then, as you write or draw in real ink on real paper, your strokes are also recorded and digitized by the Yoga Book.
With the quick press of a touch-sensitive button near the top of the digitizing pad, the Yoga Book's "Halo Keyboard" is illuminated. The glowing buttons look just like the keypad on old Motorola RAZR phones, but in this case it's a full QWERTY keyboard with a trackpad.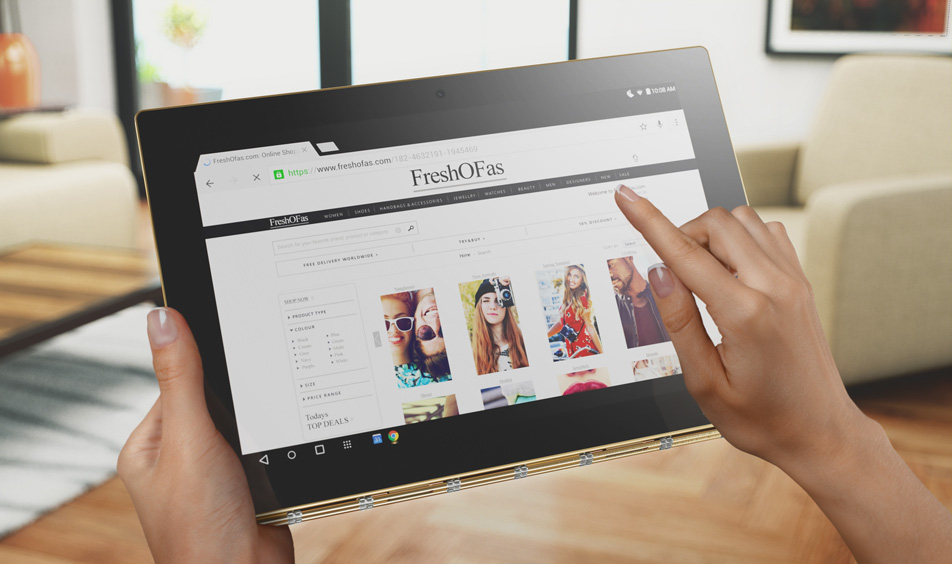 Typing on the Halo Keyboard is nothing like typing on a typical laptop keyboard for obvious reasons — it's a capacitive surface that recognizes touch input, not actual keys as you would find on a conventional keyboard. The device does offer feedback in the form of haptic vibrations and the typical tap sounds found in Windows 10, though you can disable either or both if you so choose. I personally like the vibration feedback, though I wish the vibration intensity was adjustable. Each vibration is actually so loud that it could easily disturb people around in a quiet room.
Think of the Halo Keyboard as being akin to Microsoft's Touch Cover on its Surface tablets. It's not quite as good as typing on a "real" keyboard, but it's far better than typing on a virtual keyboard on a tablet's display. It also allowed Lenovo to create a device that is far lighter than a conventional hybrid; the Yoga Book weighs just 1.5 pounds, which is less than a full-size iPad Pro that doesn't even have a keyboard.
To quickly cover some other important specs, the Yoga Book features a 2.4GHz Intel Atom x5-Z8550 processor, Intel HD 400 graphics, 4GB of LPDDR3 RAM, a 10.1-inch 1080p display, 64GB of internal storage as well as microSDXC support, an 8-megapixel rear camera, a 2-megapixel front-facing camera, Wi-Fi AC, cellular support and an 8,500 mAh battery that Lenovo says will carry you through a full day of usage on a single charge (and I indeed found that to be the case).
In the end, I found that I had a much easier time using the Yoga Book than I thought I would. My review unit ran Windows 10 — Lenovo also offers an Android version with the exact same specs — and I used the device to write this very article. Typing on the Yoga Book takes a bit of getting used to, as is the case with Microsoft's Surface tablets and Touch Cover keyboards. But once I got comfortable with the Halo Keyboard, I found that I typed much more quickly than I do on a typical tablet display.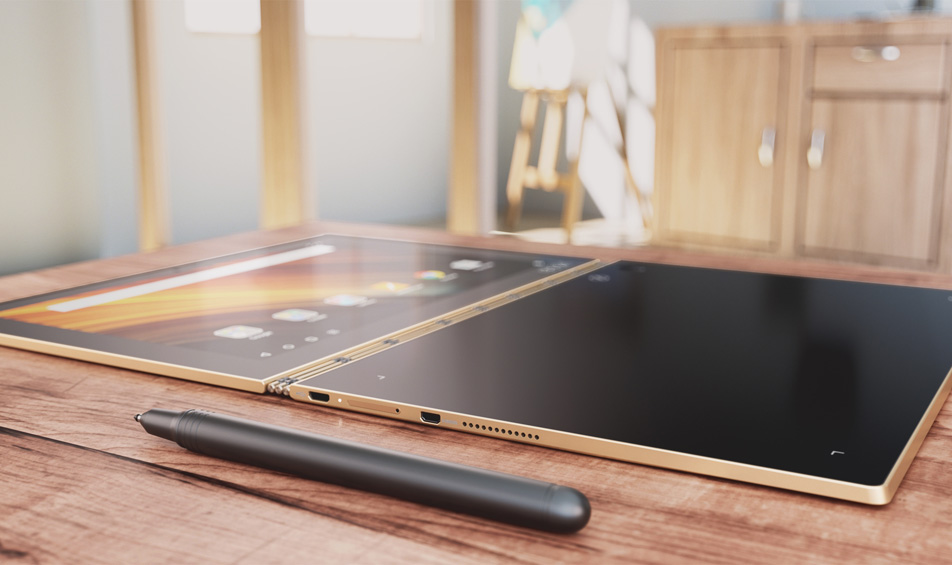 I'm no artist, but I also had a great experience using the pen tablet with Lenovo's stylus. The pen tablet is very sensitive, as you would expect from any device equipped with Wacom tech. I also like taking notes by hand from time to time, so the ability to place a pad on the pen tablet and have it digitize my handwriting was great.
Of note, switching between the stylus tip and an actual pen cartridge is fast and easy. The cap of the stylus has a built-in removal tool and the stylus takes standard ink cartridges that can be purchased on Amazon or in any office supply store.
At $499.99 for the Android version and $549.99 for the Windows 10 model, the Yoga Book is priced in line with tablets. It is a tablet, but it's also so much more. I'm not sure this is or will ever be a mass-market device like Apple's MacBook Air, but in my eyes it's just as innovative as the Air, provided the user has a genuine need for a hybrid device with professional-grade pen support.
Both new Yoga Book models go on sale beginning Monday, October 17th on the Lenovo online store.