Fewer people these days seem to think a tablet is worth having as a complement to their much more indispensable smartphone. A couple of different research firms, in fact, reported worldwide tablet sales seeing a major drop in the second quarter — with the exceptions being China's Huawei and if you're a certain company that sells the iPad.
IDC data, for example, shows the global tablet market dropping 13.5 percent in the second quarter. Yet it's into that maw that Lenovo has decided to release five new budget tablets that run Android Oreo, with prices that start at just $70.
The new devices, in other words, are purpose-built for the low-end of the market, for casual users who primarily want a tablet to maybe play games and stream entertainment and don't care that their device is missing all the bells and whistles of something like an iPad.
Lenovo groups its new budget tablets into three categories. At the bottom is the E series, which includes seven-, eight- and 10-inch models. The M10 tablets are the models in the middle of the lineup spec-wise, and the 10-inch P10s are at the higher end here, such as it is.
Let's look at each category:
"The entry-level Lenovo Tab E7," Lenovo says in its announcement, "is purpose-designed to give users the most bang for their buck, with a sleek elegant profile that houses the Android Oreo Go Edition, which means lighter apps, more storage out of the box, and much-improved performance." It's also got a 7-inch, 10.33mm thin frame and can give you up to 5 hours of video watching without charging.
The Lenovo Tab E8, meanwhile, allows for multiple dedicated profiles and has a front speaker supported by Dolby Atmos and is just 8.9mm thin. It offers up to 10 hours of local video playback.
Lenovo says the E10 model "is built for families who need a complete audio-visual experience on the tablet for the home. This powerful and thin tablet packs two front speakers with Dolby Atmos and a 10-inch HD display, along with the speedy Qualcomm Snapdragon™ 210 processor." The E8 and E10 models also both come with 5MP auto focus rear cameras and 2MP fixed focus front cameras.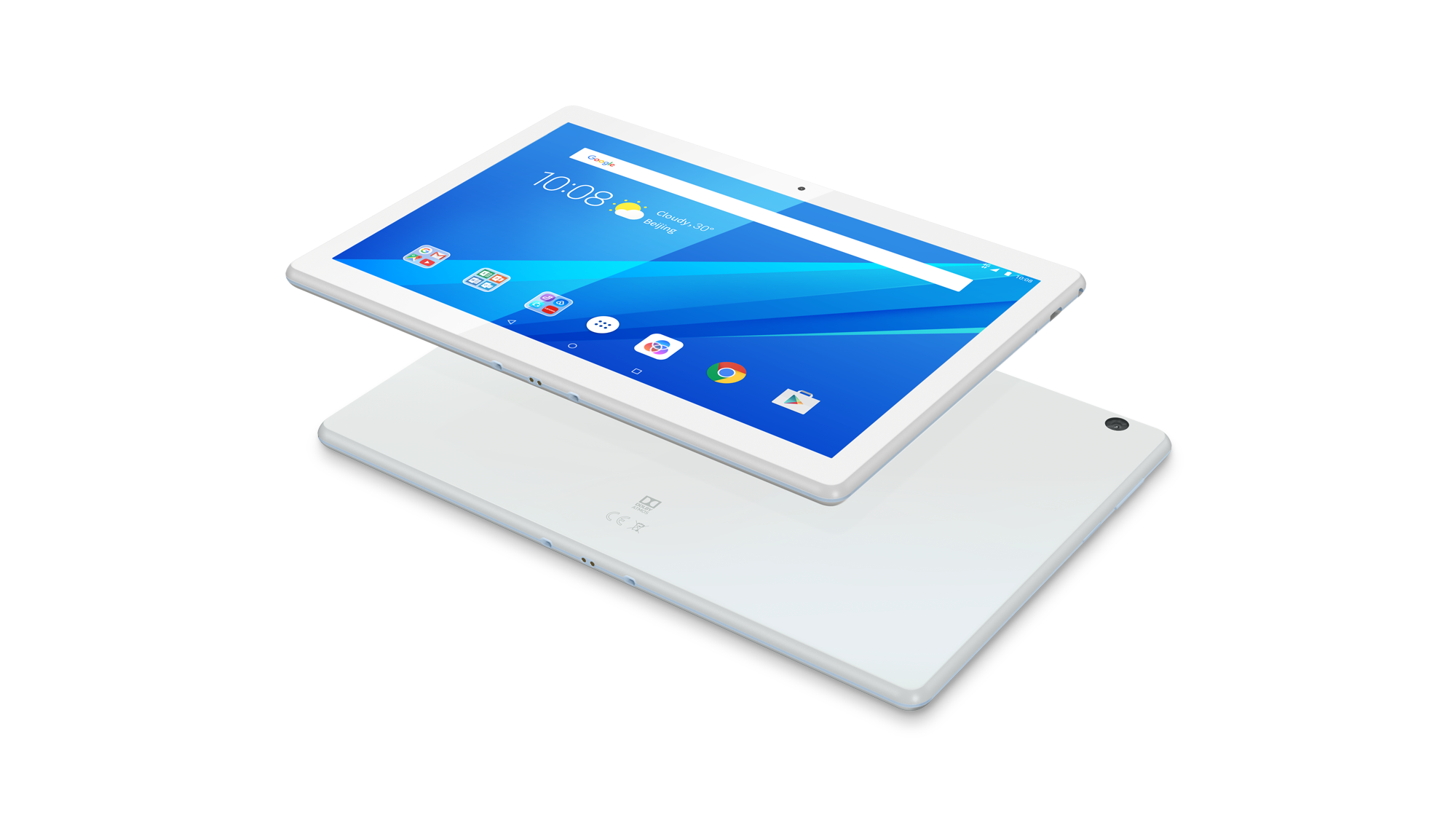 The M10 sports Qualcomm Snapdragon Octa-Core 1.8GHz processors, 10.1-inch Full HD displays and Dolby Atmos support. It also comes with dual front speakers and features designed for families with kids in mind, like a custom shock-resistant bumper and special kid's mode that features curated children's content.
The Lenovo Tab P10 features a dual-glass design, all-metal framing and narrow bezels, along with four speakers, an 8MP auto-focus rear camera and 5MP fixed focus front camera.
Sales in North America are under way now for some models and starting soon for others. You can get a Lenovo Tab E7 bundled with a back cover starting at $69.99. It will be available starting in October 2018 and exclusive to www.walmart.com.
The Lenovo Tab E8 starts at $99.99 and is available now in Walmart stores. The Lenovo Tab E10 starts at $129.99 and is expected to be available starting in October in Walmart stores and select retailers, while the Lenovo Tab M10 and Lenovo Tab P10 are expected to be available for pre-order starting this winter on www.amazon.com.