Samsung earlier this week teased a notch-free, all-screen Galaxy S10 by showing an intriguing A8 device featuring a display with a hole near the top. That hole would allow the selfie camera to have an unobstructed view without the need for a notch. Samsung has recently decided to launch new smartphone features on mid-range devices rather than flagships, so the company's A8 teaser isn't surprising. But Samsung isn't the only company working on getting rid of the notch. Apple earlier this week was granted a patent that describes tech which would be used to drill holes through screens safely, thereby eliminating the need for the notch currently found on the iPhone XR, iPhone XS, and iPhone XS Max.
First spotted by Dutch blog MobielKopen, the patent is titled Electronic device displays with holes to accommodate components and was filed in June 2016, well before all-screen devices became a thing. Of course smartphone makers begin planning new devices years in advance, so this shouldn't come as much of a surprise.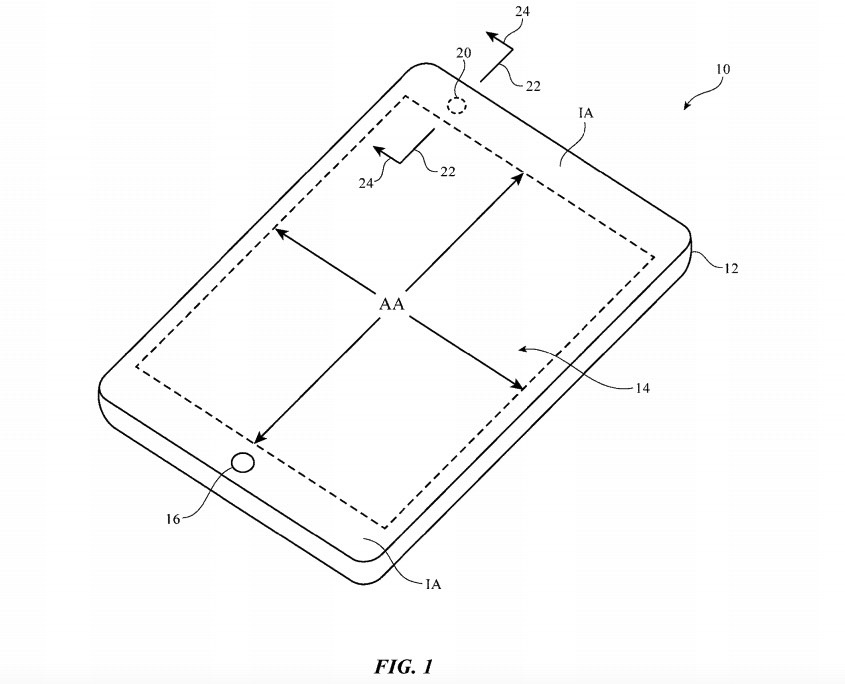 The patent doesn't even contain images that would remind anyone of the now-iconic iPhone X design that Android phone makers copied this year. But Apple makes it clear that the purpose of this technology is to increase the screen-to-body ratio of devices without removing any necessary front-facing features like a camera. At the same time, Apple stresses the importance of drilling the holes without damaging the various layers of the screen.
Electronic devices often contain displays. For example, laptop computers, cellular telephones, tablet computers, and desktop computers may contain displays. Devices such as these may also include components such as cameras.

It can be challenging to design an electronic device that includes a display and a component such as a camera. If care is not taken, display bezels may be larger than desired to accommodate camera windows, cameras may be required to receive light through transparent layers of material that are thicker than desired, the thickness of a display may limit space available for mounting a camera within a device, or other undesired compromises may be made that detract from device aesthetics and device performance.
Apple may not have a display manufacturing subsidiary of its own like Samsung does, but the patent shows that Apple is working on means of drilling a hole through the display without affecting its integrity, functionality, or appearance.
The hole may be formed using drilling and breaking operations. A drilling tool may be used to drill an annular groove in the first substrate layer. A thinned annular region may be formed within the groove. The annular thinned region may be cracked to release a disk-shaped portion of the first substrate layer and thereby form the hole. A ring of sealant may surround the hole to help cushion the display substrate layers during drilling operations. Column spacer structures may be formed on a portion of a display substrate that is overlapped by the hole.
As with any patent, it's unclear whether Apple will use the technology to have its suppliers, Samsung included, create iPhone screens with holes in them for the camera and sensors. And considering that Apple went with a notch design for all recent iPhone versions seems to suggest that the technology behind drilling holes into screens needs to be further refined before Apple is willing to adopt it. But the patent does prove that the iPhone maker isn't done perfecting the smartphone design and that the notch may only be a temporary compromise. Of note, the world's top Apple insider reported last year that Apple might remove the notch from its iPhone designs as soon as next year.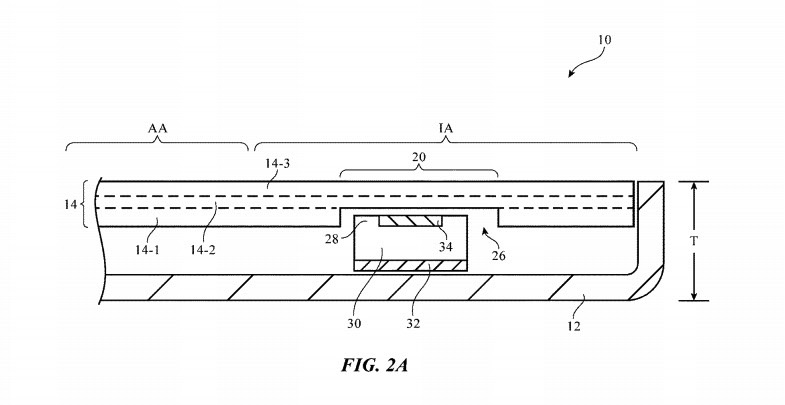 We'll also point out that a few weeks ago, we learned that iPhone camera supplier Largan might be working on a technology that would allow selfie camera lenses to be coated in "pure black" so their location at the top of the screen wouldn't be so obvious. That's the kind of technology that could be paired one day with the kind of screens Apple describes in this patent, and that Samsung is already teasing for its upcoming phones.