Apple's iPhone lineup has a long history of confusing Android fans. By that, we mean that new iPhone specs don't typically appear all too impressive on paper. They always have processors with fewer cores and lower clock speeds than the latest Android flagships, and they typically have less RAM as well. Despite the edge Android phones have always had on paper, iPhones have absolutely crushed every Android-powered rival in real-life speed tests and in benchmark tests. In fact, previous-generation iPhone models typically beat brand new Android phones in these tests, that's how far ahead of the competition Apple's iPhones have always been… until now.
Android phone makers and key component suppliers like Qualcomm have made huge strides over the past year. Couple that with RAM management problems and other performance issues in iOS 11, and a changing of the guard has taken place that continues to surprise us all.
Apple's latest iPhones continue to have the edge in some key areas. For example, no Android phone on the planet comes anywhere close to touching the iPhone 8 or iPhone X where single-core processor performance is concerned. But multiple Android flagships have managed to top Apple's iPhone in some important benchmark tests like AnTuTu. What's more, several recent Android phones have managed to outperform the iPhone 8 and iPhone X in real-world speed tests, which is something we never thought we would see happen.
Moving back to the AnTuTu benchmark test, a score achieved by an upcoming Android phone has absolutely obliterated Apple's latest iPhones. The iPhone 8 and iPhone X were among the first phones in the world to ever score more than 200,000 on AnTuTu's popular test, and we've seen their scores climb as high as nearly 230,000. That's impressive, of course, but it's nothing compared to the upcoming Huawei Mate 20.
A new leak from Chinese tech news blog CNMO supposedly reveals AnTuTu benchmark scores for the Mate 20, which is powered by Huawei's own Kirin 980 chipset. How did the phone do? Well, see for yourself: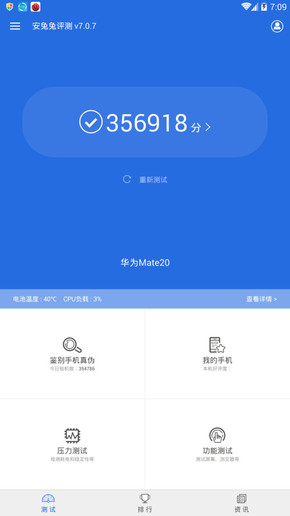 According to the report, the phone managed to rack up a score of 356,918, which is completely unprecedented. Prior to the Huawei Mate 20, the highest AnTuTu scores we had ever seen were from the Samsung Galaxy S9+, which came in just north of 260,000. Now for the bad news: Huawei's Mate 20 isn't expected to launch until sometime in the late summer or early fall, and when it does it likely won't be offered by any US wireless carriers or electronics retailers.