If you're itching to get your hands on Apple's upcoming iPhone X, you'll probably want to be ready to hit the "buy" button at the exact moment the clock turns to 12:01 a.m Pacific Time on October 27, the date and time when iPhone X pre-orders are slated to open up. Otherwise, you may have to wait a few weeks, if not months, before Apple's next-gen iPhone arrives on your doorstep. As you've likely heard by now, Apple is just starting to get over some initial production problems involving the iPhone X's advanced TrueDepth camera system, and in turn, initial supply of the iPhone X will likely be incredibly small. In fact, some analysts believe that Apple won't be able to fully meet iPhone X demand until the spring of 2018.
With the iPhone X pre-order and release date steadily approaching, the iPhone X is finally starting to make a few appearances out in the wild. We highlighted a few of these instances last weekend, and now there are a few more examples to show off for your viewing pleasure.
First up, we have a shot of a man using an iPhone X on a subway in China. This photo originally surfaced on Reddit early Sunday morning. As with any alleged spy shot, you'll likely want to view this with the requisite grain of salt.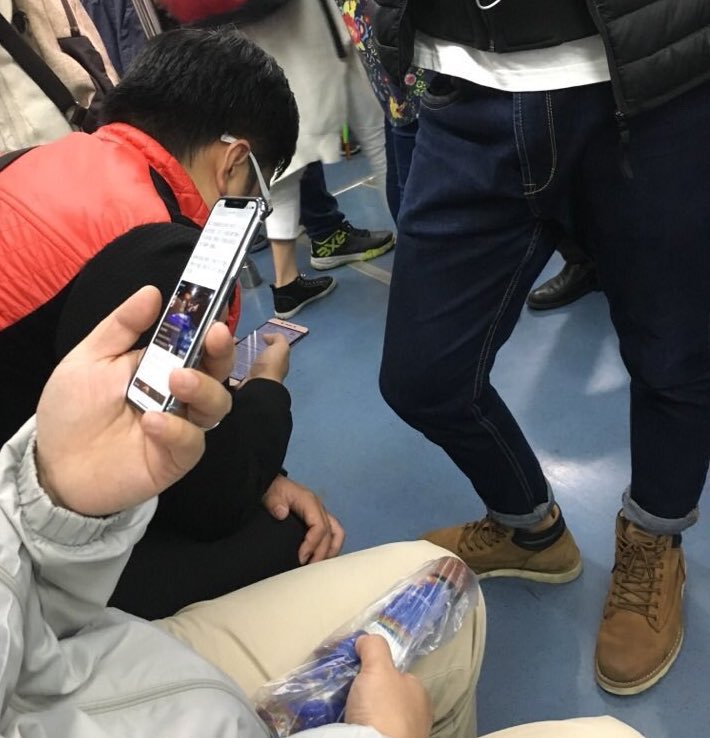 Up next, we have the first high-quality shot of the iPhone X in the wild. Here's what it looks like from the front.
And now an obligatory shot of the back of the device.
Incidentally, Ryan Jones, who formerly worked at Apple, managed to get some quick hands-on time with the iPhone X over the weekend. His initial impressions are encouraging to say the least.
https://twitter.com/rjonesy/status/919031932364644352
https://twitter.com/rjonesy/status/919076388618911744
https://twitter.com/rjonesy/status/919047441315274752
https://twitter.com/rjonesy/status/919079043005235201
https://twitter.com/rjonesy/status/919275966140051456
Most notably, Jones relays that the somewhat controversial notch is hardly something to get riled up about. On a related note, there are rumblings that the notch is much less of an eyesore when using the device as opposed to staring at it in photos.