We got just over two more months of waiting for the next-gen iPhone series to drop, but we finally have a leak that seems to confirm what we've been telling you for a while now. The best iPhone X successor that Apple will sell this September will pack unrivaled performance, the kind of power Android device makers can only dream of.
The iPhone X also has no rival when it comes to raw power. It packs the fastest chip in the industry, with Qualcomm and Samsung still playing catchup. But the iPhone X on iOS 11 is outperformed in real-life speed tests by Snapdragon and Exynos-powered flagship.
Come fall, however, the next-gen iPhone X versions should not have similar problems. That's because Apple is focusing on performance with iOS 12, which was clear from the moment the first iOS 12 beta rolled out about a month ago. Not only was it a lot more stable than we'd have hoped, but it also brought noticeable performance gains to all iPhones running it. We saw plenty of speed tests which revealed both real-life improvements, and better benchmarks — here's what the iPhone X scored on iOS 12 beta 1: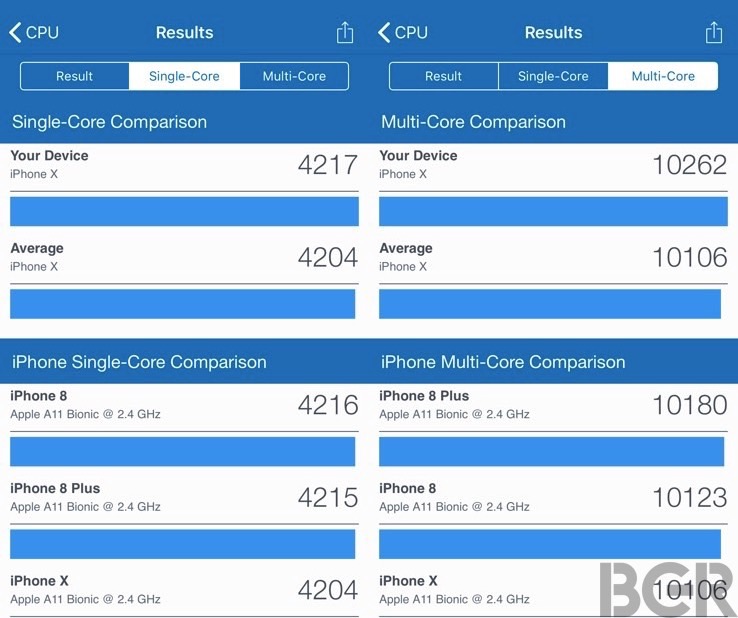 This brings us to the latest iPhone X leak, a benchmark test saved on Geekbench a few days ago. We're looking at a device that's identified as iPhone11,2, running iOS 12 on a six-core processor and 4GB of RAM. That phone can only be the 2018 iPhone X Plus or iPhone X. Both phones are supposed to pack 4GB of RAM, according to a trusted leak.
The scores show a significant improvement compared to the A11 Bionic powering the 2017 iPhone models. We're looking at a single-core score of 4673 and multi-core score of 10912. Compared to the iPhone X scores above, we have performance gains of about 10% and 7% respectively.
The A12 chip will be Apple's first 7nm chip and the first in the industry. That means we already expect better performance and efficiency from the next-gen Apple processors for the iPhone. But the benchmark above shows exactly what we might be in for.
Comparatively, Qualcomm and Snapdragon are still on second-gen 10nm chips. That means phones like the OnePlus 6, Galaxy Note 9, and Pixel 3 won't be able to outscore the iPhone X, let alone any of the 2018 models. Currently, the top Android handsets score around 3400 and 9000 in the same benchmark.