Many reports say that Apple will release three handsets later this summer, including two OLED versions and an iPhone X successor packing an LCD screen. The latter, featuring a 6.1-inch display, is supposed to be a lot more affordable than the 5.8-inch OLED and the 6.5-inch Plus versions, those reports claim. They also suggest that the LCD iPhone will be just a little uglier than its siblings precisely because Apple has to use LCD instead of OLED screen technology on it. But the phone will still look a lot better than all the iPhone X clones out there.
A brand new story out of Japan says that Apple will use an exciting screen technology on the 6.1-inch iPhone, just as we had suspected all along. Unfortunately, it might also be delayed.
Soon after Apple started selling the iPhone 8 series last September, and weeks before the iPhone X was supposed to launch, we found out that Apple might be working on a cheaper iPhone model for 2018. A report from the Wall Street Journal said that Japan Display had developed a "Full Active" LCD screen that Apple planned to use in future iPhone X successors. From that report:
In Full Active, the bezel or border space around each edge of the screen has been trimmed to 0.5 millimeters, the company says, compared with as much as several millimeters on older LCDs. Minatake Kashio, director of Tokyo-based consultancy Fomalhaut Techno Solutions, said current OLED smartphone panels have a bezel of about one millimeter.
Full Active screens are supposed to be a lot cheaper than the OLED screens Apple uses for the iPhone X, but they would deliver similar quality. At the time, Japan Display told The Journal that it was working on a version of Full Active that would match the OLED technology "in enabling phone makers to offer curved screens."
A leaked image showing alleged screen protectors for the three 2018 iPhones offered us a look at how thick the bezels on the LCD model may be, compared to the OLED iPhones. The screen protector for the 6.1-inch iPhone, sometimes called the iPhone 9 even though it won't launch with that name, is in the middle: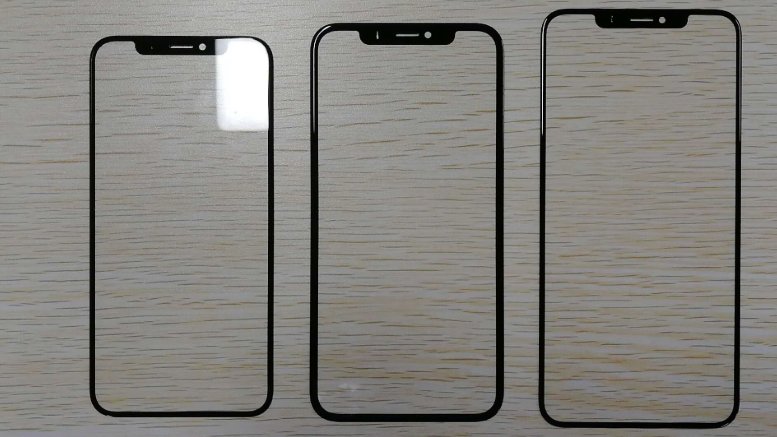 Buried in a Macotakara report that focuses mostly on the next-gen iPad Pro models, there's a note about the 6.1-inch iPhone X that says the phone will pack a Full Active screen from Japan Display. But because production yields are so low, the phone is expected to be delayed until November at the earliest.
This isn't the first time we've heard that the LCD iPhone might be delayed. A report from just a few days ago said that Apple improved the mass production delay of the 6.1-inch iPhone X from six weeks to one month, so that November estimate might not be necessarily accurate.