A video leaked on Thursday that allegedly showed Apple's upcoming iPhone SE 2 for the first time ever. The handset pictured in the video bears a striking resemblance to Apple's iPhone X, but it appear to be smaller. In place of the rounded stainless steel that wraps around the perimeter of the iPhone X, this phone has flattened aluminum just like the current iPhone SE. On the front is what appears to be an "all-screen" design with a notch that is definitely in line with the iPhone X. A vertically oriented dual-lens camera that's also similar to the iPhone X's design can be found on the back.
The phone is powered on and operational in the video, and it certainly appears to be running iOS. But alas, this design flies in the face of everything we've heard so far about the iPhone SE 2 in leaks and rumors, so the phone pictured in this leak is definitely fake. Probably. Maybe.
First off, let's have a look at the video to refresh our memories.
https://www.youtube.com/watch?v=7wNEwdxOpcQ
Now, there are a ton of reasons to believe the phone featured in this video is just some weird Chinese handset that runs an iOS themed version of Android.
As I mentioned above, rumors up to this point have suggested that the iPhone SE 2 Apple may or may not be planning to release this year looks far more like the current model from 2016 than it does the iPhone X. While Apple may ultimate look to unify its iPhone design across all price points, it seems unlikely that it would take steps to do that so soon. For one thing, Apple's "notched" display design is reportedly only a stopgap solution that could go away as soon as next year. For another thing, this design doesn't make sense at all on a low-cost phone — and that brings us to the next reason the phone in this video could be a fake.
The iPhone SE is a low-cost phone, but Apple's TrueDepth camera and sensor solution is very expensive. Apple's iPhone X starts at $1,000 for a few different reasons, such as the pricey flexible OLED display panel and the expensive stainless steel Apple used in place of aluminum. But the components that make up the TrueDepth camera are believed to be quite pricey as well. Apple can't make a phone that supports Face ID without those components, and someday Face ID may indeed wind up on low-cost iPhones. But the tech seemingly is still far too new and expensive for today to be that day.
Speaking of expensive components, there is a dual camera on the back of this supposed iPhone SE 2. First, the dual camera from the iPhone X or even the iPhone 8 Plus is very expensive. Second, it requires 3GB of RAM. And third, is Apple really going to release an entry-level iPhone with a dual camera when the iPhone 8 doesn't even have one? No way.
But here's where things get confusing.
About a week ago, I was sent iPhone SE 2 sketches by a source that has provided me with reliable information many times in the past. I immediately began searching for additional sources to confirm the design pictured in those sketches, but then this leaked video popped up — and the phone pictured in the video looks almost exactly like the sketches I received last week.
Here are the sketches, which show the current iPhone SE on the left and the alleged iPhone SE 2 on the right: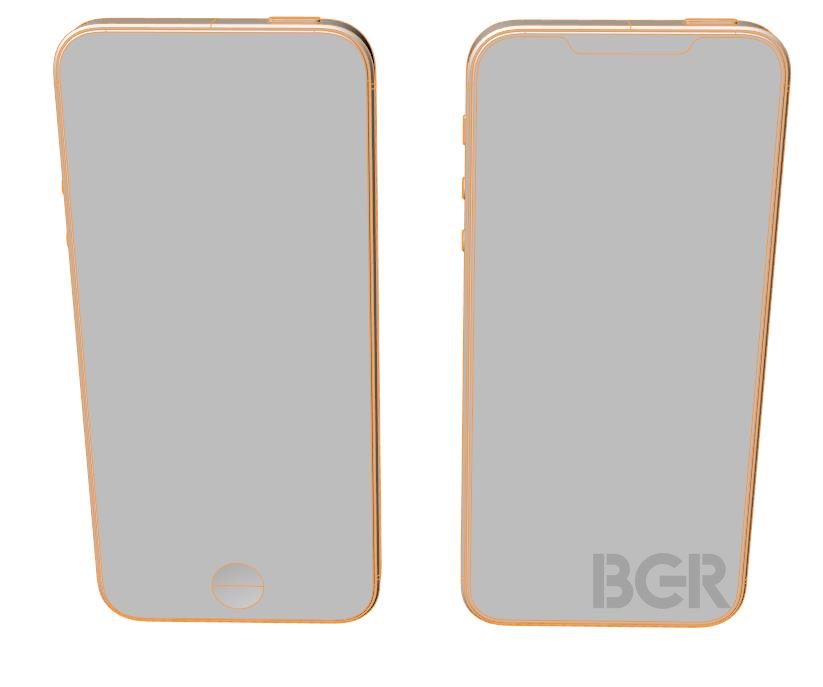 Does that mean the phone in the leaked video is really Apple's upcoming iPhone SE 2? Definitely not. It could still be a fake and this could be a coincidence. Or perhaps this is the new mid-range iPhone Apple plans to release alongside its iPhone X sequel and "iPhone X Plus" later this year.
KGI Securities analyst Ming-Chi Kuo, the world's top Apple insider, has reported at least a half-dozen times that Apple plans to launch three new iPhone models this coming September. One will supposedly be an iPhone X successor with a 5.8-inch OLED display, one will be a larger Plus model with a 6.5-inch OLED display, and the third will be a lower-cost version with a 6.2-inch LCD screen.
That third handset was thought to feature a design that was far more similar to the iPhone X than the phone pictured in the leaked video and in my exclusive sketches, but it's possible that Apple could tie in some of the iPhone SE's design identity to link the new lower-cost model to Apple's other low-cost phone. It would be quite strange to blend the two designs like that, but Apple has made plenty of strange decisions over the past couple of years. The other problem with this theory is that my source's sketches suggest this phone is the same overall size as the current iPhone SE. At that size, the handset would not feature a display that measures 6.2 inches diagonally.
Whatever the case, we should get answers soon enough. If Apple is planning to release a new iPhone SE 2 model in 2017, it would likely happen in the first half of the year, which means leaks will start flooding the web in the coming weeks.