Answering the prayers of anyone dreading the prospect of an iPhone 8 with a Touch ID sensor on the back, Benjamin Geskin over the weekend took to Twitter to publish a series of new photos purporting to represent a CNC model of a dummy iPhone 8. While we've seen some interesting iPhone 8 concepts over the past few weeks, some of which have been based on information allegedly sourced from genuine schematics, the photos below arguably give us our first real glimpse at what the iPhone 8 is actually going to look like.
The device itself looks incredibly sleek with minimal bezels surrounding the display. Dimension-wise, Geskin relays that the bezels check in at just 4mm. In effect, the iPhone 8 features an immersive display that's effectively comprised of one giant piece of glass, a design Jony Ive has reportedly envisioned for the iPhone for years.
The only cut in the display is for the earpiece, seemingly confirming previous reports that Apple figured out a way to seamlessly embed the Touch ID sensor into the display and conceal the front-facing camera.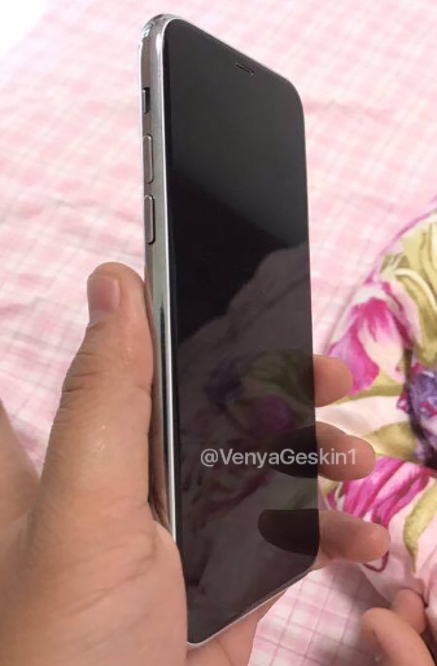 Interstingly, Geskin adds that the "iPhone 8 back glass and metal frame" is designed to look and feel like it's just a single component. The end result is a design that Geskin claims is "even more merged" than the S8 and one that features "almost no transition between frame and glass." Further, the sides are said to feature polished stainless steel while the OLED display is reportedly 2.5D glass, thus echoing other sources who have claimed that the iPhone 8 display will not exhibit as drastic a curve Samsung's Galaxy S8 models.
Better shots of the iPhone 8 front design, side, and back can be seen here. Note that the vertical orientation of the camera module lines up with recently leaked iPhone 8 schematics.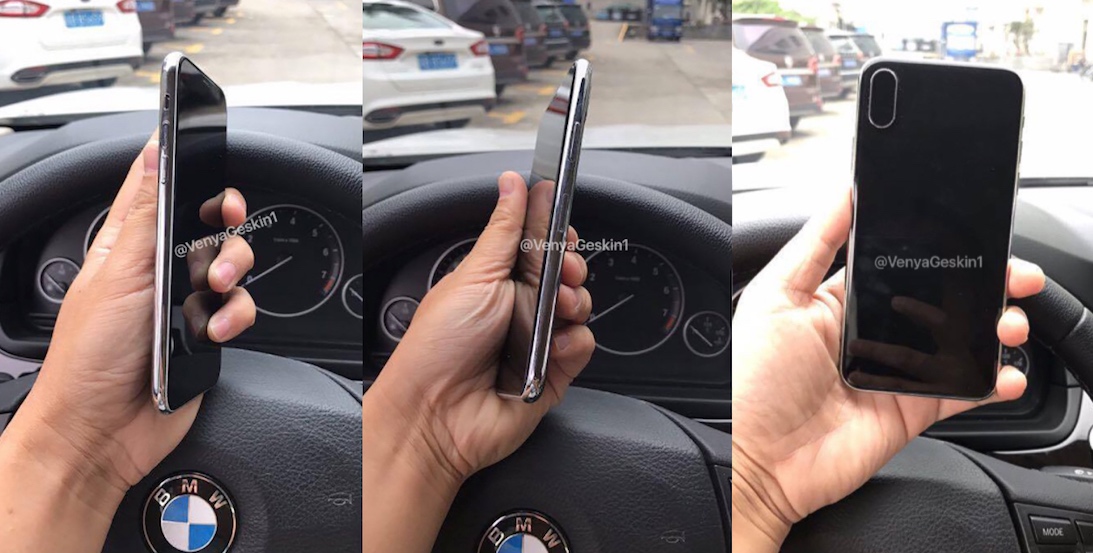 With the photos above representing a dummy unit, Geskin's sources tell him that the final iPhone 8 design will be polished black for a more seamless design.
Stainless Steel will be polished black.
Just like this. pic.twitter.com/nIL3jh1SZa

— Ben Geskin (@BenGeskin) April 23, 2017
Size wise, Geskin writes that the iPhone 8 will be as thick as the iPhone 7 (7.1mm) and that the size of the device itself will be the same as the iPhone 7. This jibes with other sources who have said that the iPhone 8 will pack the display of an iPhone 7 Plus into a device the size of an iPhone 7.
Incidentally, the camera housing on the back will reportedly protrude a bit, with Geskin noting:
Plus the noise reduction microphone is on the camera area pic.twitter.com/y76Hta6y6S

— Ben Geskin (@BenGeskin) April 23, 2017
Now we all know that Apple experiments with many different iPhone models before deciding upon a final design, but we have to imagine that what Apple has in mind for the iPhone 8 must look remarkably similar to the leaks above. For as much as Apple loves talking about how secure Touch ID is, and for as much as Apple loves talking about how Apple Pay will help usher in a new wallet-less future, it almost seems impossible to imagine a scenario where Apple would roll out an iPhone design with a Touch ID sensor on the back.
Now what makes the iPhone 8 all the more compelling is that its long overdue redesign will just be one of many new features worth getting excited about. Aside from improved storage tiers, more RAM, improved water resistance, and improved battery life, rumor has it that the iPhone 8 will feature exciting augmented reality features. Tim Cook in the past has been downright effusive when it comes to discussing the potential for augmented reality, even going so far as to say that the long-term impact of augmented reality might eventually rival that of the smartphone. Speaking to the seriousness with which Apple views AR, the company reportedly has hundreds of engineers and researchers currently developing AR-related technologies.
Though a recent analyst report from Needham & Co. claims that augmented reality features might not hit the iPhone until 2018, more information about Apple's AR plans will inevitably surface as mass production on the iPhone 8 draws closer.
As for the iPhone 8 release date, well, that's really anybody's guess. While Apple would obviously like to release the iPhone 8 alongside the iPhone 7s and iPhone 7s Plus in September, various sources over the last few weeks have said that the iPhone 8 release date may come a few weeks later than we're accustomed to, with an October to November launch window apparently being a distinct possibility.
As a final point, there's a good chance Apple's 2017 flagship iPhone won't even be called the iPhone 8. Indeed, we've seen indications that the device might be dubbed the iPhone Edition. Interestingly, famed Apple marketer Ken Segall recently said that Apple might be wise to skip the "iPhone 7s" naming scheme altogether and instead adopt the following nomenclature for its 2017 iPhone lineup.
• iPhone 8
• iPhone 8 Plus
• iPhone 8 Pro
• iPhone 8 Mini
It's not a bad idea, but truth be told, Apple can call its 2017 flagship iPhone anything it wants and it will still fly off the shelves faster than Apple can make them.