As expected, Apple this past Monday officially announced (Product)RED versions of both the iPhone 8 and iPhone 8 Plus. The announcement had been rumored for some time and effectively mirrors what Apple did last year with its iPhone 7 lineup. While the addition of a red color option for the iPhone 8 might result in a modest uptick in sales, the underlying motivation here is to raise money to help promote AIDS awareness and research via the (Product)RED program. Impressively, Apple notes that its products alone have already raised more than $160 million for the cause over the past few years.
The snazzy new iPhone 8 models will be available for pickup at Apple retail stores this coming Friday, though pre-orders can already be put in via Apple's website. In the meantime, noted tech reviewer and YouTube personality Marques Brownlee was provided with a review unit to take Apple's somewhat new iPhone for a spin. Of course, there's not really much to review here as the iPhone 8 in red is indistinguishable from other iPhone 8 models in every single way. Still, if you need a brand new iPhone unboxing video to hold you over until Apple's next-gen iPhone lineup gets released, this video should do the trick.
Right off the bat, and as is plainly evident in the video below, the shade of red Apple used on the iPhone 8 is jaw-dropping. While the red iPhone 7 had something of a softer look, the red iPhone 8 practically screams at you. With good cause, Brownlee likens it to "Ferrari Red."
Now how red are we talking here? Well, the photo below — which features the red iPhone 8 lined up to a few other red smartphone models — should give you a good idea.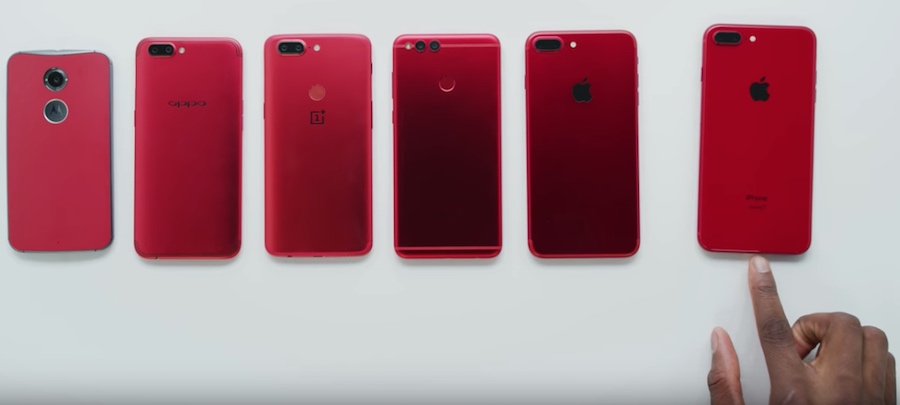 Even better, Apple with this year's red iPhone opted to use black on the front panel as opposed to the white front panel Apple used on last year's (Product)RED iPhone 7. The black and red color combo results in an absolutely stunning aesthetic.
Brownlee's full unboxing video can be viewed below, and remember — if you don't want to shell out $700+ for a new red iPhone, you can always spend about $15 to make your current iPhone red instead.