If you're familiar with Apple's iPhone events, and practically everyone is, then you know Apple will never mention certain things on stage like how much RAM an iPhone has. Similarly, the company doesn't say anything about battery capacity, even though it always tells us what kind of battery performance is to be expected out of every new iPhone it unveils.
DON'T MISS: Galaxy Note 7 explodes in the hands of a 6-year-old
There are no official mentions regarding RAM and battery capacity for the iPhone 7 and iPhone 7 RAM yet. But leaks already answered the RAM question, and now regulatory filings have revealed details about the new iPhones' batteries.
Documentation spotted from Chinese regulatory body TENAA reveals that the iPhone 7 has a 1,960 mAh battery, which is slightly bigger than the 1,715 mAh battery in the iPhone 6s. The iPhone 7 Plus has a 2,900 mAh battery, which is bigger than the iPhone 6s Plus's 2,750 mAh battery as well.
Apple on stage claimed that the iPhone 7 will offer users two extra hours of life compared to the iPhone 6s. The iPhone 7 Plus should outlast the iPhone 6s Plus by one hour, on average. These battery life advancements are likely possible because of more efficient hardware, but also because Apple slightly increased the battery capacities of both new iPhones.
Here are the official battery quotes for all the iPhone models Apple is selling right now.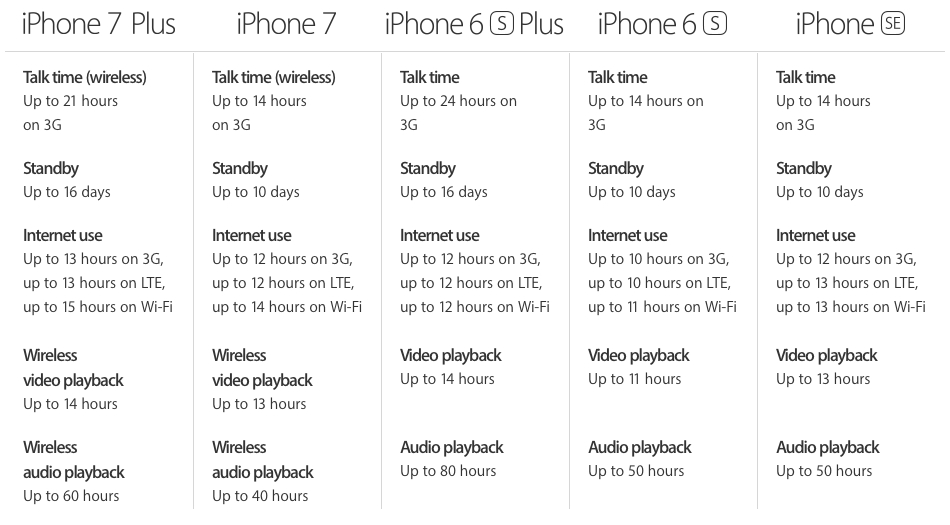 Come Friday morning, official teardowns of the iPhone 7 and iPhone 7 Plus will likely confirm these reports, and tell us everything there is to know about the internal components in Apple's new iPhones.