The iPhone 7 will supposedly introduce at least one new color, which certainly sounds exciting to people who put appearance above all else when it comes to new iPhones. But what will the new iPhone color(s) be? Some say that black will join the existing silver, gold, pink and gray options. Others think that blue will be Apple's new hue for the iPhone 7 and iPhone 7 Plus. And some even hope that both new colors will be available come mid-September. But a reliable source of leaks has more info that seems to settle the matter: There will apparently only be one new color, and it's probably not the color you were hoping for.
DON'T MISS: We have some bad news about this year's new Nexus phones
According to often well-informed Japanese blog Macotakara, the iPhone 7 will be available in five colors, including three of the same color options of the iPhone 6s and two black options. To prove it, the site posted an image that shows five purported SIM trays for the iPhone 7, each one in a different color.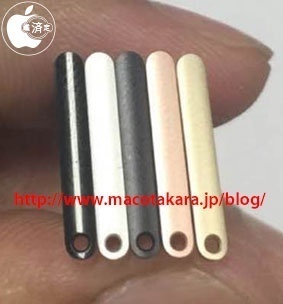 We're looking at Silver, Gold and Rose Gold SIM trays in the image, but also at a matte and glossy black options. But there's no blue here unfortunately, unless one of the two black options seen above is actually a shade of blue and the photo's coloring is off.
The site also showed purported iPhone 7 and iPhone 7 Plus mockups that appear to be in line with what we expect. Wait a second, is that black iPhone 7 Plus in the following image actually blue? Yes, there's still some confusion surrounding Apple's rumored color choices for the new iPhones. The iPhones in the following image aren't probably working iPhones, considering the large number of fakes that are already in the making in China. Even Macotakara labels them as mockups.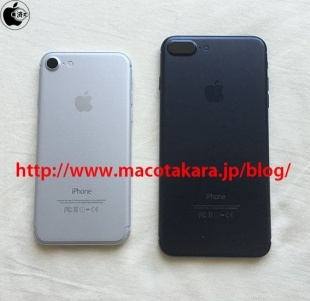 Macotakara also mentions several specs for the upcoming iPhone 7 family, including a better camera sensor, optical image stabilization support, and dual-lens camera setup for the iPhone 7 Plus. Furthermore, the site also mentions that the iPhone 7 and 7 Plus will lack a standard headphone jack, something most of us already know.
Apple will unveil the iPhone 7 and iPhone 7 Plus during a special event on September 7th.