Apple certainly has an affinity for simplicity, a philosophy which has manifested itself in Apple removing any number of input ports over the years. With the iPhone 7 on the horizon, the big rumor surrounding Apple's next-gen smartphone is that Apple will completely do away with the 3.5mm headphone jack, a rumored design choice that has already ignited a firestorm of debate.
But the headphone jack is just the most recent example in a long string of ports and industry-wide tech standards that Apple has kicked to the curb over the last few decades. Most recently, Apple in March of 2015 introduced a new MacBook that only comes with one USB-C port. Needless to say, if Apple does in fact abandon the tried and true headphone jack, it wouldn't be the first time the company has created a stir with one of its product designs.
DON'T MISS: Foxconn spy shot reveals new iPhone 7 details no one saw coming
With debate and speculation surrounding the iPhone 7 all the rage, The Verge recently put together a fascinating chart which maps out all of the legacy technology that Apple has killed off over the years. While Apple's Bondi Blue iMac — which embraced USB and disavowed the floppy disk — is the most commonly cited example, it's just one instance among many where Apple quietly set about on its own path and dared others to follow. In short, Apple has never been afraid to let go of legacy technology and embracing new shifts in how we interact with our devices.
What's especially interesting is that Apple has historically never held onto any particular technology port for too long, as evidenced by the chart below.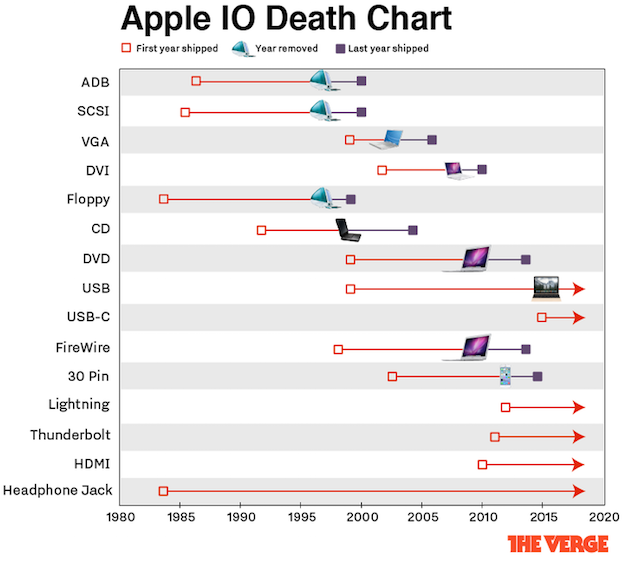 Notably, not every technology transition embraced by Apple leads us upward on the technology ladder, with Apple's distressing abandonment of FireWire in 2008 in favor of USB 2 (which couldn't hold a handle to FireWire) being a prime example.