It's getting down to crunch-time, folks. September is right around the corner and, in turn, we're just a few short weeks away from Apple taking the wraps off of the company's next-gen iPhone. With a rumored special event set to take place on September 7, rumor has it that the iPhone 7 will be on store shelves in just about a month, on September 16 to be exact.
As you've undoubtedly heard by now, the iPhone 7 will likely do away with the traditional 3.5mm headphone jack, a controversial design decision to say the least. Consequently, there has been an avalanche of speculation regarding what Apple plans to implement instead. Sure, we know that Lightning-based headphones will be an option, but it remains to be seen how Apple plans to sell customers on the idea of abandoning a port technology that has been around for decades on end. What's more, it remains to be seen if Apple will use the iPhone 7 release as a jumping off point to try and transition us to world where wireless headphones are the standard.
DON'T MISS: Samsung Galaxy Note 7 review
While many tech observers have lambasted Apple for abandoning a port as universal and reliable as the headphone jack, others have taken the position that Apple should be lauded for ushering in its vision of a world devoid of clunky and tangle-prone wires.
To this point, reputed industry observer Tim Bajarin recently opined in PC Mag that Apple's "gamble" in removing the headphone jack will ultimately "force the rest of the industry in a new direction", similar to how Apple's design decisions in the past have influenced the industry at large.
I suspect this is the case with the audio jack. Dropping it could drive the industry closer to the overall vision of wireless headsets, charging, and communications. I myself have not used a wired headset for two years. When I go for my walks, I use a Bose Bluetooth over-the-ears wireless headset. When taking calls on my iPhone, I use an in-ear Bluetooth headset. In my car, my iPhone connects to the wireless system in the car's audio system. I have dozens of wired headsets and earphones that still have a 3.5mm audio jack, but all are sitting idle in drawers around the house and office.
This utopian world where iPhone users casually transition through various Bluetooth headphones, all without a wired pair of headphones in sight, certainly sounds compelling on the surface.
In reality, though, the mobile industry is nowhere ready for a Bluetooth-only world. We're not even close.
The problem with takes like this is that they completely ignore large segments of the population who can't afford an endless number of wireless solutions. Even if we ignore the technical frustrations that sometimes accompany Bluetooth headsets, it's worth pointing out Bluetooth headsets aren't exactly cheap. A quick Google search for over the ear Bluetooth headsets from Bose — the kind Bajarin favors — reveals that such products are far from cheap.
A quick search on Google yielded the following results.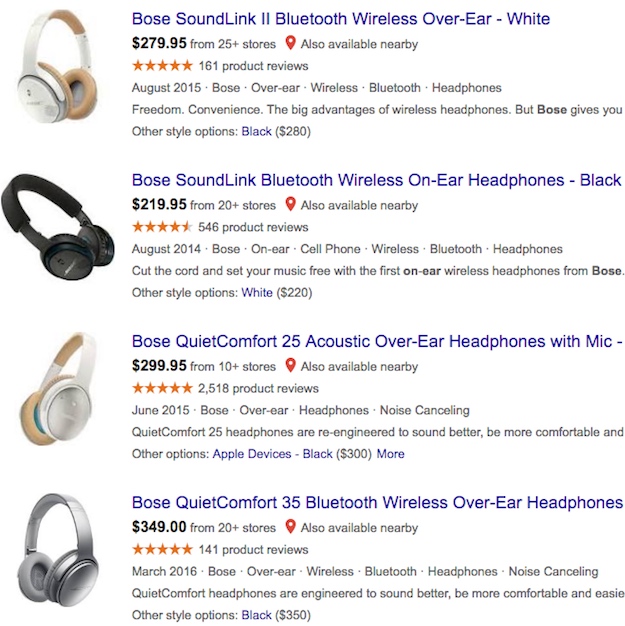 What's more, looking through CNET's list of the best wireless Bluetooth headphones of 2016, nearly 70% of all the entries are for headphones that retail anywhere from $279 to $420. In contrast, you can pick up a pair of solid wired headphones for as little as $15-$20.
Apple has always catered to those with more disposable income, but the iPhone 7 may be taking things too far. Of course, wired Lightning headphones will be an option, but let's be honest, not everyone is a fan of Apple branded headphones. Personally, I've never seen a pair of Apple headphones capable of staying in my ear for more than 10 minutes without enduring a little bit of pain.
Having said all that, I believe Apple would be downright stupid not to ship an adapter with each iPhone 7 sold.
John Gruber of Daring Fireball, however, takes an opposing viewpoint.
I don't think they'll ship this adapter in the box, so I'm betting options 2 and 4 are out. If they ship it in the box, the implied message is that a 3.5mm headphone port is something every iPhone should have, which is contrary to the decision to remove the port from the device itself. If they're eliminating the port, they're saying most people should not need it. If most people shouldn't need it, there's no reason to ship the adapter with every iPhone. I'm hoping they sell it separately for $19. I worry they will sell it separately for an exorbitant $29, like they do with the 30-pin to Lightning dongle.
Why is $19 okay but $29 all of a sudden becomes exorbitant? From my vantage point, forcing users to purchase an adapter in order to use the headphones they already own — whether they be $15 Sony headphones or $450 Bose headphones — would be, as some in the media have quipped, incredibly "user hostile."
People within the tech industry can sometimes tend to have blinders on, and all of the adoration being heaped upon Bluetooth headsets as an elegant solution ignores the economic reality that not everyone can or is willing to shell out a minimum of 4x-5x more money for headphones.
On another note, it's no secret that iPhone sales need a boost in the arm and Apple would be downright stupid to do anything that would potentially risk convincing users not to upgrade.
Thankfully, the guessing game surrounding Apple's iPhone 7 won't have to rage on much longer. Again, we can expect Tim Cook and co. to unveil the device at a special event unofficially scheduled for September 7.