Battery life has long been a point of contention amongst iPhone owners. Whereas Apple designers have seemingly been obsessed with making successive iPhone models as thin as possible, countless surveys have revealed that the vast majority of iPhone owners would be more than happy to sacrifice a bit of thinness for an improvement in battery life. And though battery life has certainly improved steadily over time for basic use-case scenarios, the harsh reality is that battery technology simply hasn't been able to keep up with the myriad of ways in which users today put their devices through the ringer.
Not to fear, Apple's 2018 iPhone lineup may offer us the best of both worlds — impressively thin devices with equally impressive battery life. According to a new research report from reputed analyst Ming-Chi Kuo (and obtained by Mac Rumors), rumor has it that all of Apple's upcoming iPhone models will feature more powerful batteries, with Apple's OLED-based models said to take advantage of an L-shaped battery design.
Specifically, Kuo relays that the battery on Apple's next-gen 5.-8-inch iPhone X will sport a 2-cell battery design with a capacity in the range of 2,900 mAh and 3,000 mAH. By way of contrast, the battery on the current iPhone X has a capacity of 2,716 mAh. As for other iPhones in Apple's 2018 lineup, you might recall that Apple will reportedly introduce a 6.5-inch version of the iPhone X alongside a 6.1-inch iPhone with an edgeless LCD display. These models, Kuo notes, may feature battery capacities as high as 3,400 mAh and 2,950 mAh, respectively.
Notably, Kuo adds that the decision to boost battery capacity across the board stems from the TrueDepth camera system that Apple debuted on this year's iPhone X. The TrueDepth camera system, which powers features like Face ID, will reportedly be used on all new iPhone models next year.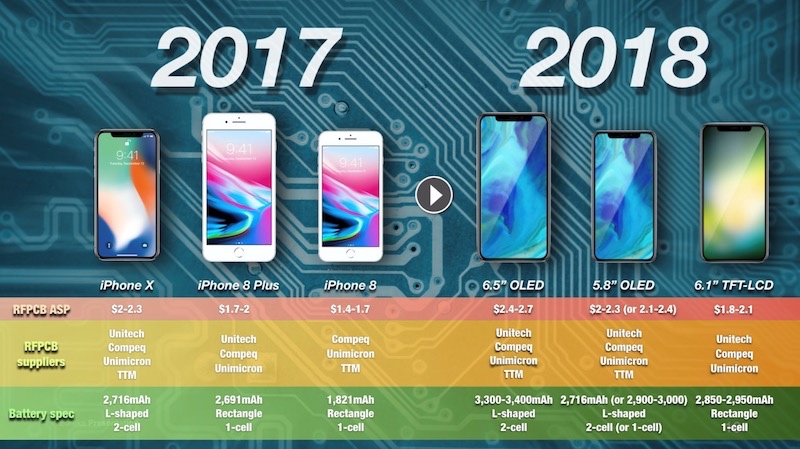 Of course, more powerful batteries represent only one part of the battery life equation. Just a few weeks ago, for example, a report surfaced indicating that Apple has been busy working on a new power management chip to be used in future iPhone models, perhaps as early as 2018.
"Apple's new in-house power management chip would be the most advanced in the industry and could have processing capabilities that allow it to better monitor and control power consumption among various components," Nikkei reported late last month. "That means iPhone users could expect devices capable of delivering better performance on lower power consumption."
For as much as tech pundits like to proclaim that we've reached peak iPhone, the reality is that Apple is continuously working on ways to improve the user experience across the board.