In the good old days of iOS 10 (and previous versions), you could turn off Wi-Fi and Bluetooth whenever you felt like it by invoking Control Center or by diving into the Settings app. The latter is the more annoying option, although if you've got 3D Touch working for you, it's slightly better.
Apple changed that in iOS 11, and it turns out that the new Control Center toggles are slightly misleading.
That means you won't actually turn off Wi-Fi or Bluetooth from the Control Center anymore, even if that's the impression you get when pressing them. What actually happens when you tap them is that you disconnect from the current Wi-Fi network or the Bluetooth gadgets paired with your iPhone or iPad.
The Wi-Fi and Bluetooth connections themselves remain active. Having them turned on at all times isn't an inconvenience. They won't kill battery life, and I personally hardly pay any attention to them.
But if you're worried about anyone tracking your activity via Wi-Fi, then you might want to keep it off when outside the house. As for Bluetooth, a recent security report revealed that hackers can use Bluetooth to take over devices including smartphones. But it doesn't apply to iPhones and iPads running iOS 11.
So, how do you turn Wi-Fi and Bluetooth off for good? You have to dive back into the Settings app — or 3D Touch on the app's icon and tap on their shortcuts — and kill them off for good.
What's interesting is that you can then enable them from Control Center.
You can say Apple is misleading about Wi-Fi and Bluetooth management, and you are right to do so. But is not entirely misleading. The icons in the Control Center do tell the entire story, and I'll show you:
Wi-Fi and Bluetooth are both turned on: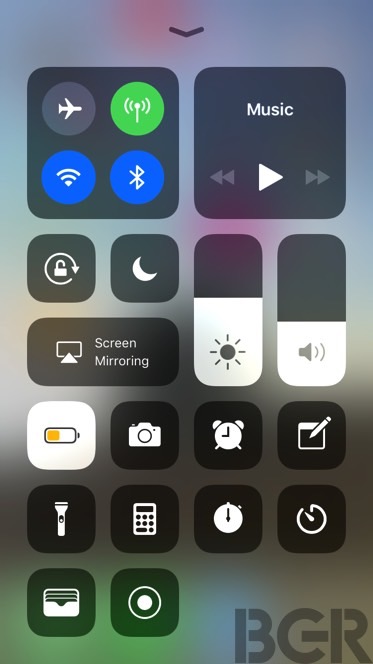 Wi-Fi and Bluetooth are both turned off but not really. By the way, when you do disconnect from Wi-Fi, a message appears overhead, telling you specifically that you disconnected from a network, not that you turned off Wi-Fi.
AirPlane mode is turned on, everything is really turned off:
AirPlane mode is turned off, Wi-Fi and Bluetooth are both really turned off:
And by the way, the same things happens with Personal Hotspot. It has three instances: Off, Not Discoverable, and Discoverable. Killing it for good requires you to go to the Settings app.