Instagram on Tuesday announced Instagram Mute, or "a new way to personalize your feed." Of course, the addition of a mute feature to a social app isn't something that needs a PR-ified explanation. Yes, mute will indeed help you personalize your feed… by allowing you to mute people.
Instagram Mute will let you avoid posts from certain accounts without unfollowing people and potentially angering friends and distant relatives. It's just like Facebook's "unfollow" feature that lets you remove someone's posts from the news feed without actually unfriending them. Because that would be so rude.
Just like on Facebook, muted people will not know they're muted and you can still view their profile pages or get comment notifications, in case you're tagged in post.
So how does one go about muting annoying Instagramers that you don't want to unfriend? Simply go to one of their most recent posts, tap the ellipsis menu (…) in the top right corner, and then tap on the Mute option. You'll be able to mute posts only, or mute posts and stories from the account.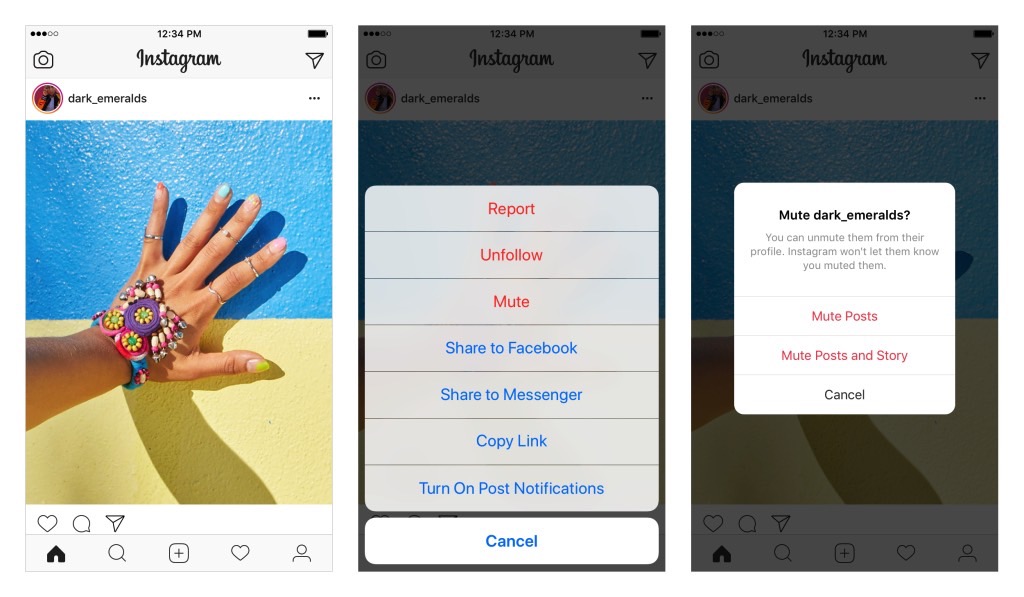 Instagram says you can also mute posts and stories by pressing on a story in the tray, or from the user profile. It sounds like Instagram gave this mute feature plenty of thought, given the various muting options you have in place to remove clutter from your Instagram experience.
There, you can I go mute some people. Now if only you could actually view content in chronological order…