If you fear that Facebook will turn Instagram into a cash machine now that the Instagram creators are out the door, then you'll want to make sure you're in control of the way Instagram handles your data. That's because Facebook now wants to get a hold of your location history from Instagram to deliver targeted ads inside Facebook.
The news comes from a TechCrunch source who revealed details about unreleased Instagram features in the past that were later added to the app.
Instagram is already prototyping the new privacy setting which would let it share your location with Facebook. What's disturbing is that your exact GPS coordinates will be collected by Instagram even when you're not using the app. That way Facebook would have an idea of what kind of locations you frequent and what kind of ads you'd be likely to click. Per TechCrunch:
The geo-tagged data would appear to users in their Facebook Profile's Activity Log, which include creepy daily maps of the places you been.
A Facebook spokesperson didn't deny that the feature is in testing:
To confirm, we haven't introduced updates to our location settings. As you know, we often work on ideas that may evolve over time or ultimately not be tested or released. Instagram does not currently store Location History; we'll keep people updated with any changes to our location settings in the future.
It's unclear when and if it'll be launched, but TechCrunch seems to think it's a matter of time until Location History is introduced. The Location History option will be found inside the Privacy and Security settings. That's where you'll have to go to make sure it's switched off if you don't want your location shared with Facebook.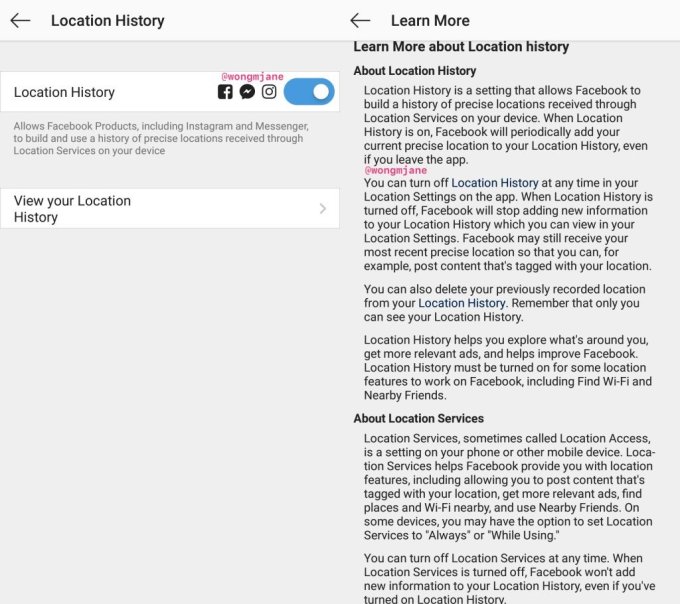 The prototype of Location History is set to "off" by default, but there's no guarantee it'll be opt-in when the feature launches. In fact, it would be surprising if it didn't become opt-out by the time it launches.
Facebook has had a tough year so far, facing scrutiny over how it handles user data in the wake of the Cambridge Analytica revelations, and still having to address the fake news phenomenon. Then, just last week, it acknowledged a massive security breach that forced the company to sign some 50 million users out of the app.
On top of that, Facebook now has to defend itself against Instagram and WhatsApp controversies. The cofounders of WhatsApp left earlier this year, with one of them revealing that he departed the company over clashes about monetizing the app. TechCrunch now explains that the two Instagram founders, Kevin Systrom and Mike Krieger, left over disagreements with Mark Zuckerberg "about dwindling autonomy of their app within the Facebook corporation."