At the very least, HTC won't be accused of jumping on any bandwagons when it comes to the design of its 2018 flagship smartphone. Confusing called the HTC U12+ (there is no U12), the newest phone from HTC doesn't really stand out. Although HTC has upped the size from 5.8 inches to 6 inches, the phone retains both a forehead and a chin, unlike many of the all-screen phones that its rivals have introduced (i.e. the iPhone X).
That said, the fingerprint sensor has been moved to the back of the U12+, which allows HTC to offer a slightly larger screen-to-body ratio, and dual cameras can be found on the front and back. So while it doesn't look quite as modern as its competition, it won't totally stand out in the crowd… for better or worse.
Most importantly, the HTC U12+ should run as smoothly as any other Android phone that launches in 2018. Equipped with Qualcomm's Snapdragon 845 processor, 6GB of RAM, 6-inch Quad HD at 2880 x 1440 resolution, up to 128GB of internal storage, microSD support, 3500 mAh battery and Android 8.0 Oreo with HTC Sense.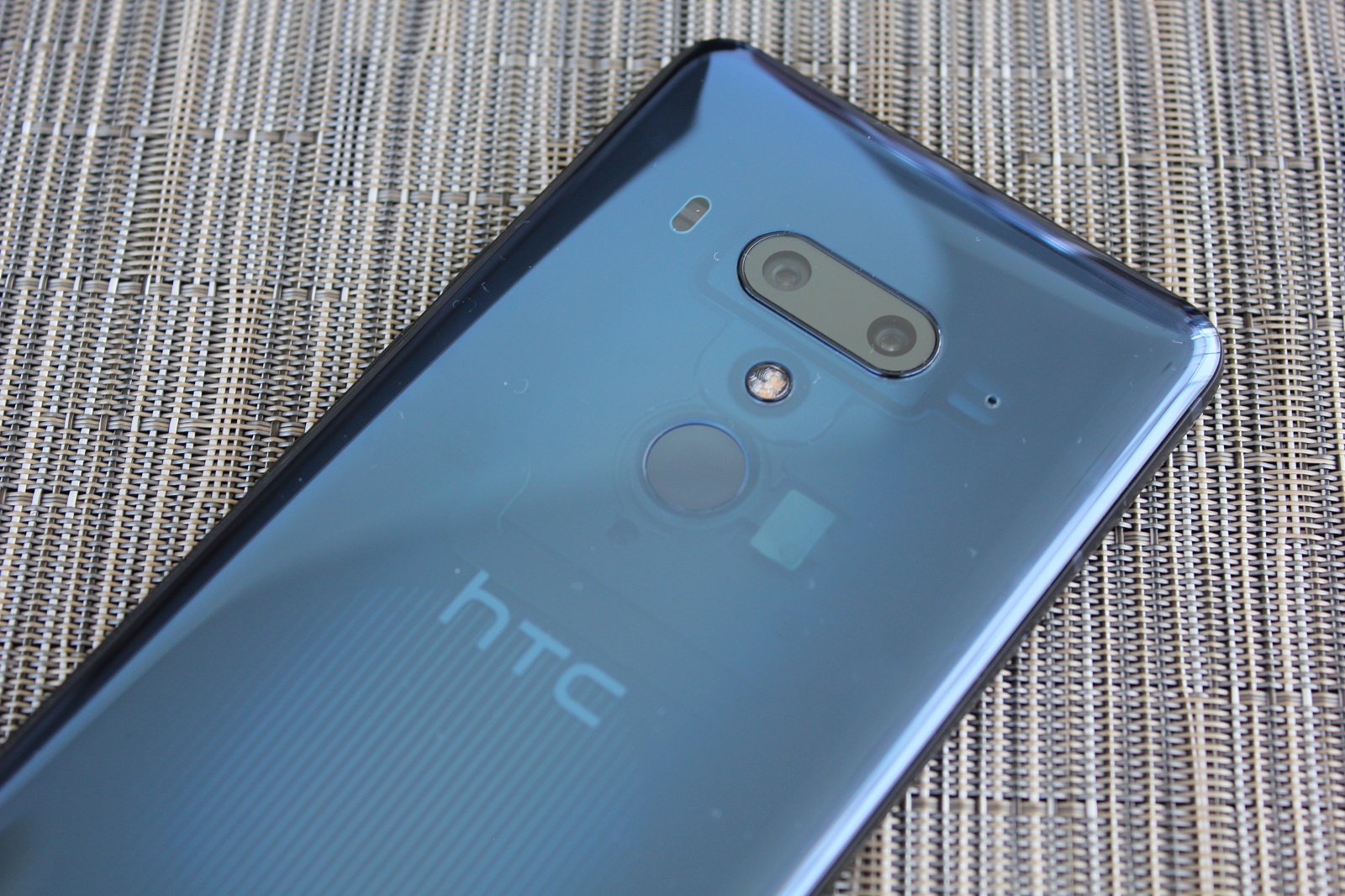 HTC's Sense UI returns with a few modest updates, but it's basically the same interface we saw on last year's U11 and U11+. I only spent a few minutes with the phone, but it felt as fast and fluid as a flagship Android phone should, with little bloatware to speak of and BlinkFeed making its triumphant return for yet another year.
One of the notable hardware upgrades comes in the form of dual rear- and front-mounted cameras. At our meeting, HTC's representatives noted that the U12+ will arrive with the second-highest DxOMark score of any Android phone on the market, right behind Huawei's P20 Pro, which features a stunning three rear cameras. Dual cameras on both sides also means that no matter which side you're taking a photo from, you can add depth effects. You can do this while shooting or in post while editing your photo. Bokeh selfies are a solid selling point.
As for the specifics, the rear camera features a 12-megapixel wide-angle lens with UltraPixel 4 as well as a 16-megapixel telephoto lens. Photos support optical zoom with up to 1.85x/2x optical zoom and 10x digital zoom. Other features include HDR Boost 2, OIS and EIS, Bokeh mode and dual LED flash. The front camera contains two 8-megapixel lenses with an 84° field of view wide angle and realtime Bokeh mode as well.
HTC has also doubled down on its touch feedback experience, debuting Edge Sense 2 on the U12+. By squeezing or tapping on the side of the phone, you can perform a wide range of actions, from snapping photos to recording videos to opening apps to zooming in on a map. Edge Sense 2 can also detect when your hands are situated a certain way so that if you tilt the phone while reading something, the orientation of the display won't change.
One interesting quirk of the HTC U12+ is that it doesn't feature any physical buttons. The power and volume buttons on the side of the phone are capacitive, meaning they don't actually depress when you put your finger on them. Apple switched to capacitive home buttons on the iPhones that still have home buttons, but the physical volume and power buttons remained. HTC has done away with them altogether.
While it feels solid enough in the hands and improves on the U11+ in many areas, the HTC U12+ is anything but a radical reinvention. It's not nearly risky enough for a vendor that can't even justify paying to sell its phones through a mobile carrier in the United States. HTC definitely could have done worse, but there's virtually nothing here that I see to convince an Android fan looking to branch out to give HTC a chance this year.
The HTC U12+ will be available to preorder in the United States on May 23rd, and it'll be released on June 7th. The phone will be available in both Translucent Blue and Ceramic Black colors to begin, but Flame Red will eventually come to market as well. Translucent Blue can be pre-ordered starting today for $799 (64GB) or $849 (128GB), and Ceramic Black for $799 (64GB). Once again, HTC won't partner with US carriers.
You can buy an unlocked U12+ from HTC's website, and it's also available to preorder on Amazon in both Ceramic Black and Translucent Blue.