What will it take to contend with Samsung? The South Korean consumer electronics giant just released its most impressive flagship smartphones ever, featuring power and a design that no other company can match. The Galaxy S8 and Galaxy S8+ would undoubtedly sell themselves to an extent, but having tremendous carrier support and Samsung's multi-billion dollar marketing budget certainly doesn't hurt. How can any other Android phone vendor hope to compete?
For HTC, the company will look to set its 2017 flagship HTC U11 apart in two ways. The first is with some sleek and unique styling and a design identity unlike anything we've seen from other phone makers. And the second is with a novel new feature called Edge Sense that HTC hopes will be enough to turn some heads in its direction.
HTC on Tuesday announced the new HTC U11 flagship phone in the early hours of the morning. The unveiling, which took place in Taipei, saw HTC introduce a new phone that is a natural extension to the HTC U Ultra, a sleek phablet from last year that didn't have much of a presence in the United States.
This time around, however, the U11 will be released in the US with wireless carrier partners. And it could be a very compelling option for Android fans looking to separate themselves from the pack and carry an original handset as opposed to the Galaxy S8 we now see everywhere.
In terms of specs, the HTC U11 aligns well with the Galaxy S8 and other upcoming 2017 flagship phones. It's powered by the Qualcomm Snapdragon 835, and it features 4GB of RAM along with 64GB of ROM and microSDXC support up to 2TB. Other specs highlights include a 5.5-inch Quad HD Super LCD 5 display (2560 x 1440), IP67 water- and dust-resistance, a 12-megapixel UltraPixel 3 rear camera, a 16-megapixel front-facing camera, Android 7.1 Nougat, a 3,000 mAh battery, and HTC BoomSound Hi-Fi edition stereo speakers that blew me away when I tested the phone last week.
In addition to the new BoomSound tech, the HTC U11 also ships with special USB-C earbuds that feature active noise cancellation and sonar in the buds that tune the sound perfectly to the listener's ear canals.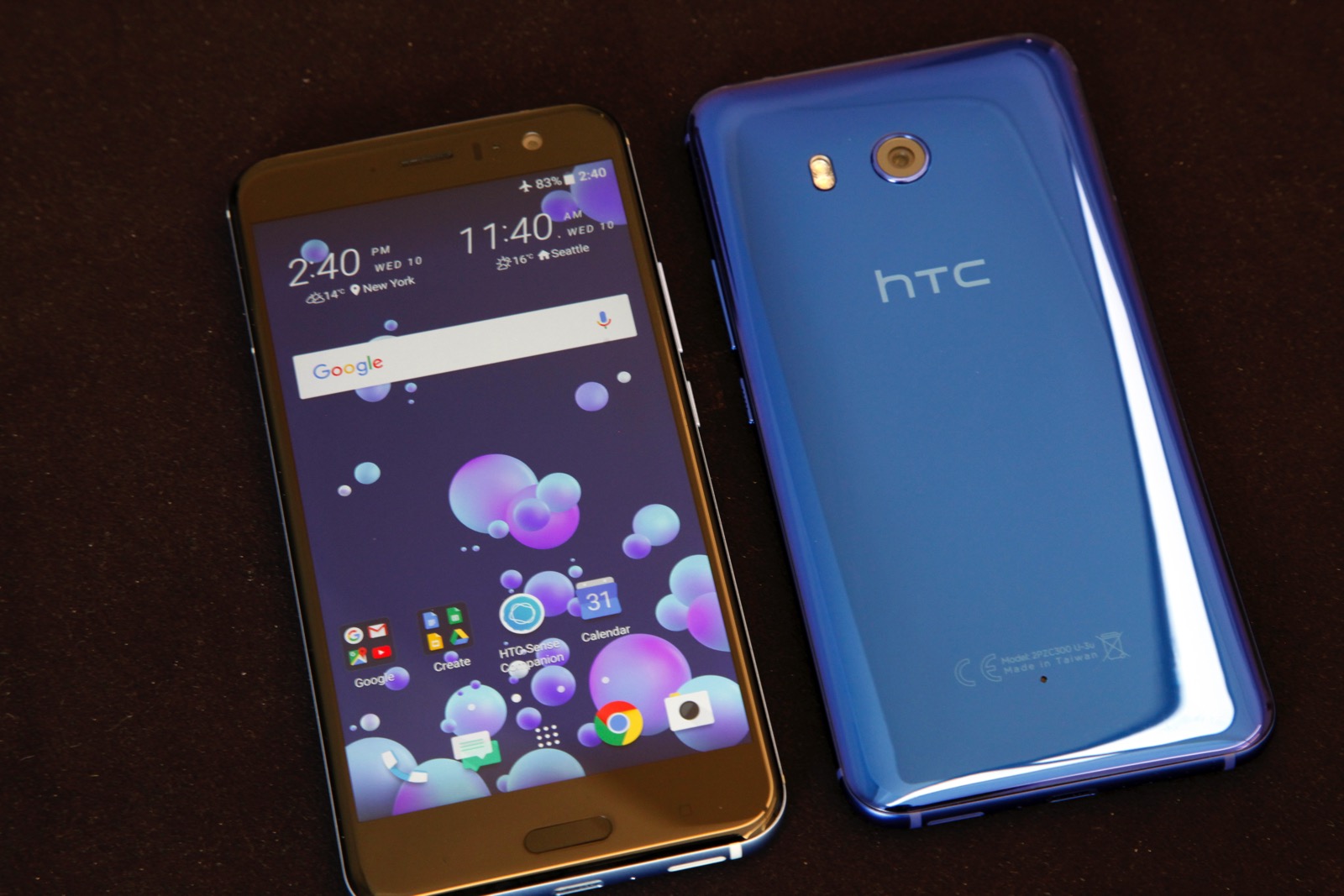 In terms of standout features, there are two obvious ones aside from the phone's beautiful glass design. The first is Edge Sense, which consists of a series of sensors beneath the metal edges on the sides of the phone. The sensors can recognize imperceptible flexing in the metal when the sides of the phone when it's squeezed, and users can configure various actions triggered by squeezes. For example, a squeeze on any screen can launch the camera, and a subsequent squeeze can capture a selfie. This way, the user doesn't have to fumble with buttons, thus blurring the shot.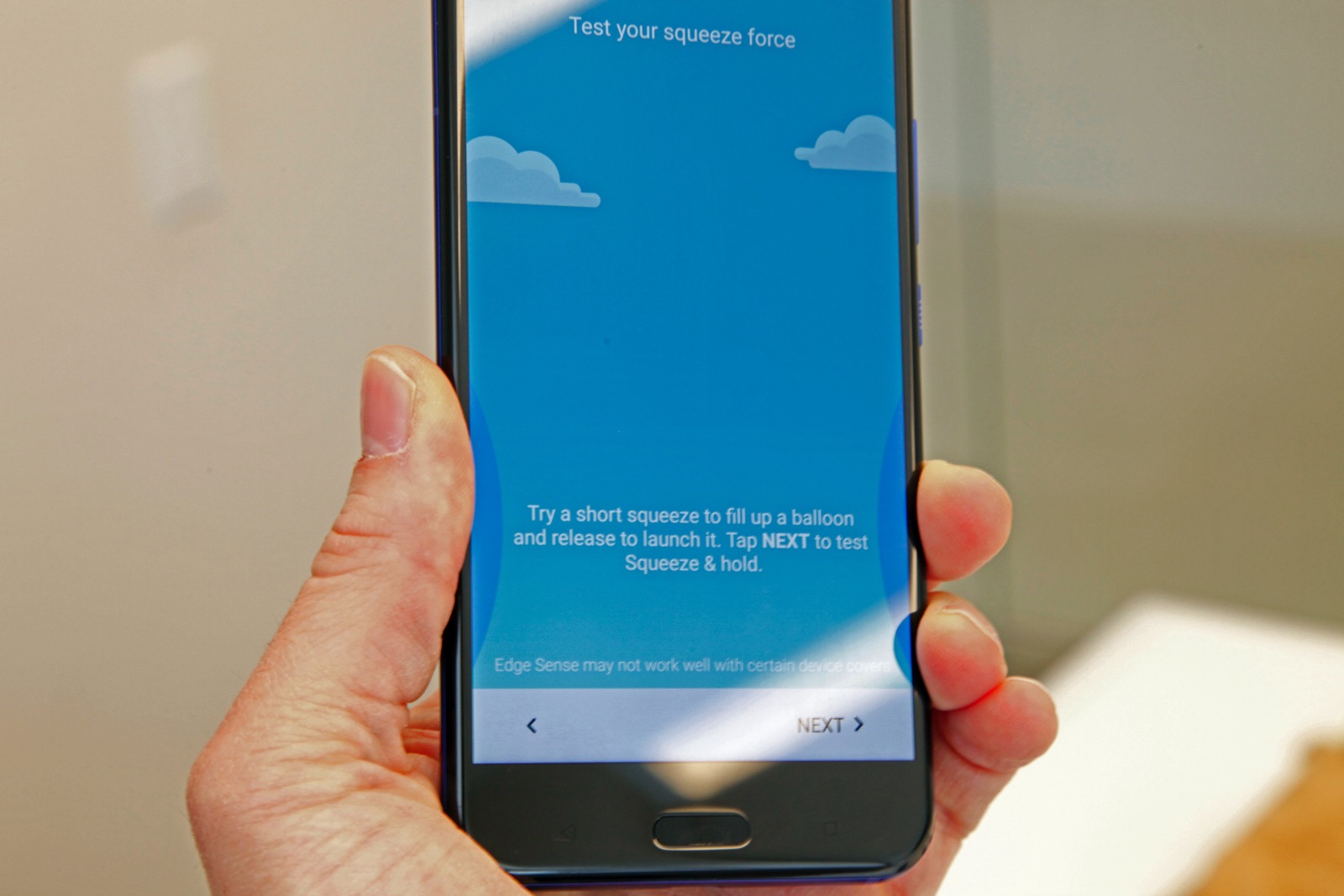 The second standout feature is enhanced support for AI assistants.
The U11 ships with not one or two but three different assistants. The first is Google Assistant, which most new Nougat phones will feature this year. The second is support for Amazon's wildly popular Alexa assistant, though it won't be available at launch. Instead, Alexa support will be added in an update following the phone's release — HTC said it hopes to roll out Alexa support by the end of June.
Of note, both Google Assistant and Amazon Alexa will support wake words. Qualcomm's new Snapdragon 835 platform is the first to support two wake word functions, and the U11 is the first phone to take advantage of this new feature. The phone also features four strategically placed mics that activate with the wake word to determine the exact position of the person speaking, and then only the nearest mic remains active while commands are spoken.
Finally, HTC's U11 also includes the company's own new assistant software called HTC Sense Companion, which is a Google Now-type solution that fills in some gaps that aren't covered by Google Assistant or Alexa. For example, if your phone is running low on power and it sees that you have an upcoming meeting you'll soon be leaving for, it will recommend that you plug in your phone to ensure you don't run out of juice.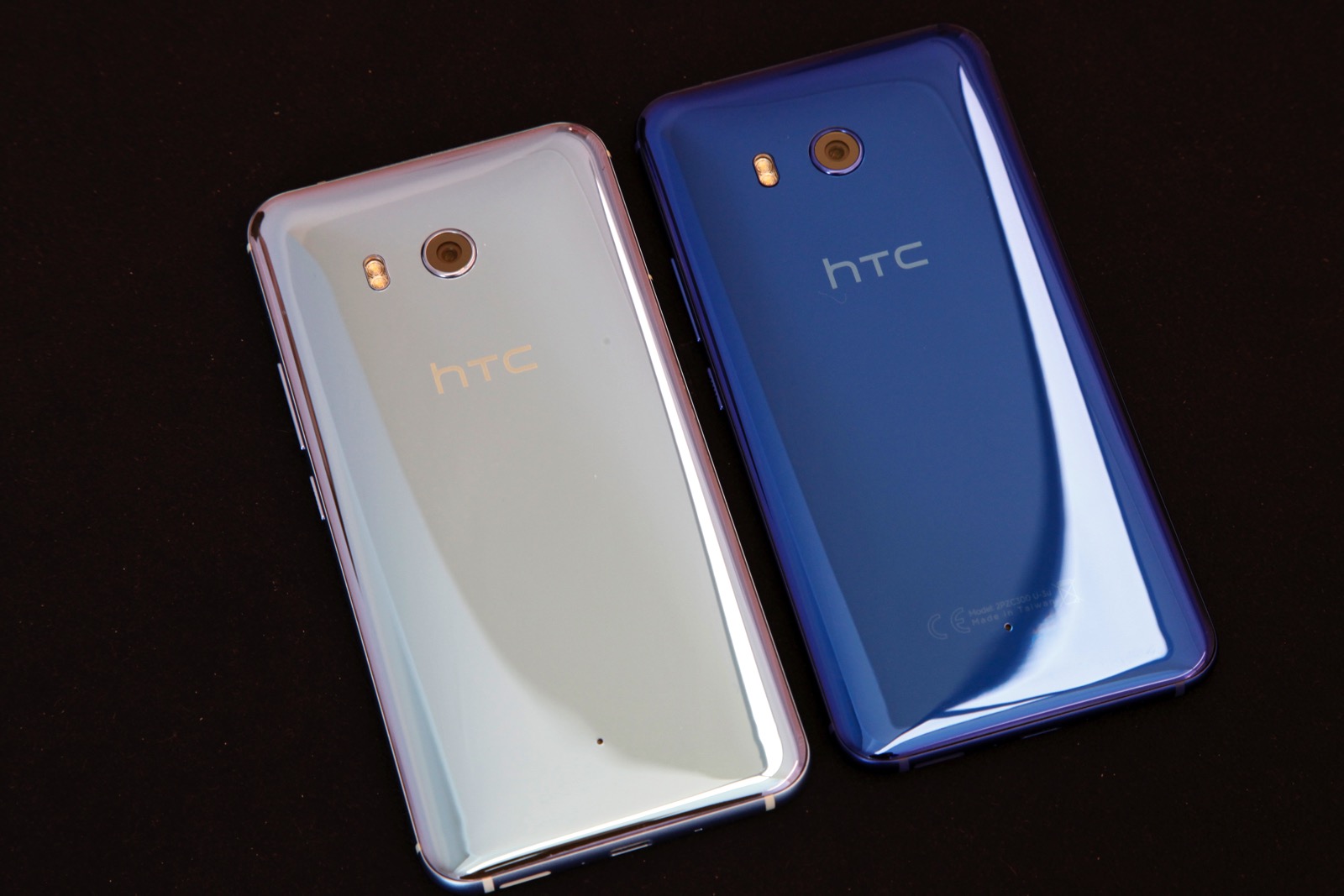 The new HTC U11 is an impressive flagship phone, and I'm definitely looking forward to spending more time with it. Sadly, the phone is severely crippled right off the bat — Sprint will be the only carrier to sell the phone at launch. Sprint is taking pre-orders beginning today, and the HTC U11 will start shipping on June 9th for $0 down and $29 per month. The phone will also be sold unlocked on HTC's website and on Amazon.com, and pre-orders are available beginning today on those sites as well.
In the US, the HTC U11 will come in Amazing Silver, Sapphire Blue, and Brilliant Black. Ice White and a reddish-orange color will be available in other markets, and there will also be a version of the phone released in Asia with 6GB of RAM and 128GB of storage.
The HTC U11's full specs are listed below.