HTC on Tuesday unveiled the Exodus 1, its first-ever blockchain phone and a device that's supposed to change the way we think about smart devices. The handset looked promising in teasers and announcements that preceded the phone's launch, but if you were hoping that HTC invented some sort of new operating system, based solely on blockchain technology, then you'll be disappointed to find out the Exodus 1 is still an Android handset. That's not to say it doesn't have features not available on virtually any Android or iPhone model that's currently in use.
Let's get the boring stuff out of the way before we get to the exciting blockchain tech built into the Exodus 1. The phone is practically a blockchain version of HTC's U12+ flagship, featuring a 6-inch QuadHD+ display with 18:9 aspect ratio, Snapdragon 845 chip, 6GB of RAM, 128GB of storage, 16-megapixel dual camera, 8-megapixel dual selfie camera, IP68 rating, 3,500 mAh battery, and Android Oreo.
The blockchain part consists of a secure enclave on the phone that's protected from Android, which will hold the keys to your crypto, non-fungible tokens, and "all your digital data" at some point down the road. It's unclear at this point how HTC wants to put all your data inside the enclave, but the company did say in previous teasers that one of the purposes of a blockchain phone is to allow users to control their data. But as long as this is an Android phone, some of that data still flows to Google.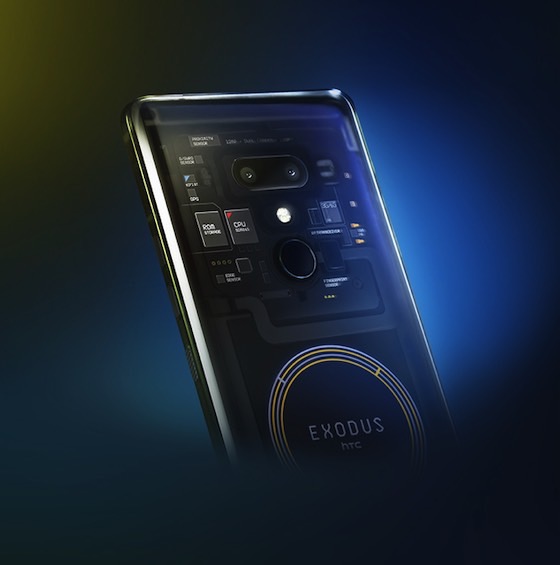 Additionally, HTC developed a Social Key Recovery mechanism that's supposed to help you recover your keys if your phone is lost, stolen, or you forget them. The process involves picking a few reliable contacts who will download a key management app. Then, your seed will be split via a secret sharing algorithm and sent to the trusted contacts. And that's what you'll need to use to regain access to your funds. HTC says it won't hold your keys in a central location at any point, but we're yet to see any demos of how this all works.
HTC says in the press release that the new phone is "dedicated to decentralized applications and security," but it'll be interesting to see what sort of decentralized apps this phone will run as long as it's based on Android.
Genesis Block. Exodus Phone.

This is official early access release to the EXODUS 1. We are inviting a community of developers and enthusiasts to work with us to keep building security. Join us in rebuilding trust together, one phone at a time. Get your early access now! pic.twitter.com/sPcNc7wnzj

— HTC EXODUS (@htcexodus) October 23, 2018
Being a blockchain phone, the Exodus 1 can be purchased only for crypto. 0.15 Bitcoin or 4.78 Ethereum will get you a phone. That's $958 and $950, respectively, but the prices will change by the time I finished typing these words. That's how crypto works. The phone can be purchased via the early access program at this link and will be available in 34 countries including the US.