Apple's iOS 11.3 will bring a brand new Battery Health menu to the Settings app that offers users information about the current state of the battery, as well as a way of stopping the operating system from toggling the speed of the handset. We've already shown you what that new menu looks like, but Apple shared more details about how the feature will work, and it also posted a number of images to help illustrate the new functions that will be enabled in the Battery Health menu.
Apple updated its iPhone battery and performance support document with new information from iOS 11.3, confirming in the process that the iPhone X and iPhone 8 won't be slowed down when their batteries inevitably degrade.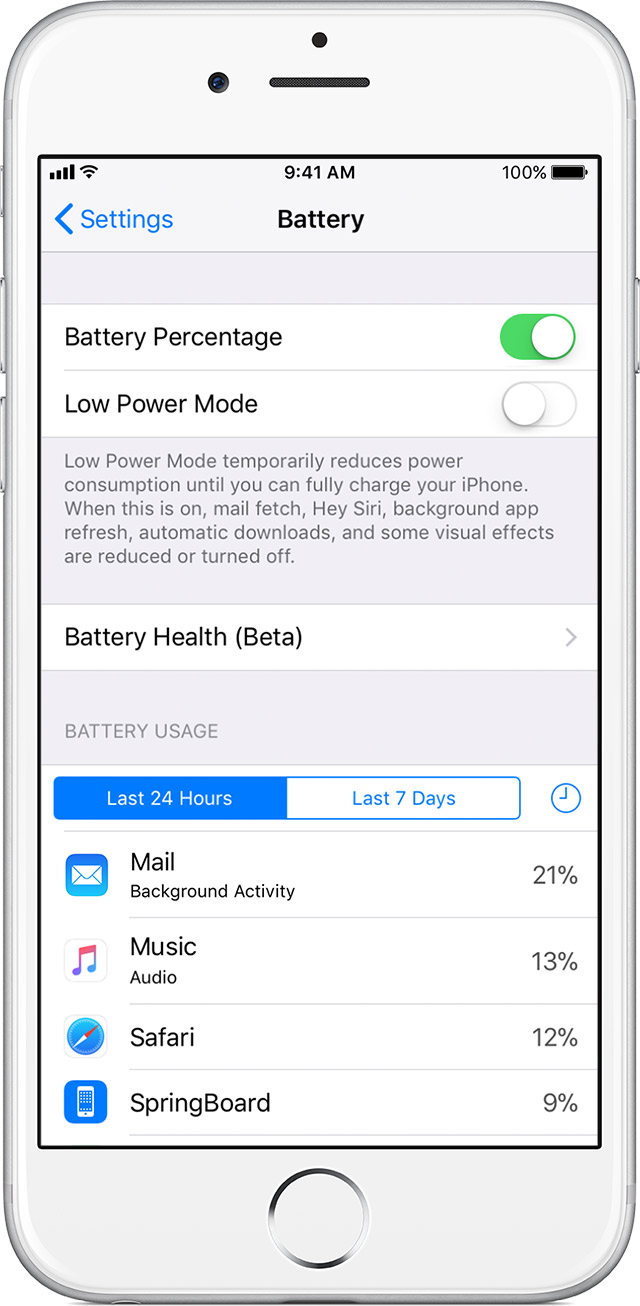 That means this new Peak Performance Capability submenu in the Battery Health section can only be accessed on iPhone 6, iPhone 6 Plus, iPhone 6s, iPhone 6s Plus, iPhone SE, iPhone 7, and iPhone 7 Plus.
When will an iPhone be throttled? 


Apple says that a normal battery is designed to retain up to 80% of original capacity after 500 complete charge cycles under normal conditions. That should get you up to two years of regular iPhone performance — this is my estimate, based on current iPhone battery life experiences. Presumably, once the battery degrades below 80%, iOS will start slowing down performance to prevent unexpected shutdowns.
Maximum Capacity
This menu will display the maximum capacity of the phone with a percentage. 80% to 100% is supposedly good and you iPhone will work at regular speeds. When it's not being slowed down, the iPhone will display this message:
Your battery is currently supporting normal peak performance.
iPhone is being throttled
When the phone experiences a shutdown caused by the battery's age, it'll show you this message, along with an option to disable it
This iPhone has experienced an unexpected shutdown because the battery was unable to deliver the necessary peak power. Performance management has been applied to help prevent this from happening again. Disable…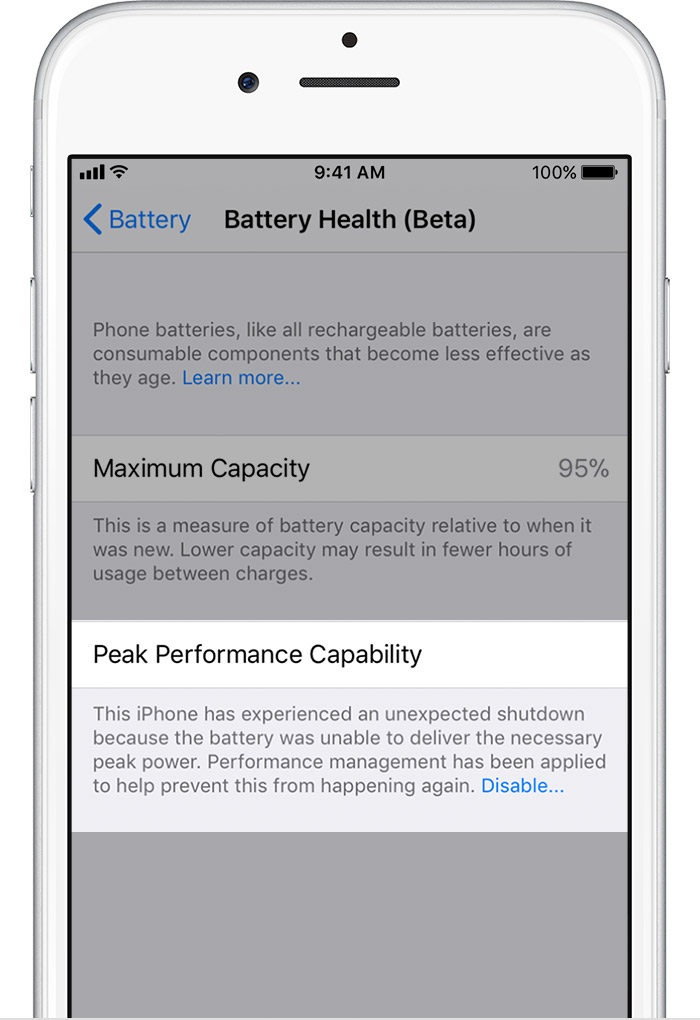 If you turn it off…
If you disable the throttling feature, you'll get this message:
This iPhone has experienced an unexpected shutdown because the battery was unable to deliver the necessary peak power. You have manually disabled performance management protections.

Not an actual speed toggle
It turns out that if you disable the performance management feature, you can't re-enable it. The phone, however, will re-enable it automatically as soon as it detects a new shutdown event. Then, you'll be able to disable it again.

Battery replacement
Apple will also display a message to warn you that a battery replacement might be in order:
Your battery's health is significantly degraded. An Apple Authorized Service Provider can replace the battery to restore full performance and capacity. More about service options…
Note how the Maximum Capacity shows a 79% in this case.
One more thing
If the phone can't determine the maximum capacity of the battery, it means that the battery might have a different issue. Or that a second-hand iPhone that you just purchased may have received a replacement battery from an unauthorized source.
This iPhone is unable to determine battery health. An Apple Authorized Service Provider can service the battery. More about service options…