Grand Theft Auto V is one of the largest open world games ever created, with a compelling crime story spanning the lives of three playable characters and incredible attention to detail. It holds one of the highest professional review scores ever, with universal acclaim for all of its iterations from Xbox 360 through PlayStation 4 and PC. However, on the Steam store — the go-to marketplace for all PC gamers — its aggregate user review score is classified as "Overwhelmingly Negative." Here's why.
Grand Theft Auto V debuted on PC in early 2015, a year and a half after its launch on PlayStation 3 and Xbox 360, and about six months after the game was ported to the PlayStation 4 and Xbox One. It's no spring chicken, and the game has by all accounts been a huge success for developer Rockstar and its parent company Take-Two Interactive.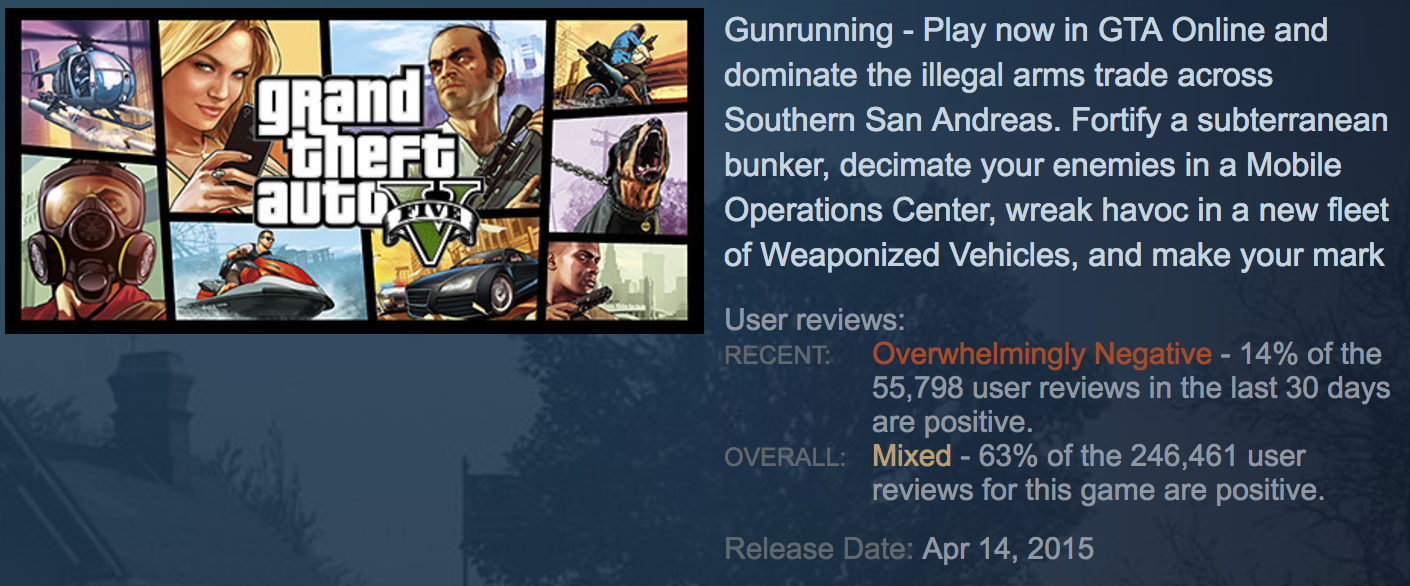 But PC gamers are an interesting lot, and are rarely satisfied with games as the developer had intended them to be. Modding games is a massively popular pastime and a growing sub-industry of PC gaming, and as one of the most popular titles around, GTA5 was bound to get its fair share of attention from modders.
In recent months, roleplaying servers began to pop up — where players act as actual characters and interact with each other in complex ways that aren't achievable in GTA5's standard online game modes. These RP servers, based on a modded version of the GTA Online platform, have taken off on Twitch, and breathed lots of new life into the aging crime game. Overall playtime has risen, with more players buying the game and diving in for a different kind of GTA experience.
You'd think that, being a business and all, Take-Two would have been quite happy with an increase in players and increased sales, especially since they didn't do any of the work to make that all happen. But they weren't. The company launched legal attacks against OpenIV — one of the primary frameworks on which several mods are based — and forced them to shut down.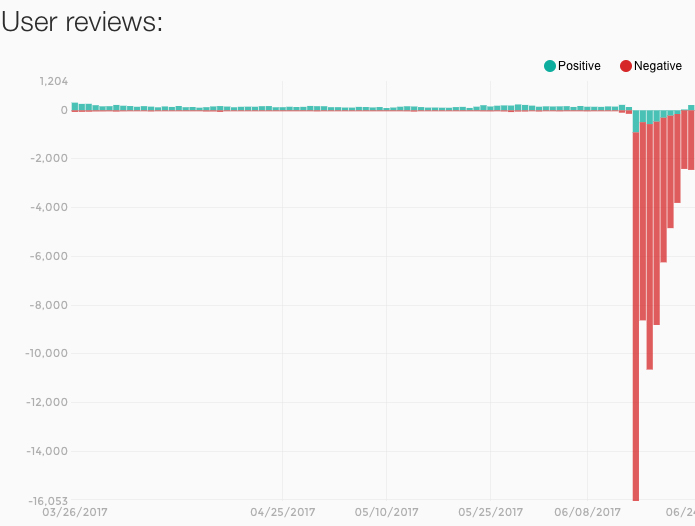 Within hours of learning the news, players began bombarding the GTA5 listing on Steam with negative user reviews. The reaction was so fierce that it actually managed to tank the game's overall rating from "Overwhelming Positive" to "Mixed," with the summary of recent reviews showing up as "Overwhelmingly Negative," the lowest possible review classification Steam has.
Rockstar eventually released a statement saying that it has spoken to Take-Two and suggested that they lay off the modding community. Take-Two also addressed the outcry, stating that it acted as it did because it believed OpenIV was allowing malicious mods to be used by players in online settings. The company subsequently loosened its restrictions slightly, allowing OpenIV to roll out a new update of its software without issue, but the question over how hostile new mods will be treated moving forward is continuing to cause dissent from gamers, and there's no telling whether or not the game's Steam rating can ever recover.