This year's Galaxy S release will not impress those buyers looking for a brand new smartphone design from Samsung. The Galaxy S9 will be a mildly refreshed Galaxy S8 when it comes to design. But the phone will pack brand new hardware complete with some exciting features.
The Galaxy S9's main trick seems to be the camera, various reports have suggested, and Samsung is expected to turn the camera experience into a major selling point, considering a recently revealed trademark application.
The camera specs haven't been fully leaked ahead of Samsung's Galaxy S9 presser, but the company just published a page on its website that reveals more details about its camera innovations.
Samsung relies on its own Isocell-branded cameras for the Galaxy S9 and various other products, and the company just published a new page on its semiconductor titled "Mobile imaging just got stunning with Isocell."
Discovered initially be GalaxyClub, the page probably describes camera technology that will be found inside the Galaxy S9.
The page details three distinct Isocell sensors, including Bright, Fast, and Slim, It's unclear which sensor will be used inside the Galaxy S9. The Isocell Fast model seems like a likely candidate. Samsung's Isocell Dual sensor, also mentioned on the page, will likely equip the Galaxy S9+.
Isocell Bright features Tetracell technology that's supposed to improve low-light photography, by merging four neighboring pixels to work as one big pixel.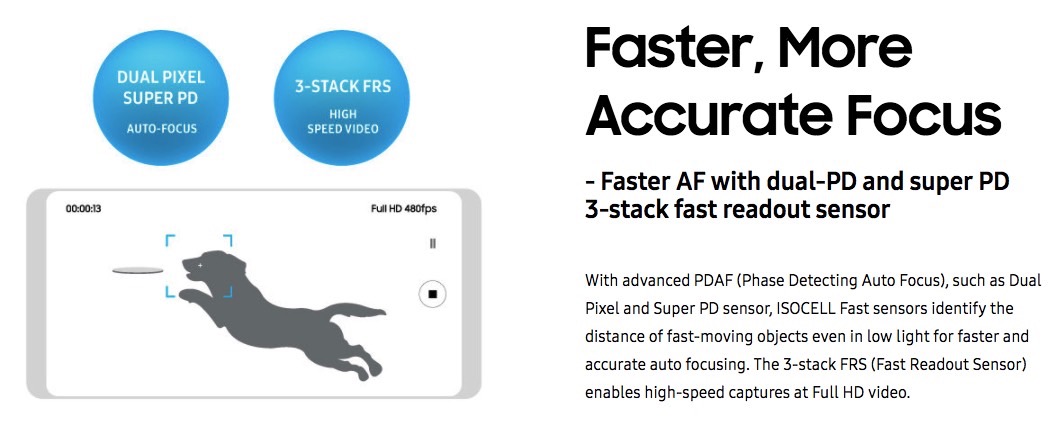 Isocell Fast delivers fast autofocus even for objects on the move, and even in low light. Samsung talks about a new 3-stack Fast Readout Sensor (FRS) that enables high-speed captures at Full HD resolution. Samsung offers an example that shows video recording in Full HD at 480 fps.
Recent rumors did say the Galaxy S9 will have a new super slow-mo video recording mode, identifying the camera as a "super speed dual pixel 12-megapixel" camera with optical image stabilization and flexible aperture.
Isocell Slim, meanwhile, is a sensor that allows manufacturers to create slimmer cameras and smartphones. Samsung also sells its Isocell camera technology to other device makers, which explains the variety of sensors presented on Samsung's page.
Finally, Isocell Dual will provide users with "DSLR-like photo experiences such as greater light sensitivity, depth effects and sharper brightness in all conditions," according to Samsung.