As we get closer to 2018, you should expect more and more Galaxy S9 leaks and rumors, as Samsung prepares to launch its next flagship handset. The phone should come in two versions, just like every Galaxy S phone since the S6 series, and recent rumors said it'll be similar to last year's Galaxy S8. The same reports said the rear panel should see some major design changes though, including the inevitable addition of a dual-lens camera. Now, for the first time, a set of images supposedly show the Galaxy S9's updated design.
Posted over on SlashLeaks but originally found on Weibo, the CAD drawings supposedly belong to the Galaxy S9. We're looking at an all-screen phone with top and bottom bezels that appear to be far slimmer than the Galaxy S8's. There's no way to prove this is a Samsung phone, but the handset does have curved edges, which is a signature feature for Samsung's flagship handsets.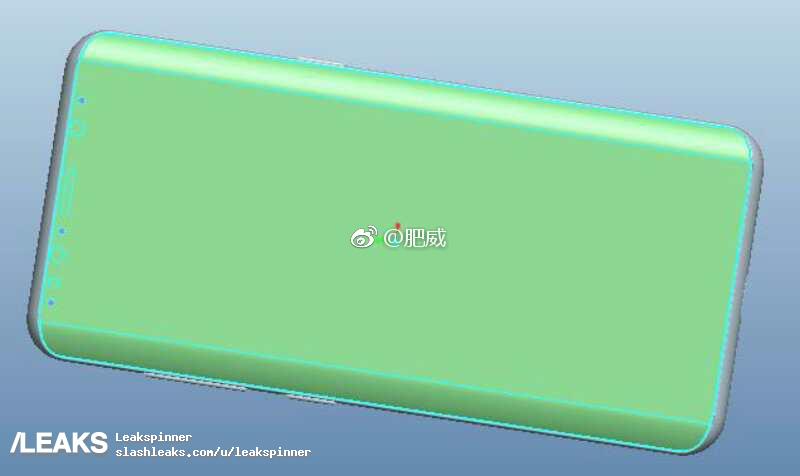 On the back, there's a dual camera module that has a vertical orientation rather than a horizontal one, as found on the Galaxy Note 8. Various rumors claimed that the Galaxy S8 will feature a dual lens camera setup, which was first introduced on this year's Note handset after having been popularized by Apple's iPhone 7 Plus.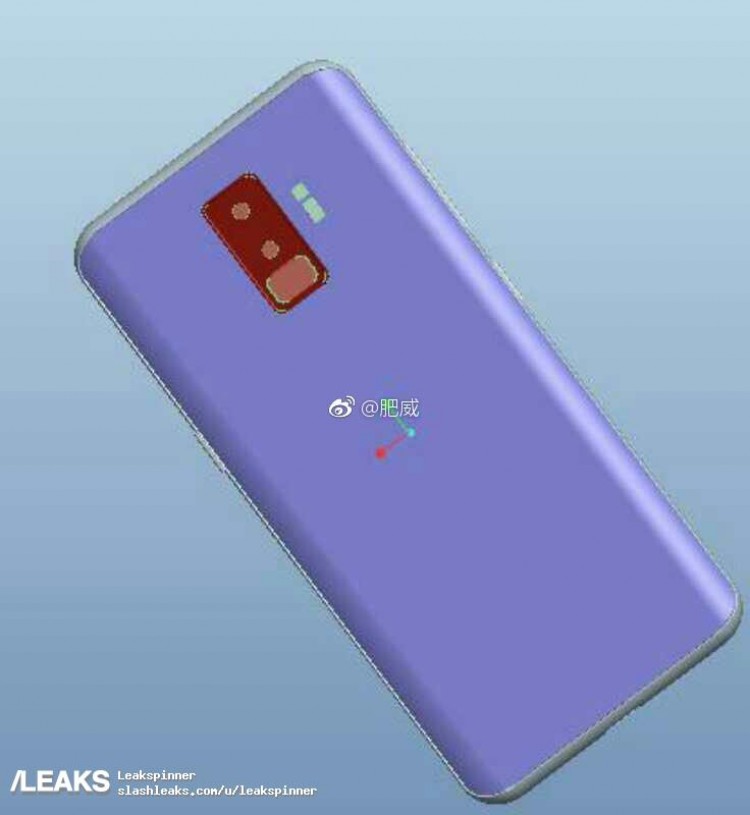 What's also different is the location of the fingerprint sensor, which is positioned beneath the cameras in a more accessible spot. Samsung was criticized before for the awkward placement of the fingerprint sensor on the Galaxy S8 and Note 8.
That said, this is just a leak and should be treated accordingly. It could always be a fake, and we'll probably see more Galaxy S9 leaks in the coming months. A leaker on Twitter by the name of @OnLeaks, who often contests other people's leaks, says that these new CAD images are fake or perhaps outdated.
Not 100% sure but for your information, according to one of my most reliable sources, that #Samsung #GalaxyS9 CAD is very likely fake or at least, inaccurate… https://t.co/wN6UHyYj7q

— Steve H.McFly (@OnLeaks) November 13, 2017
The same leaker, however, tweeted renders a few weeks ago that featured the purported design of Samsung's Galaxy A5 and Galaxy A7 mid-range handsets. In them, we can clearly see a vertical camera and fingerprint sensor arrangement positioned on the back of the phones. If Samsung is doing that for its cheaper handsets, it could certainly also be planning similar designs for the Galaxy S9 and Note 9.
Again and updated… 😅 #Samsung #GalaxyA5 and #GalaxyA7 (2018) 360° video + dimensions on behalf of @MySmartPrice… https://t.co/H3HJGv1gbS pic.twitter.com/tSho9mVeYU

— Steve H.McFly (@OnLeaks) October 16, 2017