With Apple's iPhone X launch now behind us and all of 2017's top Android smartphones having made their debuts, attention now turns to 2018. We've heard rumblings of a number of exciting new smartphones that will launch next year, with a new larger iPhone X successor likely drawing the most interest and appeal. The size of Apple's tenth-anniversary smartphone is terrific, but the narrower display means there actually isn't much more space than there is on the iPhone 8 Plus. An "iPhone X Plus," meanwhile, would have far more display area than any other iPhone on the planet.
Apple's next-generation iPhone lineup won't debut until the late summer next year, and there are plenty of exciting new smartphones set to launch long before then. Samsung's upcoming new Galaxy S9 and Galaxy S9+ are of course the first among them, and BGR has just confirmed the phones' updated design.
Rumors surrounding Samsung's next-generation Galaxy S phone began popping up recently, and we've heard a lot of things that are definitely plausible. The phone will reportedly be powered by Samsung's next-generation Exynos 9810 processor, which has already been announced, or the Qualcomm Snapdragon 845 in a few markets including the United States. We've also read that the phone will have either 4GB or 6GB of RAM, a dual-lens rear camera and it'll be pricier than any previous Galaxy S phone at launch.
BGR has been able to confirm some of that information with our own sources. We've also learned other things about the upcoming Galaxy S9 and Galaxy S9+. For example, we know that Samsung has been working on a new facial recognition system in response to Apple's TrueDepth solution on the iPhone X. We've been told that Samsung initially hoped to include it in the Galaxy S9, but that isn't likely to happen at this point.
Our sources have also told us a bit about the Galaxy S9's new design. We can confirm that the handset will indeed include a dual-lens rear camera, and that the lenses will be oriented vertically like the iPhone X rather than horizontally like Samsung's own Galaxy Note 8. There will also be a fingerprint reader positioned beneath them, and the entire cluster will be centrally located on the back of the phone. This is a huge improvement from the off-center fingerprint scanner on the Galaxy S8 and Galaxy Note 8.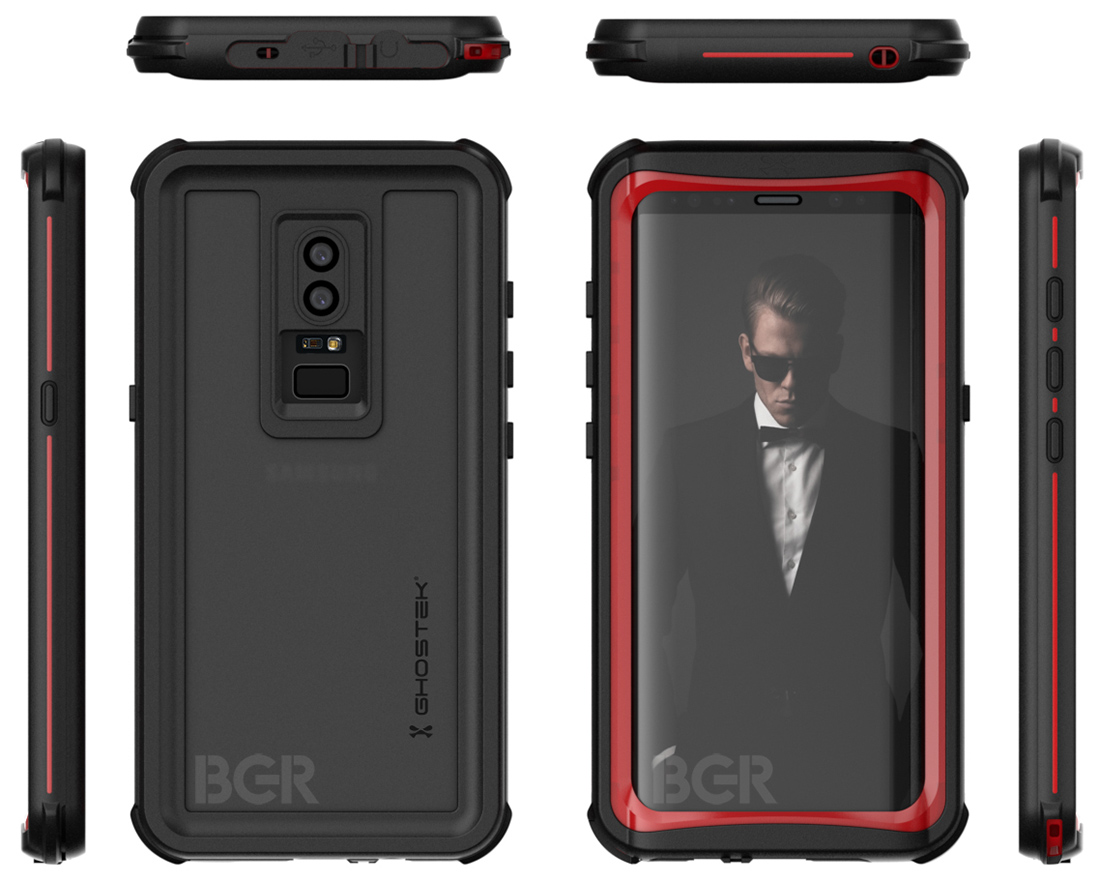 All that info we've heard has now been confirmed by a separate source, which has managed to supply us with renders of the new Galaxy S9. The renders were created by a smartphone accessory maker called Ghostek, but they're based on information from the factory that is building Samsung's new flagship phones. We're told by multiples sources that these renders are mostly accurate; one source told us the back is spot-on but the bezel above the phone's display will be a bit narrower, and the speaker at the top looks a bit different.
Samsung's Galaxy S9 is one of the most hotly anticipated new smartphones of 2018, and it's expected to be unveiled in February ahead of a March release.