The design of the Galaxy S9 might be "boring," but don't let that fool you into thinking the phone won't deliver a superior user experience. Like any other Galaxy S update, the S9 will introduce new hardware, including powerful new processors ready to deliver several new features.
Samsung and Qualcomm already introduced the Exynos 9810 and Snapdragon 845, respectively, that will power the S9 and S9+ this year, but the camera will also get a major upgrade, as the S9 might feature a "reimagined" camera.
Samsung applied for a new camera trademark in Korea right before Christmas. The trademark reads "The Camera. Reimagined." and was discovered by Galaxy Club. That sure sounds like marketing talk for a flagship device, and the only thing that comes to mind right now is the Galaxy S9 family.

Rumors say the Galaxy S9+ will have a dual-lens camera on the back, which is a major upgrade for the Galaxy S series. The S9, meanwhile, will stick with a single-lens shooter, based on everything we've heard so far.
Furthermore, Samsung teased that new camera features are coming to the Galaxy S9 earlier this week when it unveiled the Exynos 9810 processor:
Not only will multimedia experiences on mobile devices with Exynos 9810 be faster, but they will also be more immersive, thanks to a dedicated image processing and upgraded multi-format codec (MFC). With faster and more energy-efficient image and visual processing, users will see advanced stabilization for images and video of up to UHD resolution, real-time out-of-focus photography in high resolution and brighter pictures in low light with reduced noise and motion blur.
On top of that, the following image, which seems to be taken from Samsung marketing materials for the Exynos 9810 chip, says the dual image signal processor can support up to four image sensors — that's support for front and back dual cameras.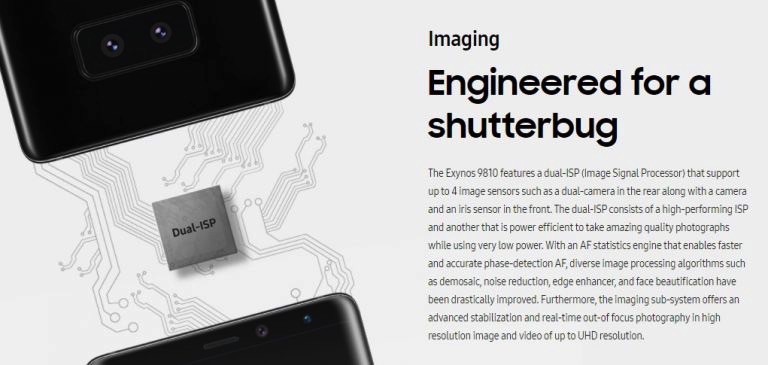 All that will surely turn the Galaxy S9 into the camera for many people. Reimagined and all.