Look, if we're being perfectly frank, there are really only a handful of flagship smartphones that will even be worth considering in 2017. Sure, the upcoming new Pixel 2 and Pixel 2 XL will undoubtedly make the cut when they debut this fall. Lenovo's upcoming second-generation Moto Z will probably be even more impressive than last year's model, and maybe we'll get a few cool new mods as well. And the Galaxy Note 8 will clearly make a splash when it's announced sometime in the summer.
Of course, there are a few phones that sit all the way at the top of the pile, and they're going to be more popular than any of those other smartphones by an order of magnitude. That's right, we're talking about Samsung's Galaxy S8 and Galaxy S8+, and Apple's iPhone 8, iPhone 7s, and iPhone 7s Plus. These new phones will garner more buzz and rack up more sales than any other handsets this year, but Samsung and Apple won't be the only companies to roll out innovative new features in 2017.
As we said in our Galaxy S8 review, Samsung's new flagship phones are spectacular. They pack plenty of power and punch, but the new Infinity Display design is obviously the star of the show. Samsung also managed to bake in some cool new features though, such as DeX desktop experience dock.
On the other side of the fence, we have Apple's upcoming iPhone 8. Rumors suggest the tenth-anniversary iPhone will have plenty of innovative new features apart from the sleek new full-screen design. Apple's iPhone 8 could be the first widely available smartphone to feature a fingerprint reader that's embedded in the display, and Apple is also rumored to be working on some very exciting new augmented reality features that will debut on the new iPhone.
But there's another company cooking up novel new features for a flagship phone this year. HTC on Thursday morning announced that it plans to unveil its next-generation flagship smartphone on May 16th. Here's the announcement: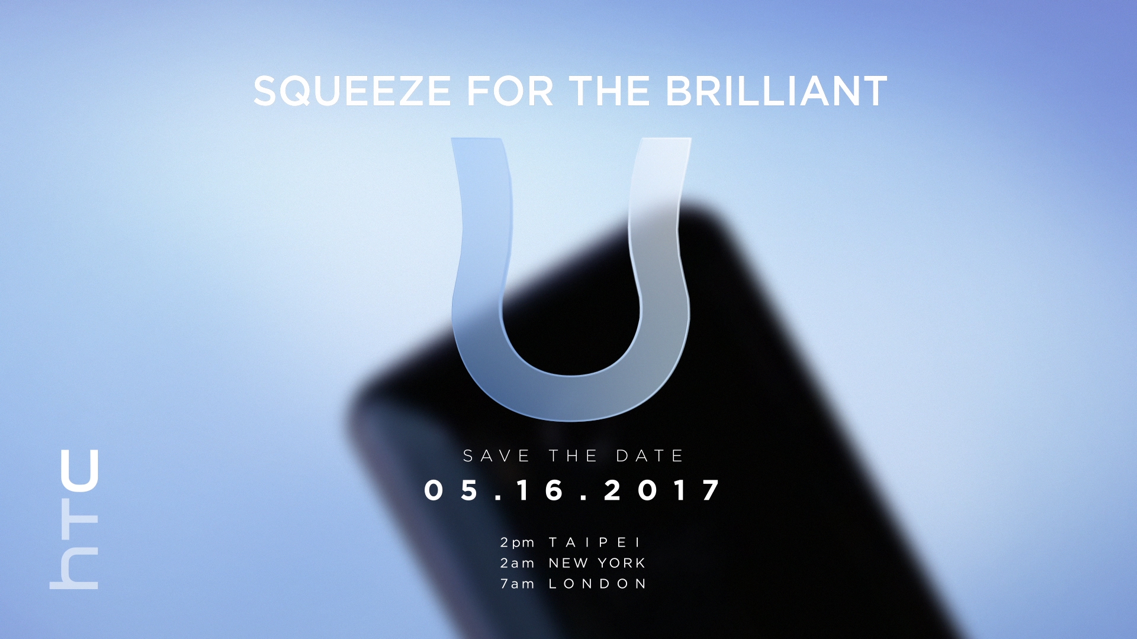 The company also posted the following teaser on Twitter:
Squeeze for the Brilliant U. 05.16.2017 https://t.co/89OuHXbBlt pic.twitter.com/jLaeFD2wMW

— HTC (@htc) April 20, 2017
The good news is that the rumors suggesting the upcoming HTC U flagship phone will feature pressure-sensitive edges is clearly accurate. Imagine it like Apple's 3D Touch feature from the iPhone, but on the sides of the phone instead of in the display — we can definitely think of a few cool use cases for tech like that. The bad news, however, is the unveiling will take place in Taipei at 2:00 AM EDT, which means this new HTC phone might be targeted at Eastern markets as opposed to the US.
If it does come the US, the new HTC U could end up being a very cool alternative to big-name phones like the Galaxy S8 and iPhone 8, but we won't know for sure until about a month from now.