The Galaxy S8 isn't due for a few months, but the phone is already the talk of the town. We've been hit with a consistent barrage of Galaxy S8 rumors before and during CES 2017, and you can read everything we know about the Galaxy S8 so far right here. The latest leak actually shows us a picture of a device that might be a Galaxy S8 prototype. On the other hand, it could always be fake, so don't get too excited just yet.
Posted on Weibo, the image seems to show a handset that aligns with countless rumors and reports we've seen so far. The supposed Galaxy S8 pictured here sports a curved display that takes up a large portion of the front side, just as rumors indicated.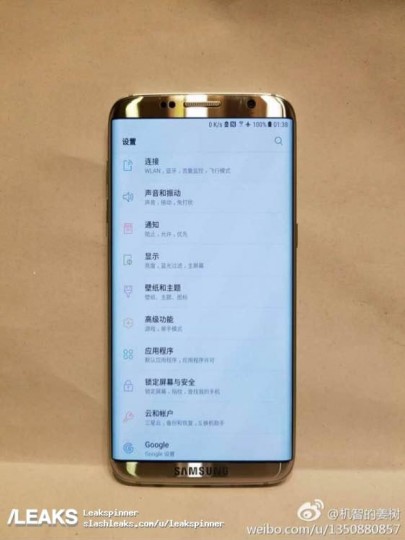 There's no home button on the front side, a courageous decision from Samsung that is necessary to increase the screen-to-bezel ratio. That's also something many rumors have suggested. The capacitive buttons that would flank the home button are gone as well for the same reason.
What we can see in the image are top and bottom bezels that are still rather large, and an unsightly Samsung logo on the bottom bezel. It also seems that the top bezel, which houses the speaker, front camera and sensors, is even bigger than the bottom one.
What's strange about the image, SamMobile notes, is that the on-screen navigation buttons aren't there to replace the capacitive ones. They should be visible when you head into Settings or any other app, rather than hiding automatically. This may indicate the picture is either a Photoshop job or we're looking at Samsung's way of increasing the screen at the expense of the navigation buttons, which may go into hiding when not needed. Of course, there's also a rumor or two floating around that Samsung plans to copy Apple's 3D Touch functionality in some way, so that's another possibility.