We knew it was coming, and Samsung finally released it into the wild. The Android 7.0 Nougat update for the Galaxy S7 and Galaxy S7 edge is rolling out as we speak, and you should soon receive it. The launch follows a beta testing period that allowed existing Galaxy S7 series owners to test the software and help Samsung iron out existing bugs. A few weeks ago, Samsung did confirm that the Nougat update will roll out in January, with January 17th being the rumored date for it.
Samsung has started rolling out Nougat for the Galaxy S7 phones a few days earlier than expected, at least in certain markets. SamMobile already has screenshots that indicate the Nougat software is available as an over-the-air upgrade over in Europe, but the update should propagate in all markets soon.
If you were included in the beta program, you're likely to be among the first Galaxy S7 users to get the final Nougat build. Similarly, if you're sporting an unlocked version of the phone, you're probably going to receive the upgrade faster than people who rock carrier Galaxy S7 versions.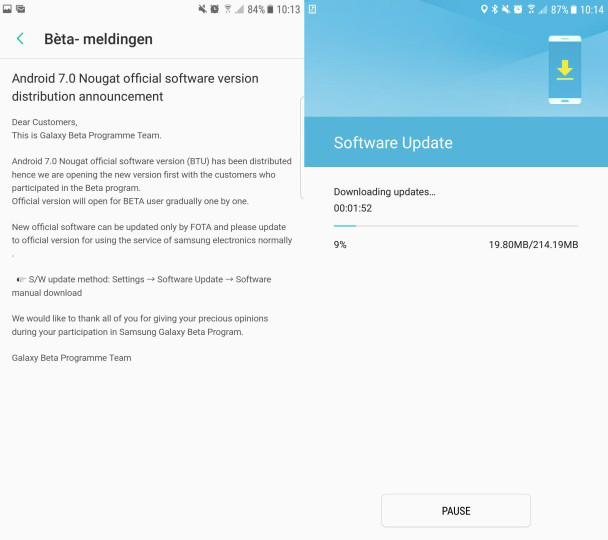 As the changelog indicates, the update also includes other perks on top of the Nougat upgrade. A new UX is included in the package, as well as various "performance modes" and other improvements.
The update measures around 215MB in size, but make sure you have a dependable internet connection and enough battery life to upgrade your phone to Nougat.