As soon as the Galaxy Note 7 came out, some people put the device through various torture tests that showed surprisingly bad results. The Gorilla Glass 5 screen was able to withstand drops, but it scratched easier than it should. Furthermore, the glass on the back of the phone also seemed to shatter a lot easier than anticipated. These isolated incidents suggested you'd be better off with a case and screen protector to guard the integrity of the phone. Further reinforcing that idea is a report that says the phone's display mysteriously cracked while sitting in a purse.
DON'T MISS: Working iPhone 7 Plus captured on video for the first time
"One minute the Note 7 was totally pristine," CNET writes. "And then, it wasn't. What cracked the delicate curved screen remains a mystery, and a cautionary tale."
"I'm honestly not sure how the Note 7's upper right-hand corner smashed like it did," Jessica Dolcourt said. "I was out with work buddies, my purse hanging on a pair of hooks below a counter. I slipped the Note 7 out of my bag for a group photo ('Does anyone have a camera that takes good lowlight pics?' someone had asked.) A stranger snapped the picture and handed me the phone. I slipped it back into the interior pocket it shared with another device I'm testing."
Before discovering the crack, her "leather purse accompanied me into a booth, hung on my shoulder, rode alongside me in a taxi and sat on my carpeted bedroom floor overnight."
A day later, the Galaxy Note 7 emerged looking like this: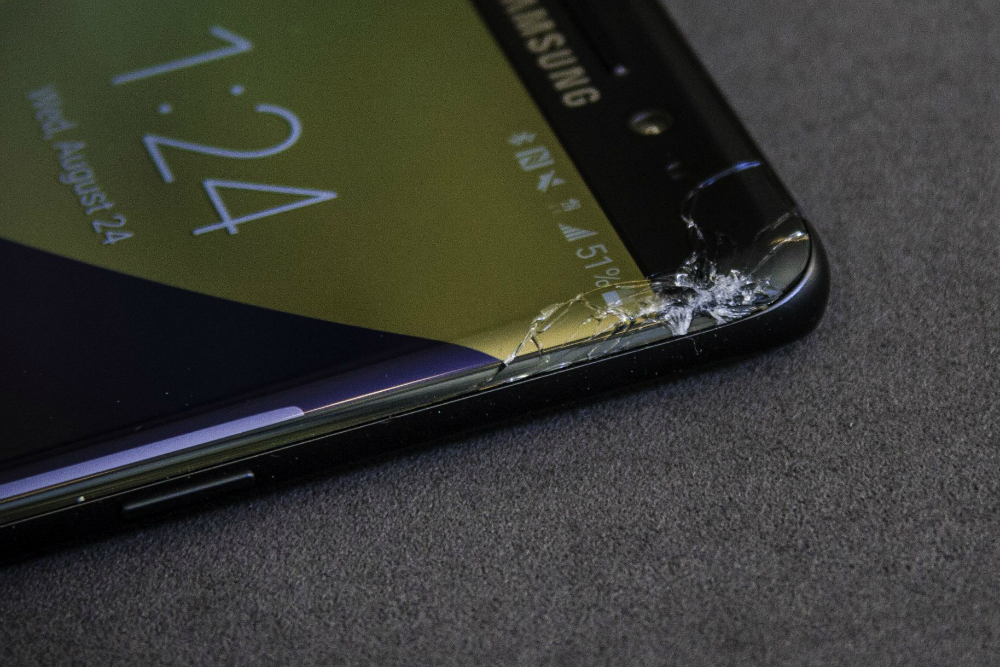 Dolcourt says that she believes someone pressed up against the purse, and a second phone crunched against the Galaxy Note 7.
Asked to comment, Samsung stated that its "Galaxy Note devices are some of the most durable smartphones available today. The glass on the Galaxy Note 7 was developed specifically to increase drop protection while securing damage resistance, optical clarity, and touch sensitivity."
That's what we expect from Samsung. Corning said almost the same thing but explained that its claims apply to the Gorilla Glass 5, not products that have altered glass, such as devices with curved edges.
This definitely isn't a good week for Samsung's Galaxy Note 7. The company is reportedly considering a Galaxy Note 7recall in Korea due to faulty batteries.