HTC isn't the only company working on a type of smartphone not many people might want. Sirin Labs also has a blockchain phone in the works, and the device will supposedly ship this November, as long as you're ready to pay that $999 price.
The device runs Android, albeit a custom version that's supposed to be more secure, and provides the kind of safe cold storage solution you might be looking for your crypto assets.
Of course, storing all your coins on a physical device that can be lost or stolen is hardly ideal. But one could always use the Finney for quick transactions, and then move the digital currency to a safer storage solution.
In case you were wondering, the Finney is named in honor of Bitcoin pioneer Hal Finney, Engadget reports.
Specs-wise, the Finney will get you exactly what you expect from a high-end Android phone: an iPhone X design with a notch included, an 18:9 high-resolution display, Qualcomm Snapdragon 845 processor, and 6GB of RAM.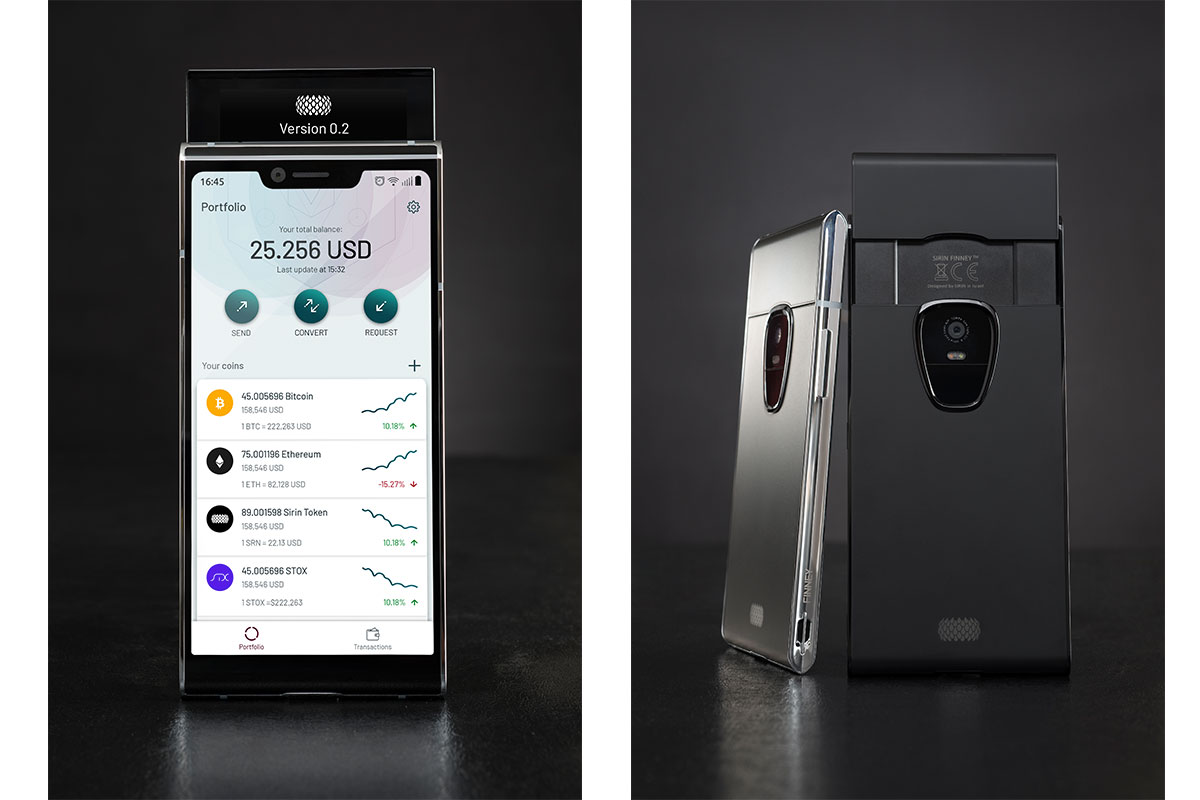 But unlike regular phones, Finney comes with a secondary screen that slides up just like the Oppo Find X's camera system. That screen is dedicated to crypto transactions only. That's the Safe Screen that runs on dedicated firmware. The slider that turns on the screen also activates the cold wallet.
One other unique feature is the ability to trade battery power with others, as long as they're Finney users.
Finally, there's one more trick to the Finney. It comes with its own crypto token, the SRN coin. The phone packs a Token Conversion Service feature that lets you exchange SRN coins into whatever coins you need for whatever purpose, although the details aren't all there — from Engadget:
Amit Krelman, Sirin's head of R&D, explained the idea using the notion of a blockchain-focused equivalent to Uber. Rather than having to stand, in the rain, buying tokens to hire a car, TCS will handle all of it for you, automatically. He was less clear, however, on how exactly the system would handle long transaction times and processing fees, an issue that plagues Bitcoin on a regular basis.
Is it worth buying the Finney? You should be the judge of that. But note that the company raised some $158 million during a crowdsale last year, and has recently hired soccer superstar Lionel Messi to promote the phone. Here's where you need to go for all the tech details about the Finney phone, Sirin OS, and the Finney PC — yes, there's also a crypto PC available.