Facebook users have been begging for a way to unsend messages for years now, and after a lengthy wait, they are finally going to get the chance to do so. On Wednesday, TechCrunch reported that the new feature — officially called "Remove for Everyone" — has begun rolling out in Poland, Bolivia, Colombia and Lithuania for Facebook Messenger on iOS and Android devices. Facebook plans to expand the rollout as soon as possible.
As TechCrunch explains, the feature allows Facebook Messenger users to remove sent messages from a recipient's inbox within the first ten minutes after the message has been delivered. In other words, you won't be able to go back and delete or alter messages you sent two years ago, but you can correct a recent error.
If you do opt to remove a message from a conversation, Facebook Messenger will leave a tombstone in the place of the message, so everyone in the conversation will know a message was deleted. Facebook will also retain messages for a few minutes after they are unsent so that you can still report it, even if it is quickly removed. Facebook seems to think this will persuade jerks not to take advantage of the feature to harass others.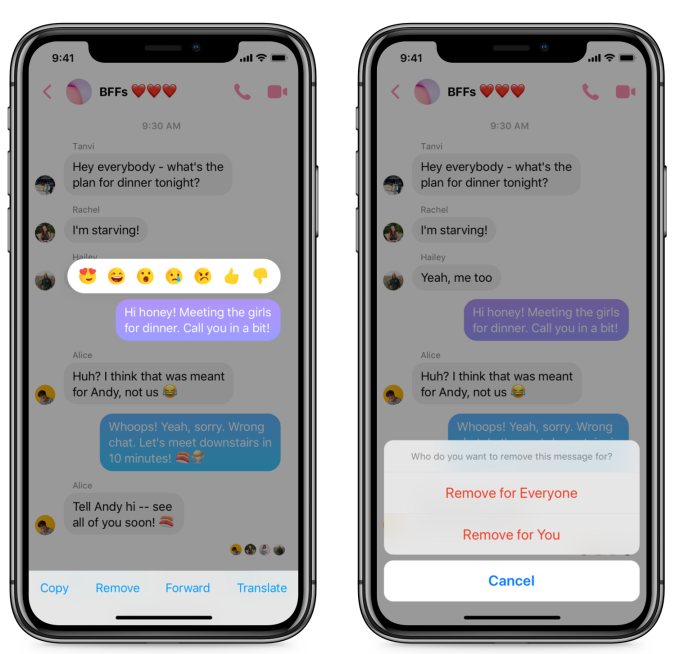 "The pros are that users want to be in control… and if you make a mistake you can correct it," Facebook Messenger head Stan Chudnovsky told TechCrunch. "There are a lot of legitimate use cases out there that we wanted to enable." But he also noted that there are potential pitfalls that need to be avoided: "We need to make sure we don't open up any new venues for bullying. We need to make sure people aren't sending you bad messages and then removing them because if you report them and the messages aren't there we can't do anything."
If you want to use Remove for Everyone (once it rolls out in your territory), just tap and hold on any message you've sent in the chat. As long as the ten minute limit hasn't expired, you should see two options: Remove for Everyone and Remove for You. If you decide to remove the message for everyone in the thread, you'll receive a pop-up alerting you that the message will be permanently removed (but can still be reported).
More unsend functionality is reportedly being developed for Messenger as well, including the ability to set a thread to expire after a certain amount of time, at which point all messages will be erased. Facebook is also considering letting users set individual messages in any thread to expire after a set time.