Facebook wants you to meet the perfect plumber, but it absolutely isn't what you think. Yes, Facebook did say only recently that it plans to go into the matchmaking business. But this isn't that sort of matching.
Yes, you might meet new people, and it all happens inside of Facebook, but it's all about finding the right professionals your home needs.
Facebook on Wednesday announced that it's adding a new feature to its Marketplace section. Facebook users will be able to search for home service professionals, browse through offers, see suggestions, and actually contact the service providers they settle on. And because it all happens inside the Facebook app, in a way, you will meet your perfect plumber and befriend them. You know so you can talk about the details of the job you're hiring them to do.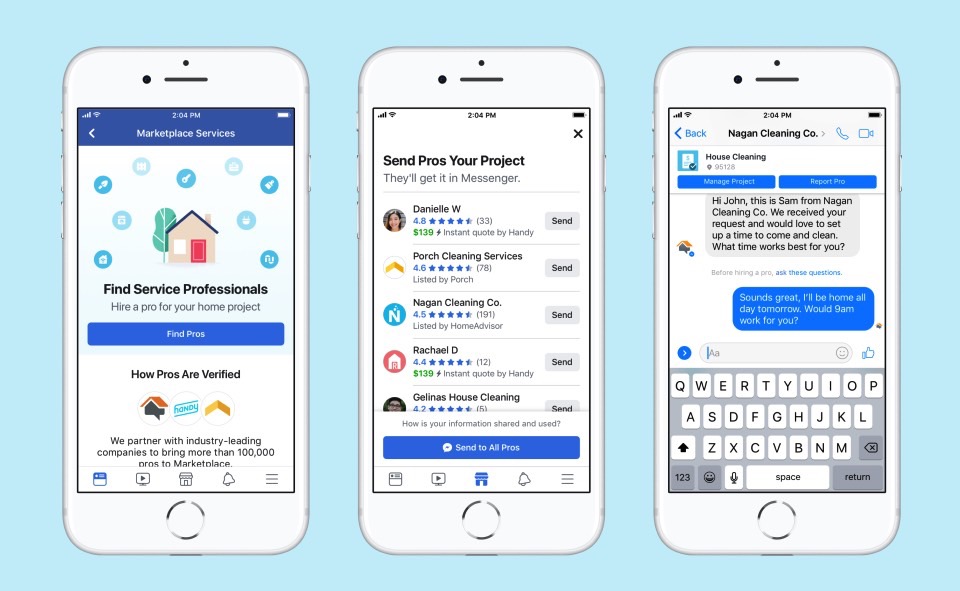 Facebook says it worked with industry leaders including Handy, HomeAdvisor, and Porch on the new features.
As a result, Marketplace will now display "hundreds of thousands of top-rated professionals across the US," complete with ratings, reviews, credentials, and locations.
Facebook's whole idea is to offer you means to complete your next home project from proposal to completion in one place. You'll be able to describe the project you need help with and pitch multiple professionals at once for a quote. Communication takes place in Messenger — I did say this all happens on Facebook.
The service will be available in the US starting today, although it won't reach all markets for a few more weeks.
So why did Facebook go into home services? Facebook has a rather creepy explanation for it:
More people ask for recommendations related to home services on Facebook in the US than any other topic. Since the beginning of the year, millions of people have asked their friends for suggestions related to home services, such as house cleaners, plumbers and contractors.
Facebook doesn't explain how it knows that. Is it from Facebook updates? Is it from Messenger? Well, the point is that Facebook knows that and it's willing to help. Since you've been asking about it so often.