In its ongoing quest to become the only service you need in your life, Facebook is giving mobile and desktop users the ability to check their local weather forecast at any time. The feature began rolling out on Wednesday, and you can find it in the News Feed on your computer or in the section of the mobile app where you can find "Friends," "Groups," "Events," and "Pages."
When you access the Weather section, you'll be greeted to an hourly and five-day forecast powered by Weather.com. There's also a graphic at the top of the page reflecting the current conditions in your area, so those of us currently suffering through the winter storm in the Northeast will be greeted by a snowy scene.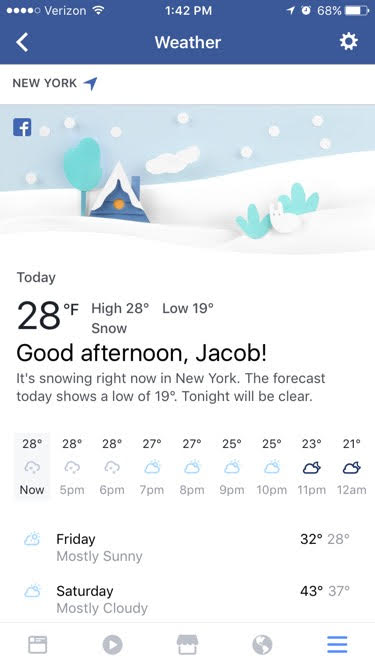 As TechCrunch notes, Facebook rolled out "weather greetings" in the News Feed last year, giving users a basic weather report for their city as soon as they logged in. The full Weather section is the culmination of that feature, with the greetings now linking directly to the more detailed five-day forecast. The greeting won't always appear at the top of your feed, but you can access the Weather section at any time.
Although the Weather section will default to your current location, you can tap the Settings button at the top of the page and add a new location or change the units from Fahrenheit to Celsius. Facebook will also allow users to turn on notifications for weather reports, although this feature is currently in the testing phase and won't be widely available until closer to the end of the month.