One of the most rage-inducing parts of the Windows 10 experience is the system's obnoxious habit of automatically updating at the exact moment when you need to use your computer. Sure, you can set up a schedule for when your computer should update, but who has time for that nonsense? It seems like Microsoft finally got the hint that simply allowing users to temporarily pause its updating procedure would be a much more elegant solution, and according to a report from Winaero, a feature allowing updates to be paused is currently being tested.
In Windows 10 build 14997, Microsoft added the option for software updates to be put on hold for up to 35 days. Under the Settings menu and the Update & Security tab you can find the new settings under "Advanced Options."
Called simply "Pause Updates," the feature is described thusly: "You can temporarily pause updates from being installed for up to 35 days. Some updates, like Windows Defender definition updates, will continue to be installed."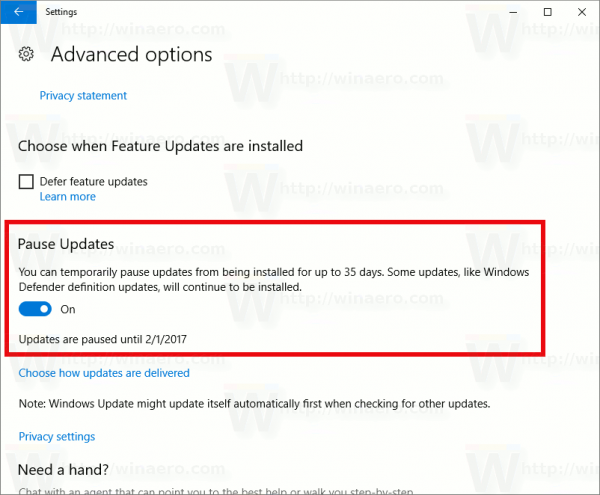 Windows 10 build 14997 is still just a test build for the upcoming Windows 10 Creators Update which is expected to arrive in March in 2017. Because it's not an official feature yet, there's still a chance that Microsoft might decide not to include it after all, and that would be a pretty big bummer for anyone who has had an important task cut short by an ill-timed automatic update. Whatever Microsoft decides, the Creators Update is already looking like a pretty awesome Windows 10 upgrade, and a tweak to the update feature would just be icing on the cake.