The Bitcoin woes of early February seem to be long forgotten as the entire crypto is climbing to new heights on Thursday, riding a wave of positive news.
Leading the pack is Bitcoin, which has nearly hit $10,000 in early trading — currently, it's at over $9,700, which marks a 9% increase in 24 hours. All the other cryptos are doing well, especially a couple of top 10 tokens that are getting some great coverage.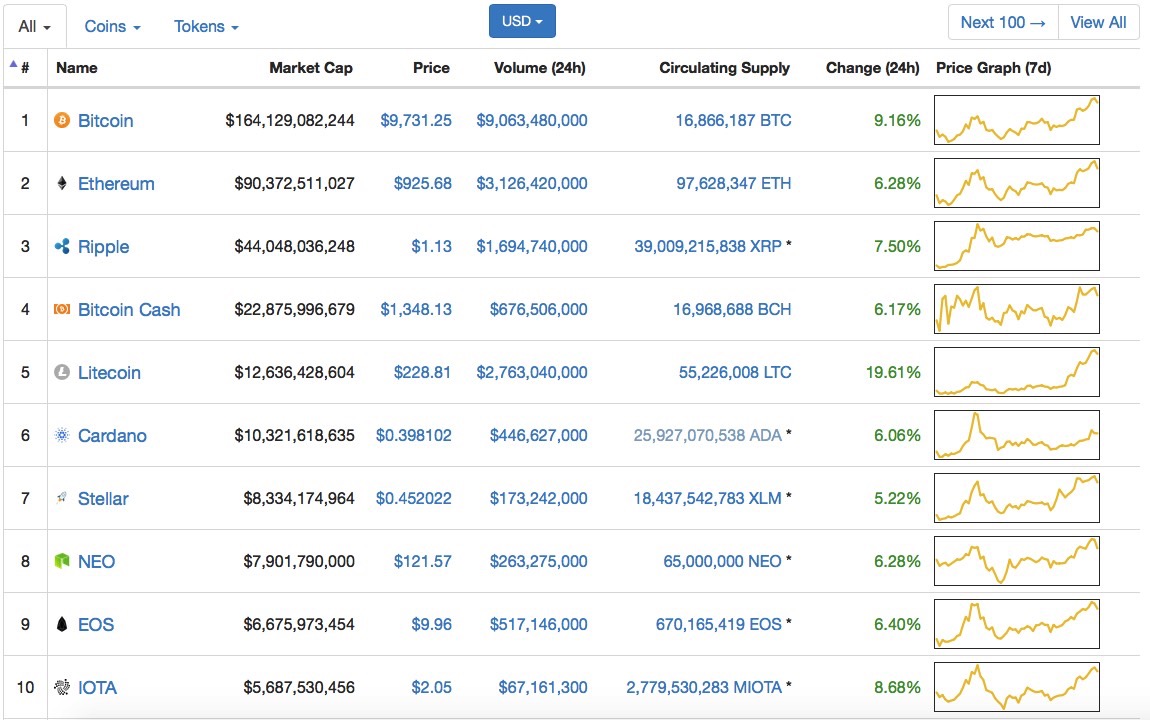 The most important news of the day comes from South Korea, the country that caused the mid-January and early-February crashes. The country has decided not to ban cryptocurrencies, Bloomberg reports. South Korea's minister of Governmental Policy Coordination Hong Nam-ki announced on Wednesday that the government wants to make crypto trading more transparent.
That's the kind of great news that affected the entire market. But, Litecoin (LTC) and Ripple (XRP) are getting extra attention. The former is still riding high on news about a scamy fork called LiteCoin Cash, but also about a new payment service for merchants called LitePay. LTC is up almost 20% for the second straight day, trading at $228.
https://twitter.com/LitePayInc/status/963245378618343424
Ripple, meanwhile, costs $1.13 right now, a 7.50% increase compared to Wednesday. So what happened? Well, the company the company just announced a partnership with the Saudi Arabian Monetary Authority to help banks in the country deploy Ripple blockchain-based payment solutions.
That's not all. The same Ripple inked a deal with Western Union, which will trial Ripple-based transactions, NewsBTC explains.
"We continue to explore possible blockchain applications for our business, and we are piloting some settlement tests with Ripple for certain corridors," Western Union chief executive Hikmet Ersek told analysts. "For blockchain in general, we're looking at areas such as transaction processing and settlement, working capital optimization, regulatory technology, and digital identity."
Also bullish on crypto technology is Nvidia founder and CEO Jensen Huang. Nvidia sells video gaming graphic cards that are perfect for mining certain digital tokens, and the mining business contributed to its bottom line. Huang told Barron's last week, just as Bitcoin was rallying from a week-long bloodbath that he doesn't see cryptos going away anytime soon.